By Dig Om on Mon, 04/15/2013
Game Centered features roundups and in-depth reviews of the best in iOS games. Among the App Store's myriad games, it's all too easy to overlook some of the greats. Each installment of Game Centered will take a close look at a select few worthy of special recognition. This week's installment takes a look at some of the best new games, free games, and recently updated titles.
Apple's Free Game of the Week: Fruit Ninja
Master your iPhone in one minute a day:
Sign up to iPhone Life's Tip of the Day Newsletter and we'll send you a tip each day to save time and get the most out of your iPhone or iPad.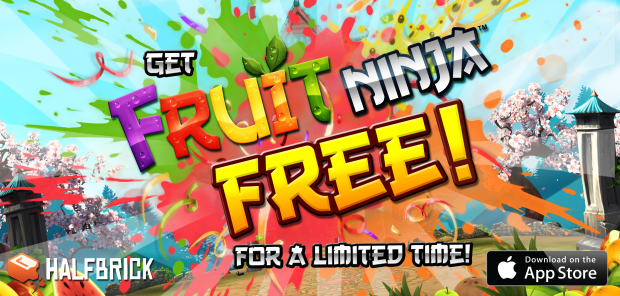 Each week Apple selects one game to feature for free in the App Store. This week's freebie is everybody's favorite light-hearted hack'n'slash, Fruit Ninja.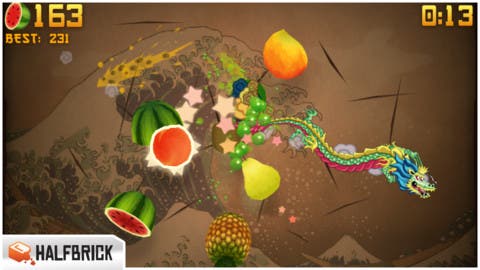 Fruit Ninja has been an international success story, and its fun and quirky premise and addictive gameplay have made this simple game a modern classic. Don't delay, hurry on over to the App Store to get your Fruit Ninja groove on, while it's still on sale!
---
Updates: Real Racing 3, Rayman Jungle Run, and Tiny Troopers 2
We've been treated to some great updates as of late. Nothing like a good update to make an old game new and a new game better I always say!
First out the gate is the massively successful Real Racing 3. With this latest update, not only do we see new vehicles from Chevrolet (including the Cobalt SS and Camaro ZL1), and a new "Hunter" race mode, but more significantly, Real Racing 3 now (finally) works across iDevices by syncing with iCloud.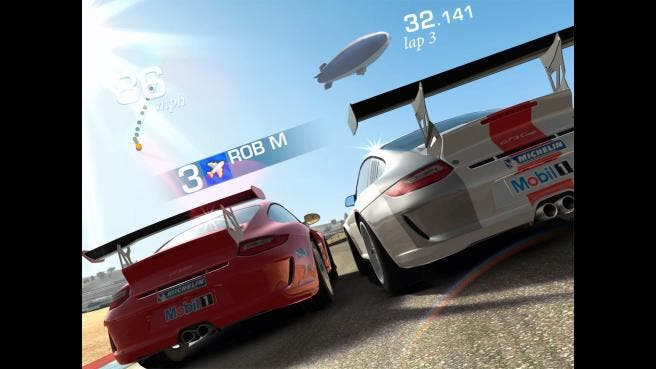 If you are going to offer a freemium game that people will potentially pour a lot of money into, it's good business to allow the game to sync with iCloud so users can pick up where we left off, on any device!
Additionally, two other crowd favorites recently received major updates.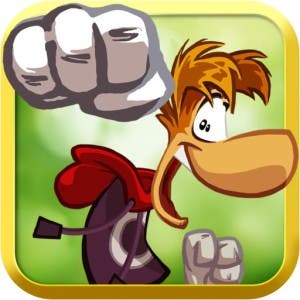 The award-winning platformer, Rayman Jungle Run was just updated with 20 entirely new levels, including:
* A Pirate Ship section;
* A new Boss Plant chapter;
* Brand new, Land of the Livid Dead levels.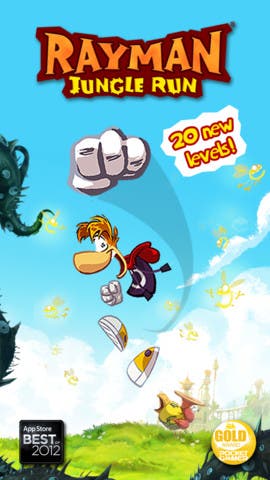 Among other accolades, Apple recently voted this highly entertaining and enjoyable platformer, as 2012 Game of the Year! If you haven't already downloaded this one yet, there's no time like the present!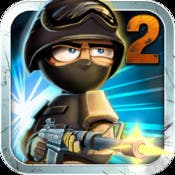 The wildly popular, top-down zombie shooter, Tiny Troopers 2 just upped its thrill factor with the seven mission epic, "Operation 4: Blizzard" as well the introduction of a new specialist Minigunner and Zombie map area.
---
Freemium: Dungeon Hunter 4 Debuts in App Store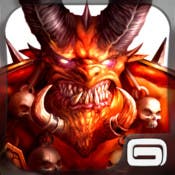 Ah, the controversy continues. To free or not to free, that is the question. With each new big name freemium title, I hear more and more media grumblings about the nasty new freemium model of gaming. Freemium games really are free, at least to download, but then you have to be prepared for the barrage of persistent pestering to make in app purchases. As the Loop's Peter Cohen put it, "This doesn't sound so much like Free to Play as it is, Pay to Win. That's an obnoxious business model." Often these "free" games intentionally limit your progress without shelling out real money. While it is obviously bringing in the big bucks for the game's creators, it's a tedious gaming model. Honestly, I'd rather pay more upfront for a good game than constantly be harassed to make in-app purchases or have my progress hobbled by in-app purchase pressure.
Gameloft's Dungeon Hunter 4 (Free) is the latest in the flood of freemium titles to hit the App Store, and I am sure it will be very successful despite its freemium game model. The graphics and gameplay (once you get past all of the prompts to buy gems and upgrade gear) are excellent, as one would expect from Gameloft. This dungeon crawler would be one of the best out there if not for its infernal freemium approach, which is profitable for the company, but makes for either slow progress, or empty pockets.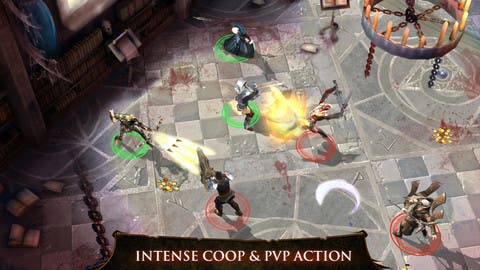 I am a big fan of Gameloft games and Dungeon Hunter 4 is certainly a visually appealing, action-packed title. Its one of the best of this genre as I've said. And it is free after all, so technically you have nothing to loose by trying it. Just be careful, it's far too easy to end up spending money you had no intention of spending when you first downloaded the game.
---
New Games:
This week also saw the release of some awesome new game titles set to appeal to a variety of game fans. Here are a few of my top picks.
1. Quantum Legacy HD Turbo ($1.99)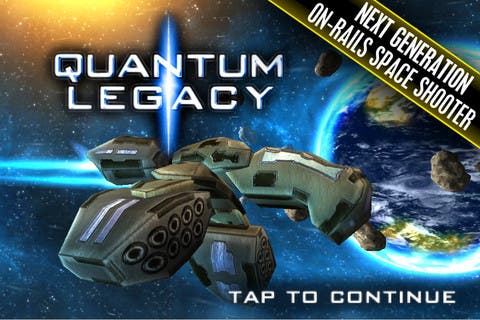 If you are looking for non-stop, intense 3D action, with HD visuals, then this next generation space-flight shoot 'em up is one you must check out! High-speed adventure is what's in store for you with this on-rails, arcade-style game, as you pilot your way through 20 action-packed missions.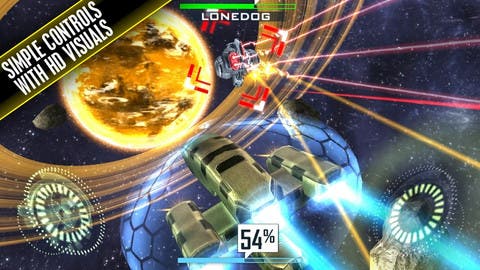 With breathtaking graphics, highly stylized, action-oriented storytelling and wave after wave of challenging enemies and bosses, this game is a jaw-dropping example of what next-generation space shooter gameplay on iOS can deliver!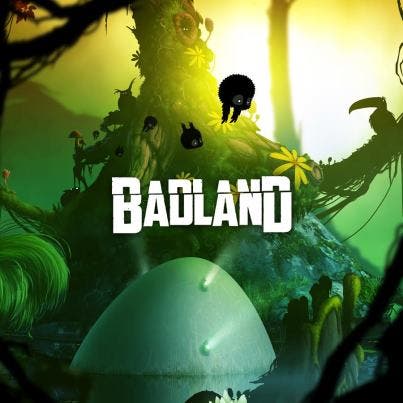 This new sidescroller brings a combination of eerie visuals, creepy environment and haunting soundtrack to iOS gameplay. With simple controls and obvious objectives this game is easy to pick up but hard to put down. Timing and strategy play a big part in how well you fare in this mysterious and progressively more and more bizarre adventure platformer.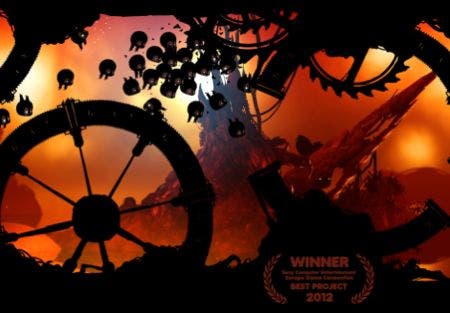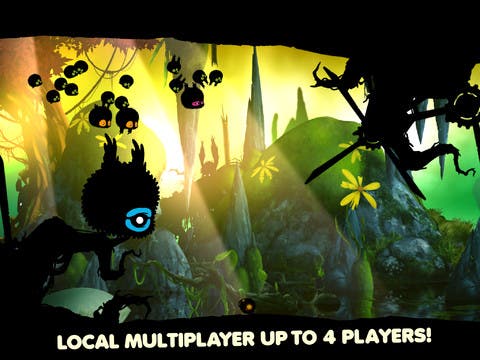 While the genre may be familiar, this game is unlike anything you've seen before! It will keep you enthralled with its unique and captivating gameplay and storyline. This game debuted in the App Store with a bang and has already garnered a great deal of critical acclaim! Be sure to check this one out in the App Store.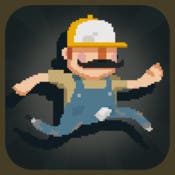 Simply put, if you liked Mario Brothers you will LOVE The Other Brothers! The Other Brothers follows coverall-wearing, mustached mechanics Joe and Jim as they move from left to right in their adventures to save their lady friend and resident damsel in distress Tavy. 16-Bit pixilated art is front and center in this throwback to the beloved pioneer of the genre, Mario Brothers.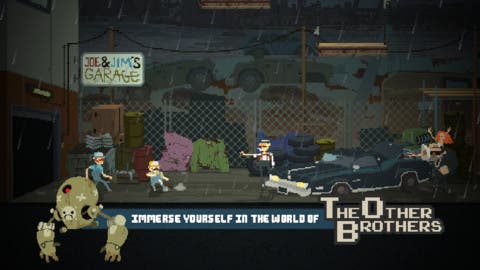 Utilizing today's modern gameplay mechanics and physics The Other Brothers brings you a "New-Retro" platform experience like no other. With its mix of classic and non-linear environments The Other Brothers will have you adventuring through cities, sewers, junkyards and more while you battle enemies with entertaining personalities as well as dangerous and zany Bosses.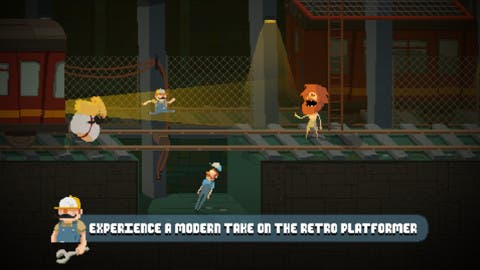 An original rockin' soundtrack and revolutionary touch controls will have you revisiting this game time and again. I expect this game to go on to be one of this year's best, especially for any fan of this genre.