By Dig Om updated on 04/28/2014
Game Centered features roundups and in-depth reviews of the best in iOS games and related gaming news. Among the App Store's myriad games, it's all too easy to overlook some of the greats. Each installment of Game Centered will take a closer look at a select few worthy of special recognition. This week we'll take a look at some of the newest fast-paced, adrenaline-fueled action games to hit the Apple App Store.
The Amazing Spider-Man 2 ($4.99)
Master your iPhone in one minute a day:
Sign up to iPhone Life's Tip of the Day Newsletter and we'll send you a tip each day to save time and get the most out of your iPhone or iPad.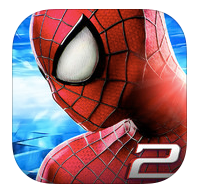 Spidey's back! In this new tie-in with the summer blockbuster movie of the same name, you'll play as none other than the wise-cracking, web-slinging superhero himself, as you battle and brawl through the open world environment of New York City.
Expanding on the movie's storyline, The Amazing Spider-Man 2 features combo-focused combat on the ground as well as in the air, high above the city streets. In this game you'll have to subdue a wide assortment of adversaries, ranging from street thugs to Spidey's super-villan archenemies!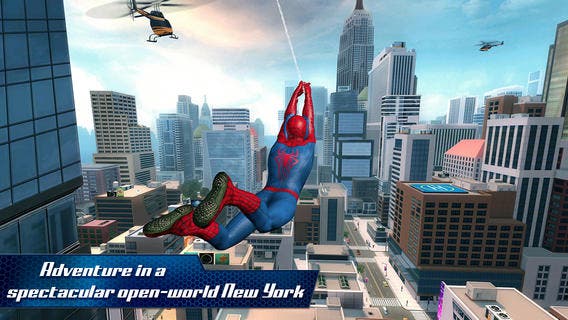 With crazy acrobatic action, a deep, original storyline with high-quality voice acting, and console-caliber graphics, The Amazing Spider-Man 2 is a sure-fire hit for any fans of RPGs, action, and/or superhero games. Are you up for the challenge of restoring order and (relative) peace to the Big Apple?
The Amazing Spider-Man 2 gets a stellar 4.5 out of 5 Stars, good job Gameloft!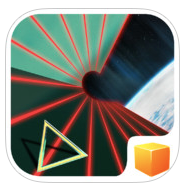 Ahh, now here's a game that totally harkens back to my youth and days spent at the roller rink playing the old classic hit arcade game Tempest. Atari's Tempest was the first game I ever got really good at, and the first game in which I could actually break into the coveted high score list on any given day when I was in the zone. So when I saw that TriBlaster was as faithful a port of the original Tempest as you could hope to find, I had to try it out. I wasn't disappointed.
In TriBlaster, as in Tempest of old, you control a space ship as it moves along the perimeter of various challenging grids. With the signature vector graphics of Tempest, and modern, intuitive, touch-based, swipe-to-play controls, this reimagining of the old classic hit is sure to satisfy the cravings of any old-school gamer like myself, as well as any "newer" (ahem, younger) fans of retro-style iOS games. I give TriBlaster 3.5 out of 5 Stars and say it's a must-have for the collection of anyone who's a fan of old-school arcade games.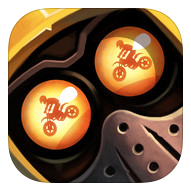 I'm a sucker for off-road motorcycle racing. The growl of an engine, the rumble of a muffler, tires kicking up dirt, the thrill of catching air and working with the bike like a well-tuned horse beneath me, these are the things that get my blood primed. But after God only knows how many injuries and near fatalities, and the fact that I have a baby boy in my life now, my extreme motocross days have been put on hiatus.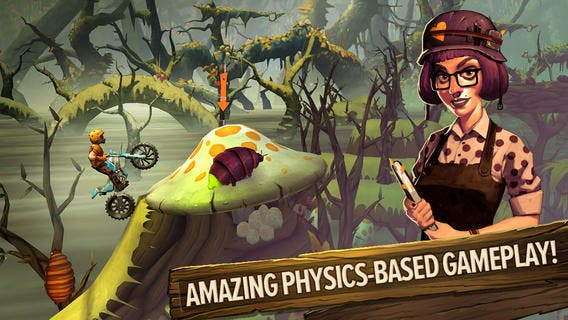 Enter Trials Frontier, the latest motocross game to occupy my spare time and fill our household with the exhilarating purr of motorcycle engines revving. In Trials Frontier you follow an interesting storyline set against a vividly illustrated backdrop of Old West mixed with a few Steampunk/cityscapes. Like other trails games, this title is a side-scrolling, physics-based game where your speed, traction, lean, and timing all play a factor in your success, as you flip and fly your way through the varied challenges and obstacles this gnarly motocross adventure presents you with.
Even though there are no advertisements in this game, I wish I could say that the in-app purchase system isn't obnoxious. It is! Like so many freemium games these days you are pressured to either wait to play, or pay to play as the game hobbles you every which way after you get a little way into it. Fuel cans equal time you can play, and gems equal upgrades you can purchase, and both are in very sort supply! That is, if you really want to get into this game and spend some time playing it for "free." It's an addictive game, and the developers are banking on this, and hoping you will be willing to plop down real world money in this virtual game to be able to continue playing. Because of the ever-so-popular in-app purchase scheme this game has going, I can only give it 2.5 out of 5 Stars, solely on the merits of its intense motocross action and artful graphics.