By Dig Om updated on 03/18/2013
Game Centered features roundups and in-depth reviews of the best in iOS games. Among the App Store's myriad games, it's all too easy to overlook some of the greats. Each installment of Game Centered will take a close look at a select few worthy of special recognition.
In this installment of Game Centered, I'm bringing you a roundup of three epic iOS games:the new match-3 sensation Atlantis: Pearls of the Deep, the high-flying antics of an addictive new game called Tramampoline, and the gore-filled, hack'n'slash combat of I, Gladiator.
1. Atlantis: Pearls of the Deep (Free)
Master your iPhone in one minute a day:
Sign up to iPhone Life's Tip of the Day Newsletter and we'll send you a tip each day to save time and get the most out of your iPhone or iPad.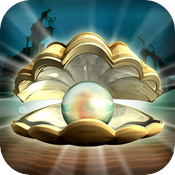 Oh how I love a good Match-3 game, and Atlantis: Pearls of the Deep is the best I've played in a long while. It has a clever backstory and the graphics and audio are simply mesmerizing. I found the whole experience of playing Atlantis: Pearls of the Deep to be enjoyably hypnotic. The soundtrack is reminiscent of a medieval mandolin, joined by the gentle "clink" of pearls landing on other pearls resulting in an almost trance-inducing game.
In Atlantis: Pearls of the Deep, your goal is to free the pearls that have important treasures trapped within them. You do this by controlling where to drop various colored pearls, with the goal of dropping three pearls of the same color next to one another, at which point they vanish. As the clock ticks, you work your way through stacks and piles of multicolored pearls until you get down to the pearls with little glowing objects within them.
As the story goes, the Mermaid Queen needs these precious artifacts to help rebuild Atlantis. You help her in this quest by freeing the trapped items when you group the colored pearls in groups of three, releasing their hold on the undersea treasure they encase as they disappear. The sooner you can get all of the pearls with special items inside of them to disappear and release those items, the higher your collection score, and the faster you complete a round.
This game is a delightful twist on the well-worn, Match-3 genre, and also includes numerous side quests and a continuos-play Zen Mode to keep things interesting. Atlantis: Pearls of the Deep is definitely one of my favorite Match-3 games for iOS.
I give this game a solid 4 out of 5 stars.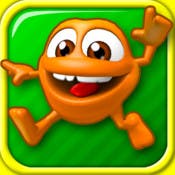 Tramampoline is an iPhone game you can pick up and play for a few minutes or for many months, as you may just fall in love with it. It's a fun, physics-oriented game, and you get to bounce on one of my favorite pieces of athletic equipment — a trampoline!
In Tramampoline you play the part of a round little fellow bouncing on a trampoline. There's no shortage of challenges to keep this unique game interesting, as standers-by try to hit you with a dodge ball, birds try to interrupt your flow, and the occasional helium balloon floating by that you a chance to grasp onto to extend your jump time.
The controls for this game are simple enough; you press and hold your finger on the screen to time your jump and tilt your device left or right to direct your airborne trajectory. You'll even be capable of airborne acrobatics before long as you advance in this progressively challenging game.
Tramampoline is a fun, casual game that's easy to pick up whenever you have a few free minutes, such as on the bus or while waiting for someone. For more serious gamers, it also has an endless runner element. Tramampoline will appeal to a wide range of gamers from all different age groups.
I give this entertaining game 3.5 stars.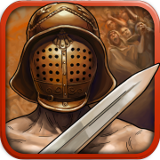 I, Gladiator is like a comic book come to life. With rich illustrations, a solid story, and no shortage of blood splatter, I, Gladiator is not just another hack'n'slash combat game. I, Gladiator will have you furiously swiping your touchscreen in a virtual battle for your life as you strive to win both the battle and the approval of spectators. This game is a little on the gory side, so parental guidance is suggested.
I, Gladiator is set in the fighting pits of ancient Rome. Your opponents grow in viciousness and fighting skill as you progress. You set stars by stunning them in battle, or you can spin over their heads and inflict even greater damage! 
I, Gladiator is a refreshing hybrid of a hack'n'slash battle game and a first person RPG, navigating between challenges, picking up weapons, and looting along the way.
I've been playing this game for a couple of weeks now and enjoy it more the longer I play and as the storyline unfolds.The graphics of this game are top notch, and the talent behind the software design is evident. It's definitely not an Infinity Blade clone and shines as one of the great game of its genre.
I, Gladiator is an impressive game that gets 4 stars in my book. I look forward to seeing how this game matures with future updates.