By Dig Om on Thu, 08/29/2013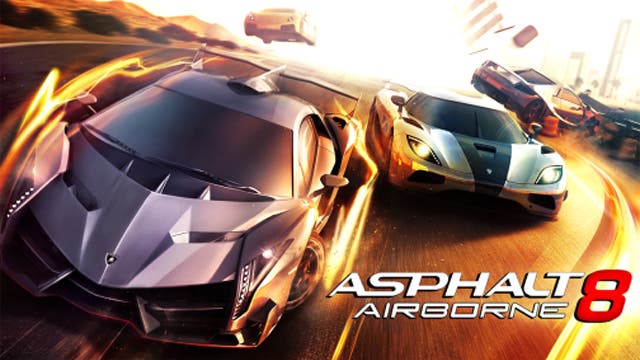 Game Centered features roundups and in-depth reviews of the best in iOS games and related gaming news. Among the App Store's myriad games, it's all too easy to overlook some of the greats. Each installment of Game Centered will take a close look at a select few worthy of special recognition. This week's installment features the latest in the phenomenally successful Asphalt racing series, a recap of last week's Gamescom international gaming convention, and this week's featured App Store Free App.
Master your iPhone in one minute a day:
Sign up to iPhone Life's Tip of the Day Newsletter and we'll send you a tip each day to save time and get the most out of your iPhone or iPad.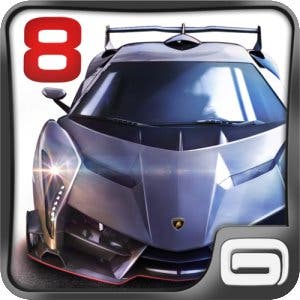 • Asphalt 8: Airborne ($.99)
Asphalt 8: Airborne has finally landed in the App Store. I've been eagerly awaiting this modern masterpiece. Get ready for some serious hijinks in the latest installment in the massively successful Asphalt road-racing series. This is far and away the coolest Asphalt ever—trust me, I've played them all and this one stands out.
In Asphalt 8 you literally take to the skies as you compete in races on realistically rendered tracks in locations around the world. Jump ramps are everywhere and hitting them is to your advantage. In this immersive, console-quality game, flying through the air not only looks so awesome that you can almost feel the Gs, it's also a great way to make up ground in a tight race.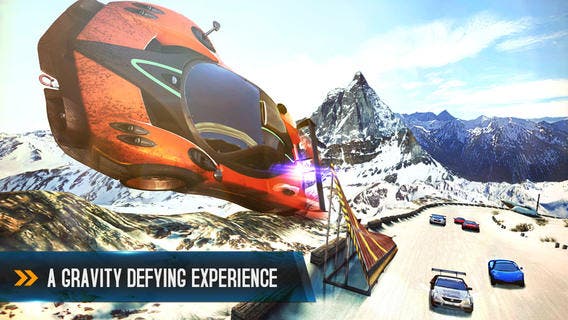 Graphically I feel like Gameloft has the cutting-edge visuals nailed. There's not much that the developers over at Gameloft can imagine that they can't render with great detail and precision. The graphics continue to be groundbreaking and of a caliber only rivaled by actual console games. 
Asphalt 8 also brings with it more eye candy than I've ever seen in a racing game of this quality. There's helicopters buzzing by, biplanes swooping overhead, and volcanic activity shaking the ground and affecting visibility. NASA's space shuttle even makes a guest appearance in grandiose fashion!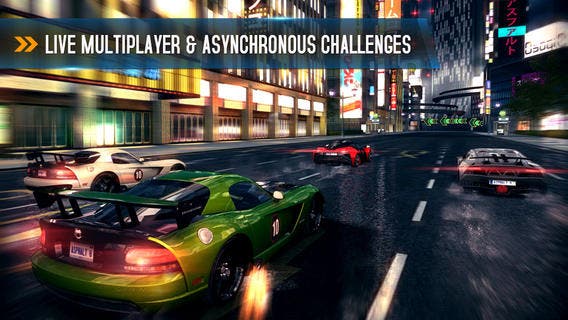 Asphalt 8: Airborne Features
Leave gravity in the dust.
Perform dynamic, high-speed aerial stunts in an intense driving experience powered by a brand-new physics engine 
Luxury dream cars.
Forty seven high-performance cars (80 percent new!)
Top licensed manufacturers and models like Lamborghini Veneno, Bugatti Veyron, Ferrari FXX, and Pagani Zonda R
Newly recorded high-fidelity motor sounds for realistic audio immersion. 
Get airborne:
 Hit the ramps and take the race upward

 Perform barrel rolls and wild 360-degree jumps 

 Man

euver through the air while pulling off stunts 
New exotic locations:
Nine different settings like Venice, French Guiana, Iceland, the Nevada desert, and more 
All tracks available in original and mirror variations in Career mode 

Discover plenty of hidden s

hortcuts
New features for speed freaks:
Eight seasons and 180 events in the Career mode 
Stunning visuals thanks to next-gen shaders, real-time geometry reflection, and other amazing effects
New Infected and Drift Gate modes
A detailed damage system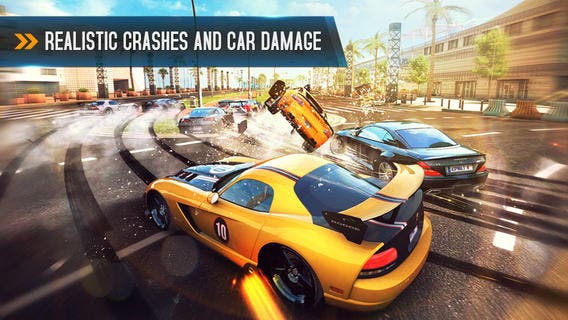 Simultaneous multiplayer and ghost challenges:
Enjoy simultaneous multiplayer action for up to eight opponents 
Dare friends to asynchronous races 
Compare scores on the new leaderboards with friends and drivers around the world
Share your racing achievements and prove that you're the ultimate speed machine
Music to rev your soul:
A heart-thumping mix of amazing licensed music f

eaturing tracks from Bloc Party, Mutemath, and the Crystal Method!
For the price of just $0.99 you can't go wrong with this stellar racing title. The graphics are some of the best you'll see on a tablet, the choice of cars is extensive with some absolute beauties available as you progress. The multiplayer in Asphalt 8 is some of the best, most competitive racing I've had the pleasure of experiencing (if only there were voice chat, I'd have a few choice words for those racers in London last night) and the added twist of airborne flight and the strategizing that comes along with this new element is an absolute joy.
Asphalt 8: Airborne gets a rare and deserved 5 out of 5 Star rating.
*****
This Week's App Store Featured Free App
• Sky Gamblers: Storm Raiders (free from $4.99)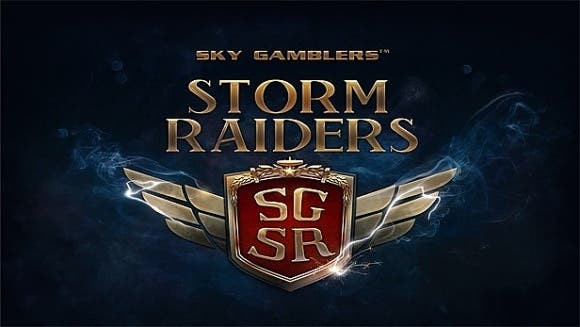 Go download this award-winning game now, while it's Apple's Free Game of the Week. Usually priced at $4.99, Sky Gamblers, a former App Store Editor's Choice, is arguably one of the best flight sim iOS games out there.
This game will take you some time to adjust to if you aren't already a trained pilot. It's definitely not as simple as just tilting to steer. But once you get the hang of it you will truly feel like you've been teleported into the heat of fierce WWII dogfights! The graphics are top notch and the gameplay is innovative in its use of touchscreen and accelerometer capabilities to immerse you in the action as if you were really there.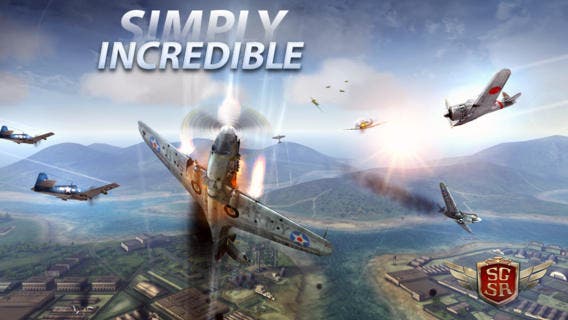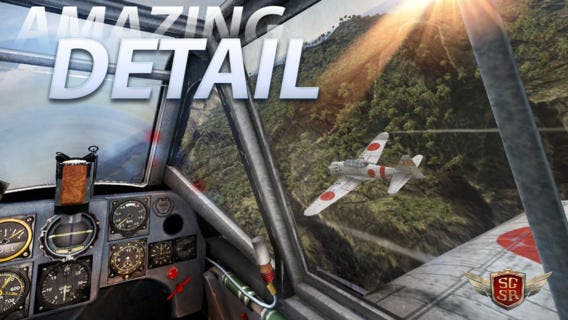 Sky Gamblers: Storm Raiders Features
Amazing quality, exclusively on iOS!
Unparalleled visuals, special effects, and audio, including: specular masks, bump mapping, atmospheric
scattering, volumetric clouds with realistic lighting, sun glare, day and night transitions, God rays, high
definition textures, 4x anisotropic filtering, High Dynamic Range (HDR) rendering, radial blur, heat haze,
refractive raindrops, and more!

Immersive gameplay:
Take off and land on landing strips and carriers. Fly in fully recreated cities with realistic
weather, accurate atmospheric scattering with aerial perspective, and highly detailed planes with
interactive cockpits.

Huge historic fleet:
Fly highly detailed WWII top aces planes. Watch as planes are progressively damaged and finally
shredded into pieces.

Huge collection of online gaming modes:
Invite your friends to play online! Choose between cooperative and competitive modes: Survival, Last
Man Standing, Free Flight, Free for All, Team Match, Capture the Flag and the new Assault. Use Game
Center head to head with Voice Chat for the ultimate duel experience.
Acrobatic Smoke:
For pilots who want to show off their flying skills in style.
Gamescom 2013: An iOS Snub, or an Oversight?

As far as I'm concerned, the future of gaming does not lie in stationary, bulky consoles tethered to a TV set, but rather in the portable, visceral interface of iOS interactive technology. Whether through touchscreen or certified third-party controllers, iOS gaming is the future of the video game industry.
So why iOS games weren't more prominently featured at this year's Gamescom in Cologne, Germany is beyond me. What does that imply? That there are no groundbreaking new iOS games? Is it a conspiracy by the makers of the console gaming systems in an attempt to stifle their most obvious rival and greatest competition? Why would one of the biggest gaming conventions in the world not show greater deference to the iOS platform? 
As this week's Gamescom 2013 unfolded, I kept waiting for some big iOS game revelations. Not that there wasn't news, but it wasn't what I expected. That said, there were still a few stellar titles that were shown off. Some of the highlights of this year's Gamescom included:
• Joe Dever's Lone Wolf: Blood on the Snow 
If the embedded gameplay trailer is not visible, please click HERE.
This is a juicy-looking game that I can't wait to sink my teeth into. Based on the popular books by Joe Dever, Lone Wolf looks to take the single player RPG to the next level. This episodic game is graphically stunning with a deep and intriguing storyline.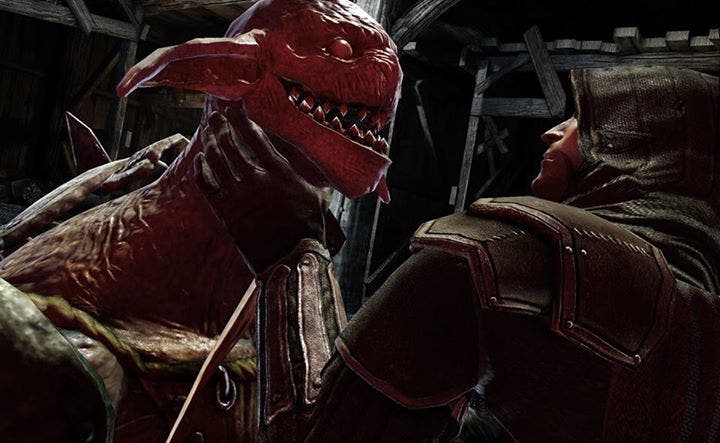 Fans of Joe Dever's popular choose-your-own-adventure game books shouldn't be disappointed. The upcoming iOS game combines elements of an artfully rendered ebook with 3D action combat woven into the story. Along the way, the choices you make affect your outcome. This should all combine to create a unique and compelling gaming experience unlike any other on iOS.
According to Dever, who actively contributed to the story of this new game, Lone Wolf—Blood on the Snow "will comprise four games (or 'Acts') that can be played either individually, or consecutively as a progressive four-part saga. Act 1 is sub-titled 'Rockstarn.' Acts 2–4 are sub-titled 'Sunken Forest,' 'Shianti Temple,' and 'V'taag—The Dark Tower' respectively. Forge Reply is the developer, and BulkyPix is the publisher. Story and game text by yours truly!"
Look for Lonewolf in November 2013
• The Cave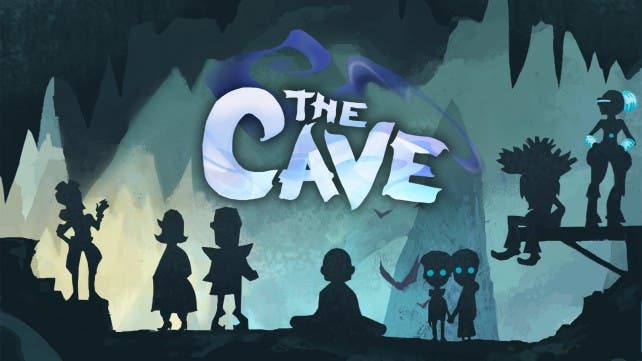 I previewed this highly anticipated side-scrolling adventure game a little while back when I was reporting on the E3 2013 game conference, where I saw my first iOS demo. I'm expecting this game to become available before year's end.
In The Cave, you play the part of one of seven characters—of sometimes questionable morals and dubious intentions—as you descend into a sentient, mysterious, and quirky underground labyrinth. Your path will be filled with obstacles and puzzles galore, and like the aforementioned Lone Wolf game, the choices you make in this game will affect its outcome. The game, from what I've seen so far, features a gameplay style that seems well suited to the touchscreen format along with nicely animated 3D graphics.
If you are already familiar with The Cave from its console version you won't be disappointed, the iOS version seems even better to me! And, if you've yet to hear about this soon-to-be-released iOS game, you're in for a great treat in this intriguing and surprising game.
Check out the trailer for the Cave below, and if the embedded video is unavailable, click HERE.
•  Godfire: Rise of Prometheus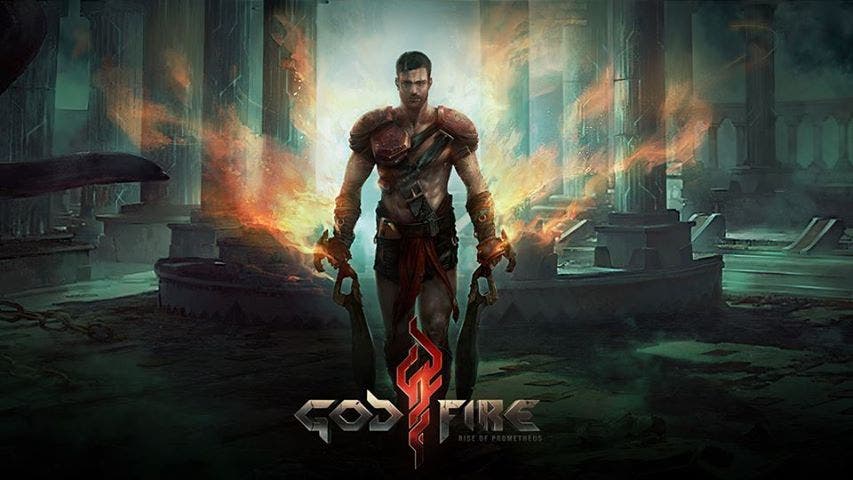 Get ready for pure action and mayhem in this 3rd-person, combat-adventure RPG. Based on Greek mythology Godfire casts you in the role of Prometheus as you set out on an open-world journey and battle epic beasts, demons, and titans. In Godfire you will be called upon to solve puzzles and overcome powerful foes in combat in order to survive and advance. This is a game that I already consider a "must-have" for any serious iOS gamer. I feel as if my dream has been answered and an iOS port of God of War has finally manifested!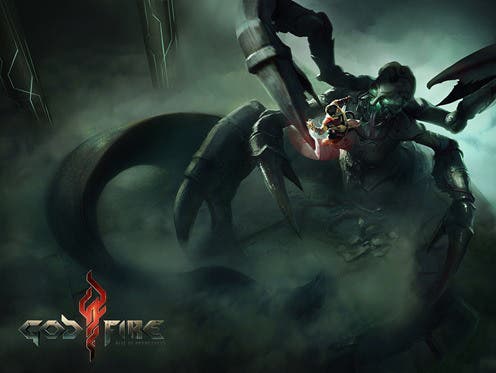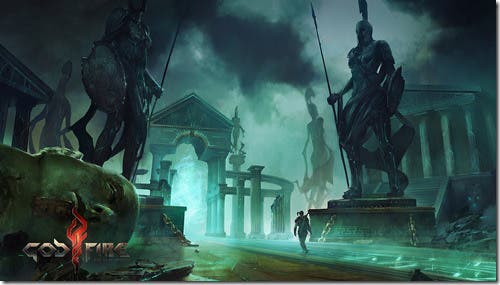 As you can see from the screenshots above, Godfire really shows off the incredible gaming capabilities of the iOS interface. None other than the infamous Unreal Engine is the power behind this stellar game. I think you'll be impressed! I know I have been blown away  by all of the demos I've been privy to. Look for this blockbuster game to debut in early 2014.