By Dig Om on Sat, 09/28/2013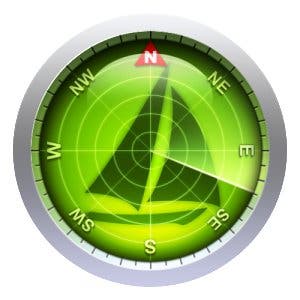 Congratulations to America's team Oracle, who just won the prestigious America's Cup sailing race in an absolutely thrilling finish. Not only did Team USA win against fierce competition from the Kiwis, they did so in the face of seemingly insurmountable odds. To come back from being down 8 - 1 in a contest where the first one to 9 wins is unheard of. Not to mention having to overcome the adversity of a crew member dying during training and a major cheating scandal that gave them a two-race penalty.
The sailing that took place in the San Francisco Bay was one of the most exciting stories of perseverance, aggressive competition, and strategic gamesmanship that the world has seen in quite some time. And all the while I was able to track the progress with the free, interactive America's Cup iOS app. The app kept me abreast of all the latest developments in this thrilling saga, and also got me thinking about one of my all time favorite sailing and navigation apps out there, Boat Beacon ($9.99).
Master your iPhone in one minute a day:
Sign up to iPhone Life's Tip of the Day Newsletter and we'll send you a tip each day to save time and get the most out of your iPhone or iPad.
If you follow my articles here at iPhone Life, then you may already know that I spent 6 years living aboard a sailing yacht in the Caribbean. Even though that was over a decade ago, I still have a deep affection for all things nautical. So when I was introduced to the Boat Beacon app, I was intrigued. After all, even though the America's Cup just ended, yachting season in the Caribbean and other tropical climes is just around the corner!
Useful in coastal (up to 12–15 miles offshore) and inland waters, Boat Beacon provides real-time data like bearing, range, and closest point of approach calculations to your iPad or iPhone. In fact Boat Beacon is the only app I know of that continuously monitors CPA (Closest Point of Approach) data based on standard Automatic Idenficiation System (AIS) feeds and alerts you to potential collisions, even when the app is running in the background.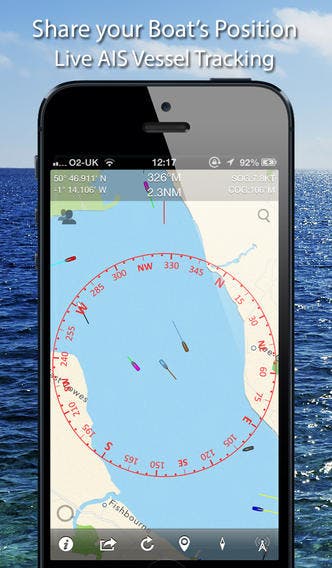 Along with providing detailed reports of which vessels are where on the map and alerting you to such things as their speed, trajectory, and destination, this app also provides sailors with a plethora of very useful information designed to make being out on the water much safer. If you sail in fog, at night, or without radar this app is indispensable. Boat Beacon also allows folks on both land and sea to keep track of you and follow your progress with a variety of useful data feeds, including your ETA and current status. If multiple parties have Boat Beacon installed on their mobile devices it becomes almost like a social networking app, where your information can be conveniently and easily shared with one another. The oceans and seas can be amazingly precarious and these safeguards can literally be lifesavers.
Having lived aboard for years and having seen the comedy of errors that often occurs when green, tourist sailors are learning all about the physics of proper anchoring, I've seen my fair share of nautical catastrophes! The Boat Beacon App has the much-appreciated feature of an anchor alarm, which will alert you to the underestimated perils of the dragging anchor. 
This feature alone makes this app indispensable to experienced or beginner sailors alike. There is nothing like having an anchor drag in the middle of the night and waking to the sound of crunching fiberglass as you run aground on a reef, hit another anchored vessel, or worse, awaken to find your self drifting at sea. Trust me, these things happen, and far more often than you might imagine, unless you've also lived on the ocean.
After using this app for awhile, my primary lingering concern was about coverage: How well does this app actually work in real-world on-the-water situations, in such popular cruising destinations as the Virgin Islands, the Bahamas, or Hawaii? I got in touch with the app's developer Steve Bennett, who had this to say, "We do have a lot of users in the Caribbean and the Bahamas and had a great review in a charter advisors web site about using it there. There is excellent cell phone coverage on the islands and it does extend some 12 miles out to sea—in fact one of the common US complaints is they have roamed onto UK networks when they are on the US Virgin Islands and had to pay roaming rates, so make sure data roaming is turned off!"
Bennett shared this 3G coverage map of the Virgin Islands: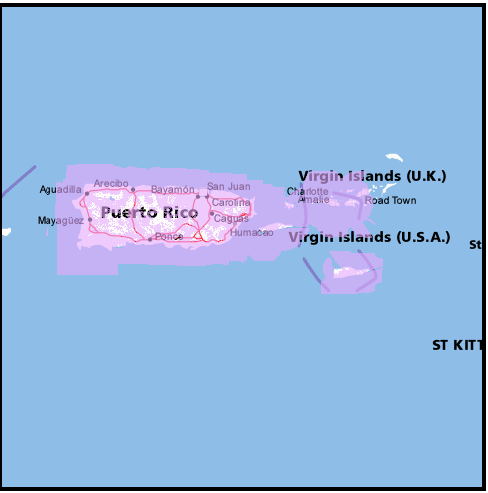 Bennett also shared a recent scan of boats using the app live around the Virgin Islands. Note that many of the boats are quite far from shore: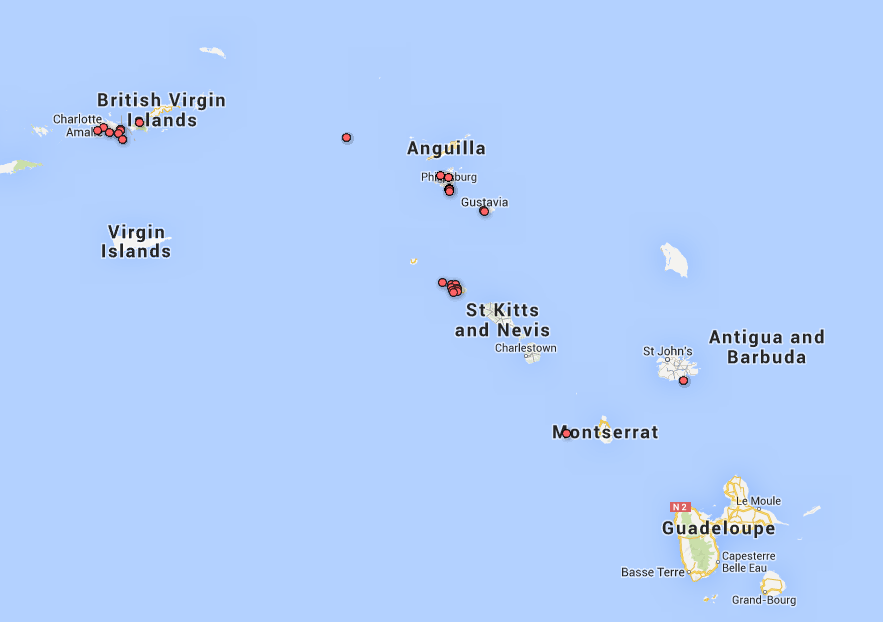 This app would definitely have come in handy on numerous occassions in my own life during my years living aboard. With its collision alarm, it might have even averted disaster that midnight so long ago when that 275-foot container ship smashed into my little 30-foot sloop anchored peacefully off the shore of a deserted island a few miles southeast of St.Thomas, USVI.
Excellent features of Boat Beacon include:
* Real time map view of your boat and boats near you via AIS (Automatic Identification System).
* Over the horizon collision avoidance and alarm using Closest Point of Approach (CPA)
* CPA calculations and AIS position updates continuously in background
* Lets others see you on Boat Beacon and Internet AIS systems like MarineTraffic.
* Compass mode to sight ships on the map
* Current Speed, Course and GPS location
* Share your location and track with friends and family
* Man Overboard tracking (iOS only at present)
* Anchor Watch and Theft Alarms (iOS only at present)
* Ship to Ship instant messaging – chat with other Boat Beacon boats.  (iOS only at present)
* Magnetic or True North setting.  (iOS only at present)
* MMSI numbers to contact nearby boats on via VHF.
* SART support – alarms and reports SART's within 30NM.
* Support for local AIS data feeds via Wi-Fi or USB, e.g. easyAIS, Digital Yacht, Lowrance, Simrad and B&G GoFree™
* With transmit enabled your boat will appear on other Boat Beacon devices. If you enable AIS sharing and have an MMSI number your boat will also appear on live AIS traffic sites and their associated mobile applications, eg: AIS Hub, Marine Traffic or Ship Finder.
* Boat Beacon relies on a network of shore based AIS stations for the live ship data.  Our coverage is global and amongst the best in the industry, typically showing 40,000 or more live ship movements at any one time and a database of over 150,000 ships world wide.
This app currently has a four out of five star average rating in the App Store, which is very good, especially for an app this critical in nature, and my experience working with it also bears testimony to how well it works. I'd consider it one of the essential iOS apps to have, and not just have, but also know how to use, if you are going out on the water. Especially if you are the pilot of the vessel. I give Boat Beacon 5 out of 5 Stars.
*****