By Dig Om on Wed, 11/28/2012

Ballistic's
latest iPhone 5 protective case debuted today and it is an
instant
favorite of mine. Ballistic is already highly regarded in the world of iPhone cases as a company that knows how to make a great protective case. This latest addition to their rugged case line up combines the best elements of a heavy-duty protective case, with the slim line, compact design of a simple shell.
The
Every1
case is a stylish rendition of the often militaristic-looking heavy-duty protective cases.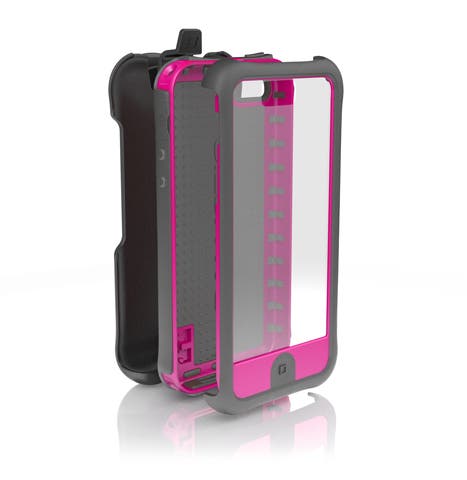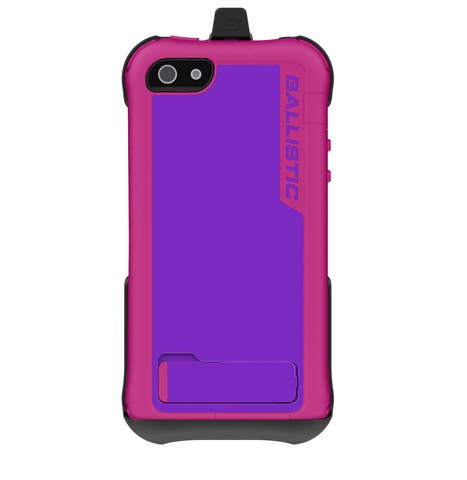 In the Every1 you will find four layers of protection including a built-in screen protector. This svelte case is easy to slip into a pocket and also conveniently enough, has a foldout kickstand built into it's back for easy viewing. The Every1 sports reinforced shock absorbing corners and perhaps most notably, Ballistic's Air Gap Suspension Springs, which keep your phone surrounded on all sides but the screen side, with 1mm of air, allowing for an amazingly high level of shock and impact protection.
All your ports and openings are securely covered with silicone flaps that fit snugly into place and the speakers and microphone are also covered with protective flaps with built in sound holes, all of which combine to make a case that is very effective at keeping dust and debris (and even liquid to an extent) at bay. And, with its sturdy beltclip, yor chances of accidentally dropping your iPhone are even less likely.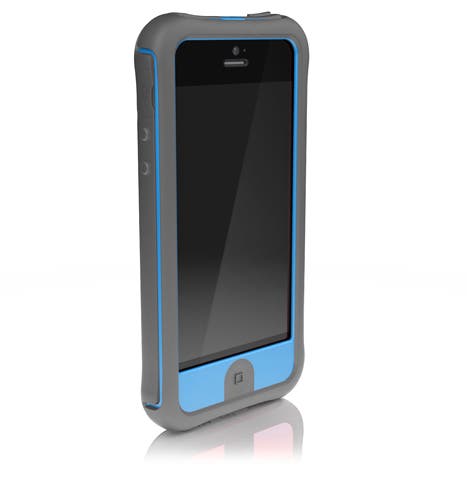 This case is a study in modern physics and suspension science. If you are looking for a great protective case that comes in some great, casual styles, then the Every1 protective case from Ballistic might fit the bill perfectly! The Every1 has a very affordable pricetag of $50.00 and you can get it
HERE
for the iPhone 5, and
HERE
for the iPhone 4/4S.
Read on, for the full press release of this excellent new iPhone 5 case from Ballistic.
---
Ballistic Debut's its Latest Case that Pleases the Adventure- Enthusiast, the Fashionista, and "Every1" in Between
Every1 case combines rugged protection with a fashionable look delivering a top-notch case for iPhone® 4/4S, iPhone®5, Samsung Galaxy S III, Samsung Galaxy Express, and Nokia Lumia 820/920
Ft. Lauderdale, FL - (November 28, 2012) – Ballistic, designers of advanced mobile accessories, is pleased to announce its biggest crowd-pleaser, the Every1 Series. This case delivers a stunning design, comprised of a slim exterior and dual-color scheme, without sacrificing the Ballistic tradition of creating rugged mobile device protection. Available in a variety of colors, this case series also delivers easy pocket-ability for on- the-go use. To see a full demonstration of the Every1 Series click HERE.
The Every1 Case offers the slimmer alternative to superior phone protection. Unlike most high protection cases, Every1 is easy to remove yet doesn't come apart when dropped, because of the new built-in Active LatchesTM. Suspension SpringsTM further shield the iPhone® by providing a 1mm air gap around the phone. The built-in port covers also deliver a dirt-resistant mechanism for all ports and buttons.
This newest case comes equipped with a built-in screen protector to offer the utmost in protection. A second model also features a kickstand for flexible functionality for those looking to utilize their phone with easy viewing capabilities.
With four layers composing this durable case, it is customized to survive any drop or fall. Shock absorbing springs make up the first layer. The second is a tough impact resistant polycarbonate shell. The third is made of Ballistic shock absorbent polymer, and the fourth is the durable screen protector.
"We took the best of both worlds to the next level by combining our highly demanded 4 layer design with a slimmer form factor for pocket-ability," says Adam Stubin, VP of Business Development, Ballistic. "We looked at the best features of our previous series' and thought 'why not combine them all? The Every1 Case is exactly that...a protective case that satisfies everyone's needs."