By Dig Om on Mon, 02/17/2014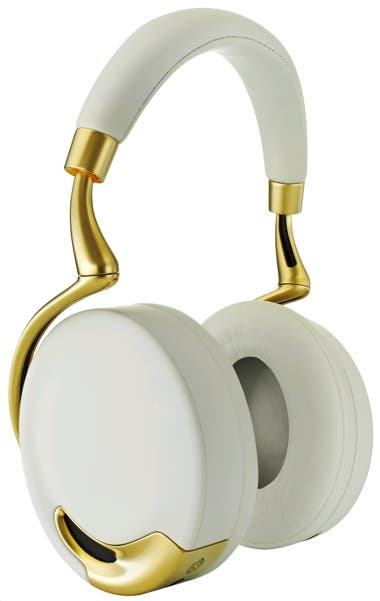 Recently at CES I met with the folks at Parrot and among all of their flying drones and hopping and spinning robots, one of the things that stood out most for me at their display area was the elegant, stylish, and technologically advanced Zik Over-Ear Bluetooth headphones ($399.95).
I'll admit, I'm somewhat of a headphone snob; and it can take a lot to impress me, especially when it comes to Bluetooth personal listening accessories. I review a lot of great headphones for iPhone Life, and one of the side-effects to that is the fact that a pair of headphones has to be quite exceptional to get really high marks from me. Well, the Zik not only impressed me, they totally blew my mind and exceeded any expectations I may have had.
Master your iPhone in one minute a day:
Sign up to iPhone Life's Tip of the Day Newsletter and we'll send you a tip each day to save time and get the most out of your iPhone or iPad.
The Zik's reputation certainly preceded them, I'd heard many great things about these headphones from other reviewers, but I had to wonder, do they really live up to the hype? Recently Parrot send me a review unit to try out for a couple weeks so I could give an accurate and concise review. As I've experienced first hand, the Zik headphones have a great many unique and noteworthy qualities that lend to their credibility (and cost). So let's dive right in and take a closer look at the Zik's considerable list of features.
Sound: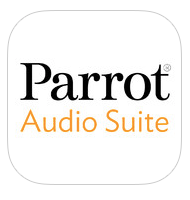 When it comes to sound, the Zik present a well balanced, creamy-smooth acoustic soundscape. Right out of the box, the Zik's 40mm Neodymium drivers deliver impressive audio, though I'd have to say that the free Zik Audio Suite app is definitely an essential component in getting the most out of these headphones. While they certainly deliver a respectable listening experience without the tweaking that the app facilitates, it is when the special features that the app allows access to are enabled that the Zik truly shine. It's worth noting however, that when all of the fancy enhancements that the app allows are activated, battery life drops dramatically, from around 18 hours of playback, to around 6 hours of playback. Nonetheless, the app's enhancements take the sound that these headphones produce, from the realm of commendable, though average, to the realm of exceptional and far, far above average.
The Zik's app allows for a wide range of customizations. You can monitor the percentage of the battery levels and fine tune your equalizer settings, or pick from a handful of default equalizer settings. You can also use the app to turn the advanced active noise cancelation system on and off, or select from a 3D concert hall tuning which gives the acoustics both a roomy, expansive quality as well as placing the perception of sound slightly forward of the listener.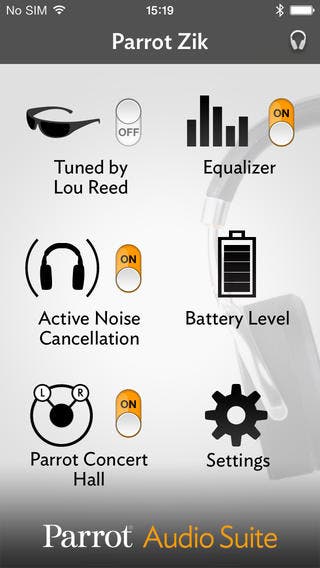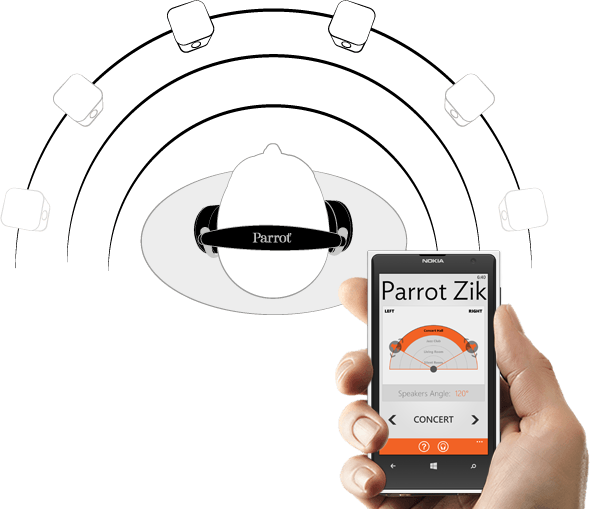 Personally, I found my listening preference to be with the active noise cancelation set to on, and the equalizer set to my own specifications, with significantly increased bass and treble, and only marginally increased mid-ranges. I found that tweaking the settings of the Zik gave them a sound quality that was pristine with a crystal clear resonance that was also capable of being powerfully deep and punchy. For an audiophile in search of the best over-ear Bluetooth headphones, I have to say, the Zik are hard to beat.
Ultimately I give the Zik 5 out of 5 stars for audio performance. In terms of sound, based strictly on their performance unmodified, out of the box, without Parrot's app's battery-draining special features enabled, I would have given the Zik a respectable 4 out of 5 stars. However, that said, the Zik easily achieves 5 star performance when they are tweaked to your liking using the app.
Comfort:
The comfort level of the Zik is unparalleled. While snug and compact, these headphones manage to be unobtrusive and exceptionally comfortable. The ear cushion fits nicely around the ear and the hinges that allow the headphone cups to move independently provide a wide range of motion so that they can sit with maximum comfort over your ears and against your head. Additionally, the thin, padded headband is extremely flexible adding another dimension of comfort and user-specific adjustability.
The headphone's headband flexibility provides optimum comfort (without excessive clamping) for folks with either small or larger heads. The ear cups have sufficient padding to keep bigger ears from feeling compressed, while effectively keeping a great deal of external background noise out and your music contained.
In terms of comfort, the Parrot Zik is in a class by itself. I give it a solid 5 star rating for exceptional comfort.
Innovative Technology:
There are five primary technological elements incorporated into these headphones that set them apart from other high-end Bluetooth headphones.
1. The app:
Parrot has the above-mentioned Parrot Zik free app that lets you tweak the Zik's performance.
2. The microphones and jawbone vibration detectors:
The Zik has multiple ways to pick up the sound of your voice. The Zik has an unprecedented four microphones (two in each ear cup) and a vibrational sensor embedded in the right side ear cushion that actually picks up the vibration of sound passing through your jawbone as you speak. The Zik takes all of this acoustic input and creates the clearest, most accurate transmission of your voice possible. The mics also work to create the active noise cancelation which reduces external sounds up to 25dB.
3. Motion detection sensor:
Embedded in the right side ear cushion is a tiny motion detector. If you take the headphone away from your ear the music stops automatically. Likewise, upon returning the ear cup to your ear, playback resumes.
4. NFC compatible:
For devices that have built-in NFC capabilities, pairing with the Zik couldn't be easier; it's as simple as tapping the device against the left ear cup.
5. The touch-sensitive panel:
Last but not least, one of the nicest features of the Zik must be its touchscreen user interface. A swipe up or down raises or lowers the volume, a swipe forward or backward skip song selections, and a tap pauses playback. Currently the Zik does not offer Siri support but since it's firmware can be updated I'm hoping that before long: a tap-and-hold gesture will be able to activate our iOS personal assistant.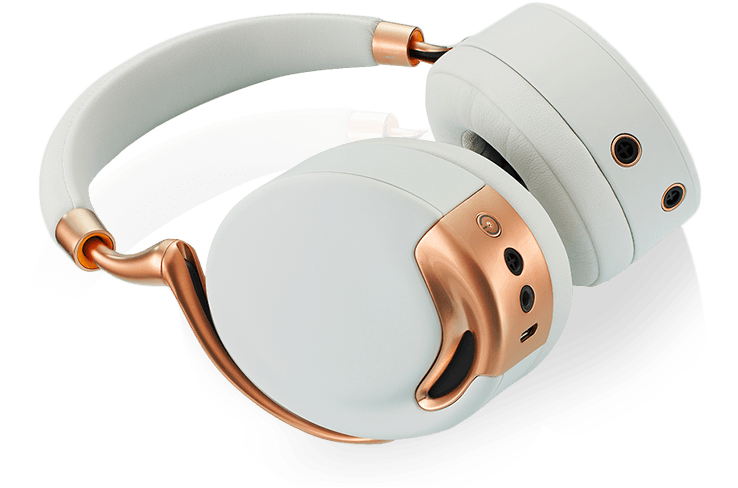 Pros:
Very attractive design, elegant lines and shape.

Well-balanced sound, not too heavy on any side of the spectrum. Very natural sounding.
The Zik Audio Suite customization app takes a pair of headphones that sound slightly above average and turns them into one of the best pairs of Bluetooth headphones that I've ever listened to.

Touch sensitive panel for playback and volume control.

Exceptionally comfortable.
Cons:
Sensitive motion detection. By design, it would pause any time I adjusted the earpiece, or even my hoodie. That's not a bad thing per se, but I found it a little irritating at times (just a slight re-adjustment for comfort's sake would turn the music off and on) and I personally felt it would be nice if the motion sensor could be deactivated in the Audio Suite app.
Poor battery life when the app's powerful features are activated. The Zik provides 18 hours of playback when no special features are enabled, but delivered only 6 hours with the app's power-hungry special features enabled. While this is something Parrot makes known, it would be nice to see either increased battery capacity or decreased battery drain from the app in future updates to this product.
I would love to see Parrot incorporate a way to activate Siri via the touch-sensitive panel.
Verdict:
The Parrot Zik aren't for everyone. Their price puts them out of the range of many casual music listeners. However for the discerning audiophile looking for a high-end Bluetooth solution, one with all of the most convenient and most advanced technological bells and whistles, then the Zik is absolutely one of the best options out there. They deliver a luxuriously comfortable and precision tuned listening experience that is unique in the field of iDevice-friendly Bluetooth headphones.