By Dig Om updated on 07/22/2013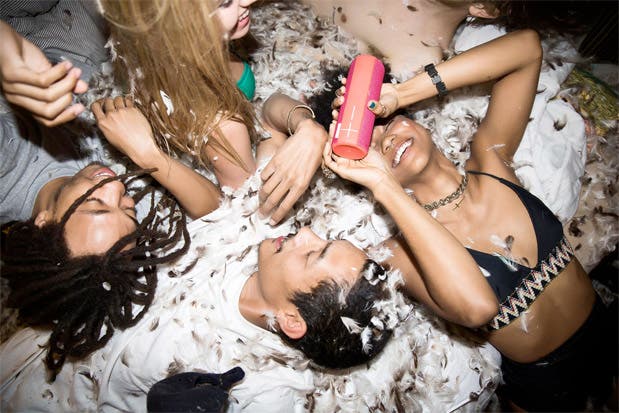 Now more than ever, we adventure enthusiasts, social nomads, and adrenaline junkies have our choice of a wide selection of high-quality portable Bluetooth sound systems to use with our iDevices during summer adventures. Read on to get the scoop on the latest crop of new, rugged Bluetooth speakers...
Master your iPhone in one minute a day:
Sign up to iPhone Life's Tip of the Day Newsletter and we'll send you a tip each day to save time and get the most out of your iPhone or iPad.
1. Ultimate Ears' BOOM 

($199.99) 
    Rugged Durability Meets High Fashion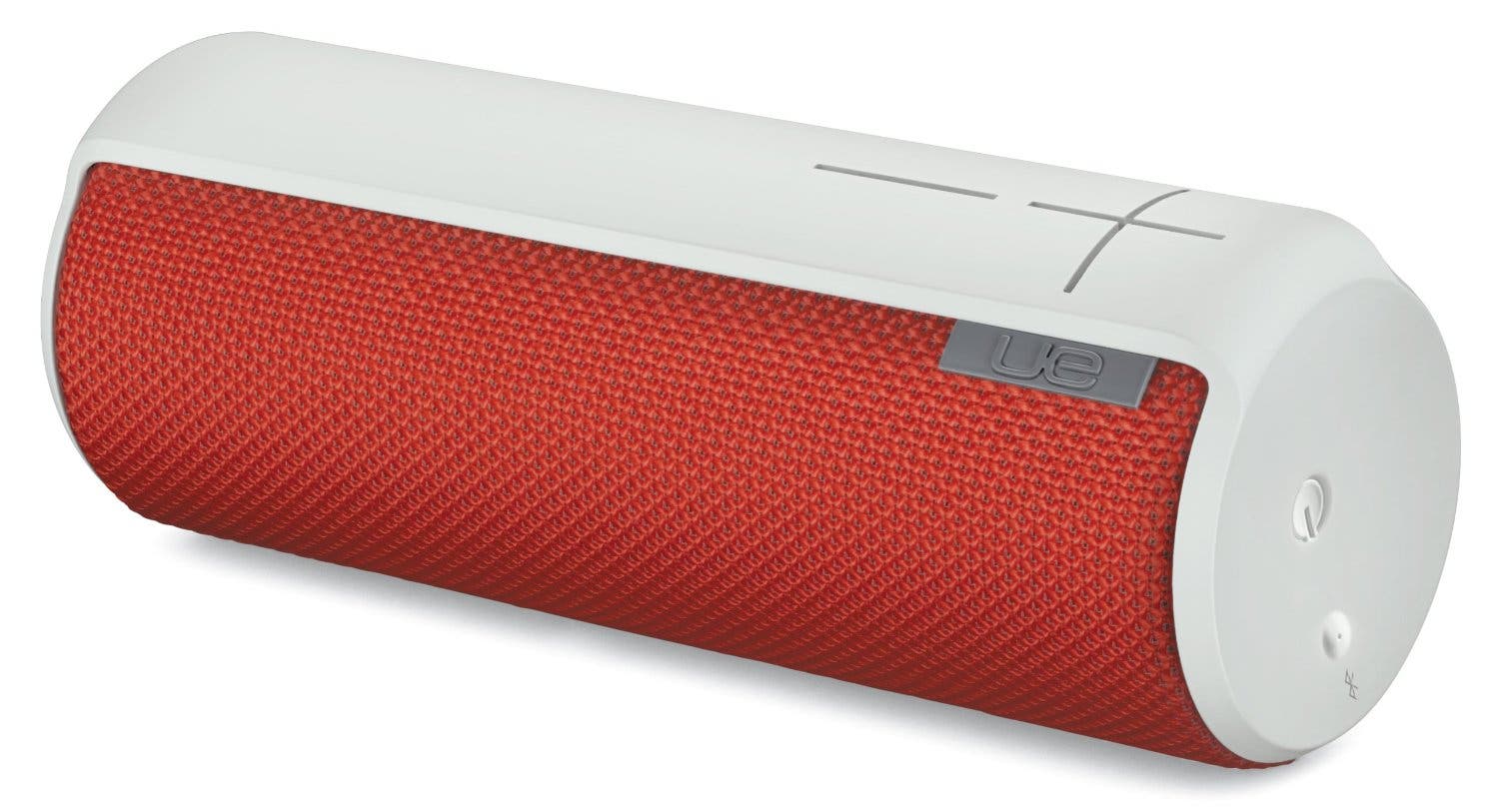 The BOOM Bluetooth speaker by Ultimate Ears is a portable powerhouse with one of the loudest, most robust sound and longest battery life of any other Bluetooth speaker in its class. To say I was highly impressed in my testing of the BOOM would be an understatement. If any single word could describe my initial reaction when turning on this mini powerhouse, it would be shock: I could hardly believe how crazy loud this speaker is. With 15 hours of battery life, the BOOM is ready to rock the party wherever you go for a full day of fun. As if the battery life and thundering volume weren't enough, this speaker is actually extremely dirt and water-resistant to boot, with an IPX4 rating!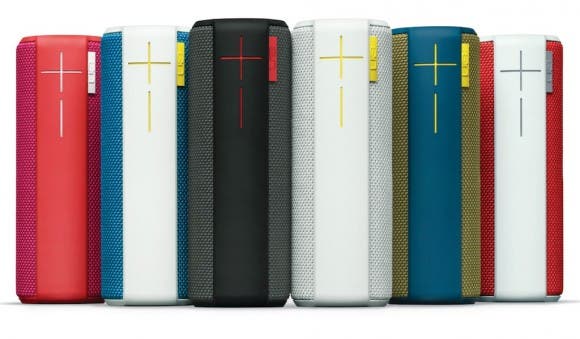 There are a lot of great Bluetooth speakers on the market, and in fact, if you follow my posts on iPhoneLife.com, you will have seen my reviews of several great alternatives. But with the introduction of Ultimate Ears' BOOM Bluetooth speaker, I'd be hard-pressed to find a richer-sounding Bluetooth speaker. And that's not a statement I make lightly!
When I visited the Ultimate Ears website, not only was I impressed with the technical specs of the BOOM, I also was blown away by the extensive promotional campaign the company has launched for the BOOM. The site features lots of short videos showing off all of its attributes and has one of the funniest and sexiest ad campaigns I've seen for a Bluetooth speaker. Heck, it actually made me blush a little!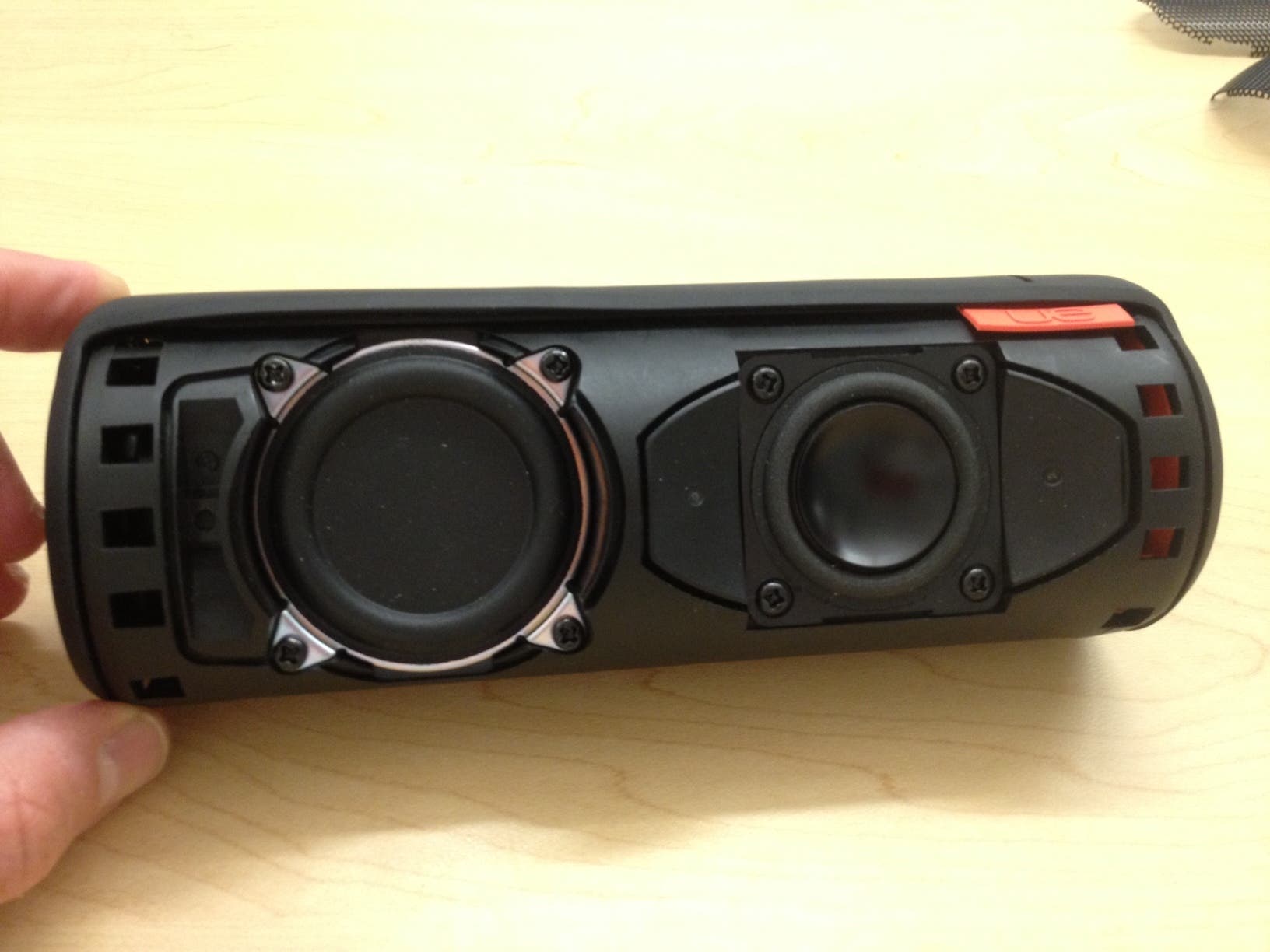 The BOOM isn't the first rugged Bluetooth speaker to hit the market, but it certainly delivers some of the best and loudest audio I've come across in a speaker this size. You may not believe the massive sound you're hearing could come from such a small package. The BOOM will fill a small room with sound, making it the perfect portable solution for an active, social lifestyle.
Pros:
• The BOOM is designed in such a way that it doesn't matter what position you place it, the sound is designed to broadcast in a full 360-degree sphere, sending deep, immersive audio in every direction;
• Rugged durability, water-resistance and stain-resistance all combine to make this speaker one of the most reliable heavy-duty Bluetooth speakers;
• The BOOM is equipped to function as a speakerphone;
• Wireless special features include:
• ability to easily connect to NFC-enabled devices,
• connecting to the BOOM with two Bluetooth enabled devices at the same time, allowing you and your friends to take turns as DJ,
• The ability to join two BOOMS wirelessly for an enhanced stereo experience.
• The BOOM also has a handy app available to use with it, allowing you to monitor and customize your BOOM speaker settings.
• The speaker ships with a small silicone rubber attachment which works very effectively to seal the otherwise exposed ports of the BOOM, making this rugged speaker extremely resistant to water, dirt, champagne and any other debris the BOOM may come in contact with.
Cons:
• No cons to speak of regarding to the sound or design!
After reviewing a test unit, I give the BOOM a rating: 4.5 out of 5 Stars.

 
2. The ECOROX ($129.99) 
    The Ultimate Waterproof Bluetooth Speaker

Last year, Grace Digital made one of the best waterproof and rugged Bluetooth speakers with its ECOXBT. Now, its on track for a repeat in 2013 with the new, more portable ECOROX. This 100 percent waterproof, fully submersible, floating speaker is an adventurer's dream come true. With its compact size and ample audio output, this mini boom box will bring all the amplification you could wish for on your journeys in the wild or treks through the urban jungle. With 10 hours of battery life and perhaps the most rugged, heavy-duty construction of any Bluetooth speaker on the market, the ECOROX is the complete package when it comes to a go-anywhere, do-anything mobile Bluetooth speaker accessory.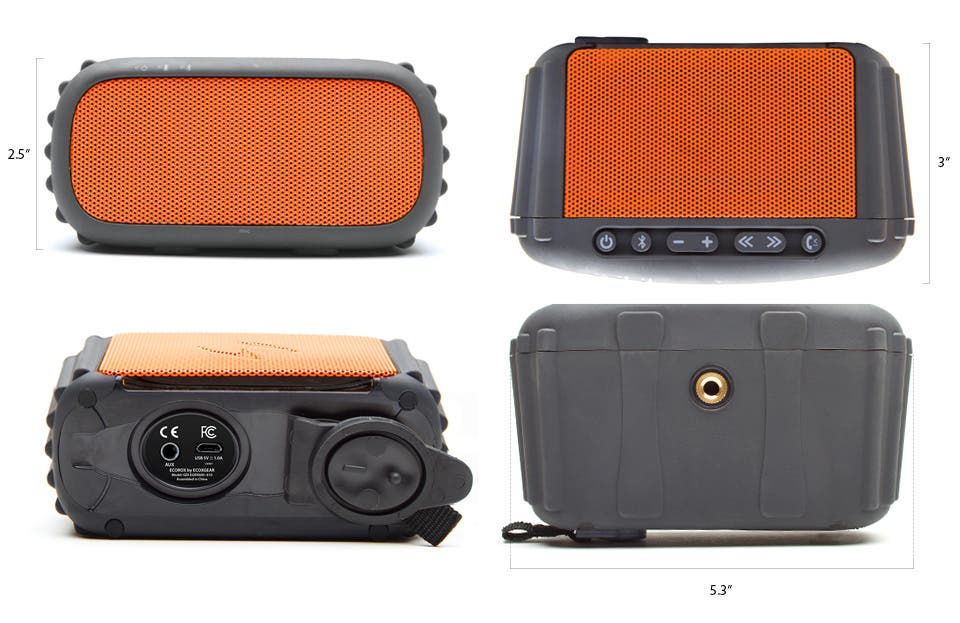 The ECOROX has only just become available, just in time for summer adventures. If you are looking for the most impervious of Bluetooth speakers, look no further, you've found it in the ECOROX.
   The New Kid on the Block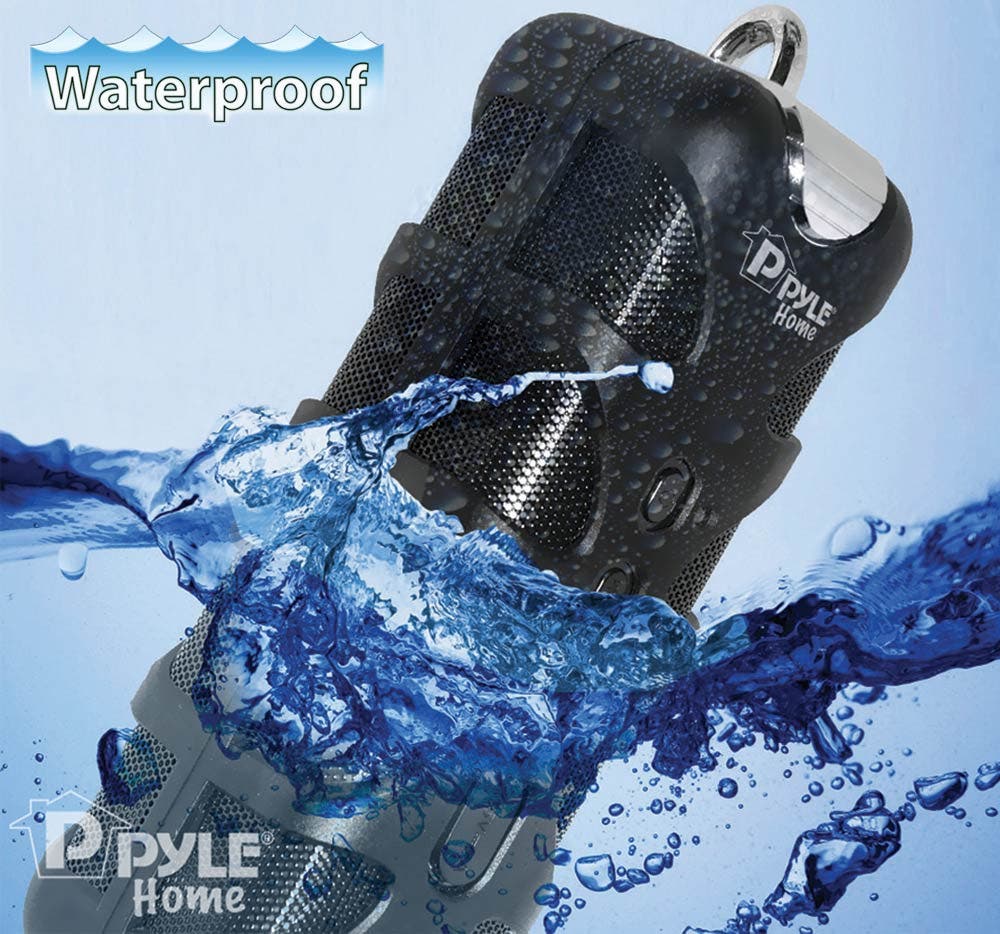 I love surprises, and that's just what Pyle Audio's new Sound Flow waterproof Bluetooth speaker is for me: a total surprise. I try and keep my finger on the pulse of iOS related technology, but this one crept up unbeknownst on me. Really, it shouldn't surprise me, seeing how every great tech company is embracing the rugged couture of Apple's demographic. This new Bluetooth speaker has a respectable 7 hour playback capability and the added benefit of enhanced bass so your music, entertainment, and games all come through in bold and booming fashion.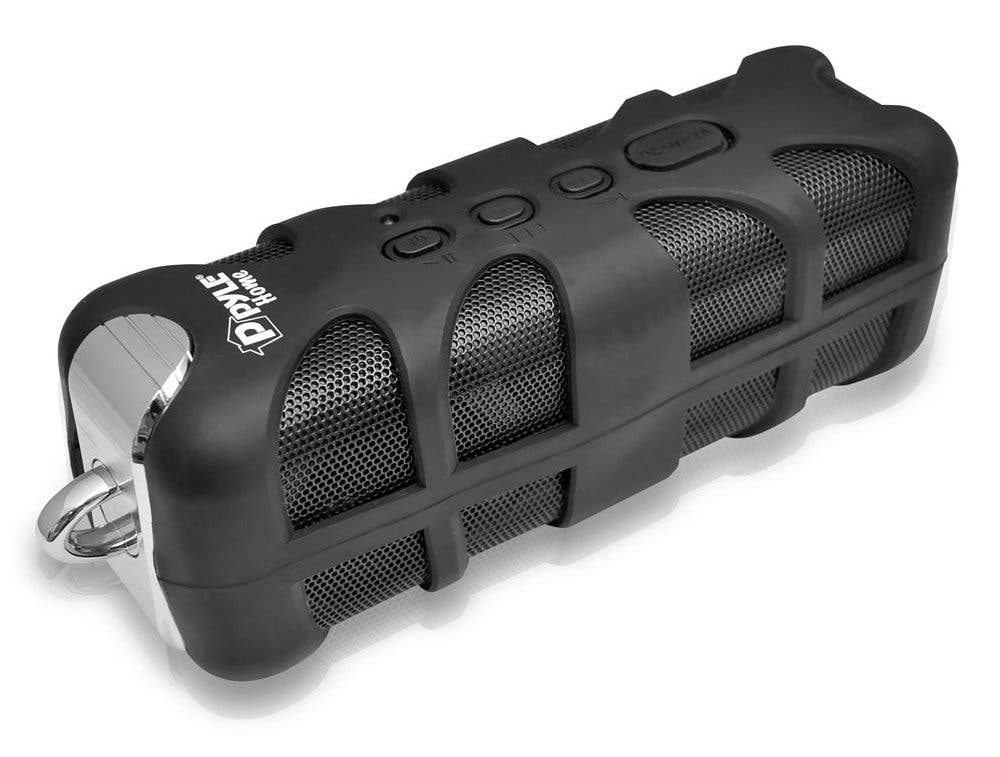 The Pyle Sound Flow is the deal for the money if you are looking for a great, ruggedized and waterproof Bluetooth speaker to pair with your iPhone or iPad.