By Dig Om updated on 03/25/2013
The Adventure-Proof series examines and reviews the best in rugged iOS gear, apps, and accessories to help iDevice users enjoy outdoor adventures with their mobile tech safely in tow.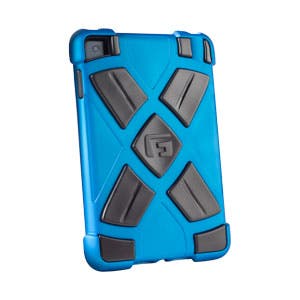 Master your iPhone in one minute a day:
Sign up to iPhone Life's Tip of the Day Newsletter and we'll send you a tip each day to save time and get the most out of your iPhone or iPad.
I spend a lot of time outside in a wide range of environments (often in off-road vehicles), and in inclement weather. I want a case that can go where I go, and allows my iDevices to adventure safely with me. The gear I look for is what I call rugged-couture, the junction between heavy-duty durability and fashionable style.
The G-Form XTREME case for iPad mini ($59.99) is perhaps the most impact resistant case I've tested. This case can take a beating without damaging your precious iPad mini. I've dropped my G-Form-encased mini and watched it bounce, bounce, bounce down unforgiving rocks. I couldn't find a single scratch, ding, or dent on my iPad mini, though as you'd expect, the case had a few scratches after weeks of heavy use. However, the foam areas never scratched or tore, only on the surface of the hard, polycarbonate areas comprising the shell's frame. 
You may already be familiar with G-Form's revolutionary patented Reactive Protection Technology. RPT employs the use of a soft foam that hardens instantaneously upon impact to absorb 94 percent of the force upon collision. G-Form's hi-tech materials can be found in everything from elbow and knee guards to a wide range of protective gear for mobile devices. The company has a great catalog of YouTube videos showcasing the incredible protective capabilities of the G-Form iPad and iPhone cases. In one video, an iPad gets dropped from outer space with nothing but a G-Form case to protect it. In another, a G-Form-clad iPhone is used as a hockey puck.
The iPad mini G-Form case also comes with a tri-fold smart cover, which effectively keeps your screen safe from scratches.
I also use the G-Form 10-inch iPad sleeve ($69.99), to add water-resistant protection to my iPad mini. I've modified the larger 10-inch tablet sleeve into a satchel with a shoulder strap. I tote my iPad mini — encased securely in its G-Form case — inside the satchel to keep my iPad mini safe and secure in the most extreme situations. 
Click HERE if you can't see the G-Form video above.
---
Pros:
*Excellent, unparalleled impact protection
*Extremely lightweight materials make its slightly bulky form easier to manage.
*Lots of traction and angles make it easy to hold in precarious situations.
*Attractive and modern appearance. Choice of colors offers low-key or flashy appearance.

Cons:
*Not the case to get if you are in need of heavy-duty water or dirt protection.
*The folding smart cover sat so level with the case shell that it was a little tricky to get a finger under to lift up. I often found myself inadvertently pulling the magnetic side off before I could get the cover flap lifted.