By Dig Om on Thu, 03/21/2013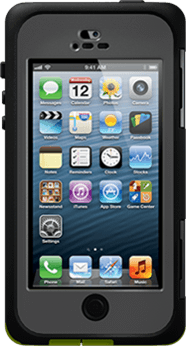 The Adventure-Proof series examines and reviews the best in rugged iOS gear, apps, and accessories to help iDevice users enjoy outdoor adventures with their mobile tech safely in tow.
The iPhone 5 Armor Series Case ($99.95) certainly lives up to its slogan, as "The Toughest Case Ever Built." This new OtterBox case is waterproof, dust proof, drop proof, and crush proof (as the video below clearly demonstrates), and is emerging as arguably the best protective iPhone case on the market.
As a long-time user of Lifeproof cases, I've had to adjust to the heft of the Armor. Nonetheless, I have been putting the OtterBox case to the test for close to a month now, and can say first-hand it is not only one of the best heavy-duty protective cases I've used, it also no longer seems too big for the job. Far from overkill, I've never felt my iPhone has been safer than with this military standard, adventure-ready accessory.
The Go-Anywhere, Do-Anything Case
Master your iPhone in one minute a day:
Sign up to iPhone Life's Tip of the Day Newsletter and we'll send you a tip each day to save time and get the most out of your iPhone or iPad.
When it comes to reviewing iDevice cases, I'm notoriously rough on any gear I put to the test. Whether it's a day of hiking, off-road mountain biking, or a nice hot soak in the tub after a challenging day, the Otterbox Armor makes it possible to enjoy all of that with your iPhone in hand. From roughhousing waterside or in the woods, to relaxing in the hot tub watching Netflix on my iPhone, the Armor has become my favorite full-time-use case.
The OtterBox Armor is remarkably durable in every respect. It allows complete and easy access to all of your ports and jacks, and is highly efficient at keeping any debris and liquid away from your iPhone. I love the brightly colored flaps that cover the ports. They draw just enough attention to remind you to close them if you're about to submerge your iPhone.
The Design Behind the OtterBox Armor
The shell of the Armor is made up of five distinct, rugged materials:
A highly shock absorbing rubber, that is used inside the shell for impact protection, and on the outside of the phone for the port covers;
A super rigid, yet pliant polycarbonate hard plastic frame;
Covering the frame is a grippy, super-rigid silicone that gives your iPhone that extra cushioning if it experiences any hard falls;
The clasps are made of an unbreakable, non-rusting alloy;
The screen is covered with the highest-quality, plastic screen cover I've come across.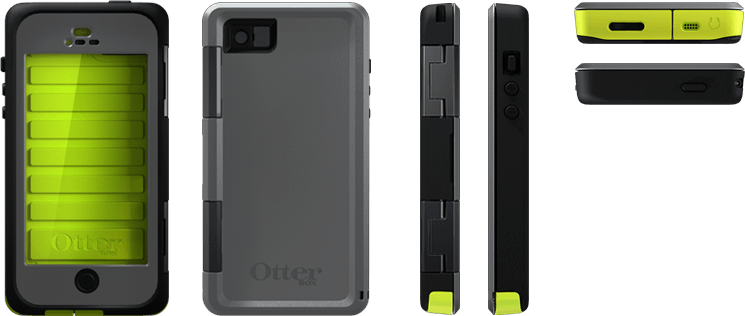 The Debatable Achilles' Heel
I've listened to some people's complaints that the Armor delivers a less than optimal audio experience. To these people I would simply suggest they open the protective flaps covering the speaker and the microphone. Once open, you have a clear channel for sound waves to travel, and there's virtually no difference in terms of sound quality than without a case on at all.
In fact, I think the protective flaps are very well designed. They are crafted to withstand extensive use, aren't cumbersome, and provide an extremely effective seal for your iPhone. Additionally, the Armor allows for ease of use when it comes to connecting charging cables and headphones, with ample space to allow a number of third-party chargers and headphones access to their respective ports.
My only small gripe with the case is its significant heft; it almost doubles the weight of the iPhone. For some people, it will be too much of a size increase. I understand this is the trade-off you make when designing a case able to withstand a ton of crushing force. But in the interest of marketability, I would like to see a happy compromise between protection and minimalism with an Armor that sported a more svelte yet protective design. Nonetheless, the Armor is an excellent case and does the job it was designed to do exceptionally well.
I rate the OtterBox Armor 4.5 out of 5 Stars. This case is exceptional in a crowded field of rugged cases, and if you are looking for a protective case for your iPhone, this juggernaut is definitely one of the best adventure-proof cases you will find!
Click HERE if you were unable to see the OtterBox feature video.
Click HERE if you were unable to see the OtterBox commercial video at the top of the page.