By Dig Om on Mon, 09/30/2013
Griffin's Survivor + Catalyst ($69.99) is an excellent waterproof and rugged protective case. This case will keep your iPhone stylish and well protected in the most extreme of circumstances, as well as in the course of everyday activities. And one of the best things about this case is the level of protection you get for its relatively low price compared to other high-quality, waterproof iPhone 5 and 5s cases.
Master your iPhone in one minute a day:
Sign up to iPhone Life's Tip of the Day Newsletter and we'll send you a tip each day to save time and get the most out of your iPhone or iPad.
There are a lot of waterproof iPhone cases on the market these days. Some are better than others in one way or another, but few are what I'd call a "complete package," providing full access to all of the iPhone's features and controls while still offering a high level of environmental protection and durability, and without looking overly militaristic. The Survivor + Catalyst (currently only available for the iPhone 5 and 5s) has all the best features you could hope to find in a waterproof, rugged protection case, without sacrificing the sleek look and feel of the iPhone itself.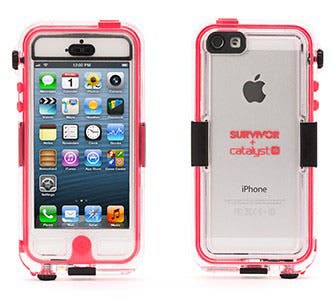 The main shell of the Survivor + Catalyst is made of an extremely durable and shatterproof clear polycarbonate. Built into the shell are colored plastic seals, buttons, dials, and latches—giving you the ability access to all of you iPhone's ports and to control all of your iPhone's functions while it is safely ensconced in the case. The cases have minimalistic color accents; and with the clear shell, the Survivor + Catalyst allows the beauty of your iPhone to shine forth from within, unobstructed. While I know Griffin manufactured a variety of color options of this case, I only saw models with black or pink accents on the Griffin website. I did find a couple of places online where different color options could be found, in some instances at lower prices.
I really appreciate how much the Survivor + Catalyst lets your iPhone be seen so clearly through the case's protective housing. After all, we all love the simple elegance that is the iPhone 5, even though many of us feel the necessity to protect our device from extreme conditions or unexpected circumstances. In fact, I love this case for my iPhone so much that Ihope Griffin releases a Survivor + Catalyst version for the iPad mini too. I'd order one, that's for sure. Likewise, with its transparent design, I am sure a iPhone 5c version of this case would also sell like hot cakes!
This case is currently one of my favorite rugged cases on the market. In terms of functionality, the Survivor + Catalyst gets five Stars from me. And likewise, in terms of appearance and feel, this case also gets five Stars. If you are looking for a stylish iPhone 5 case that will give you some of the best and most reliable protection around, look no further than Griffin's Survivor + Catalyst.
Pros:
At $69.99 the Survivor + Catalyst is the best price for a waterproof case of this caliber. 

Waterproof to a remarkable 10-foot depth. Shock-proofed against 7-foot falls.

Attached headphones port screw so that it won't get lost when plugging your headphones in.

The slim profile and 

minimalistic

design lets the beauty of your iPhone be appreciated while still protected.

Available in a range of color accents for that personal touch.

Has an extremely durable and scratch-resistant

touch screen

, more so than many other waterproof cases.

Has a convenient lanyard attachment point and comes with a sturdy lanyard strap.

Includes a special headphone adapter to allow you to attach your listening accessories without compromising the waterproof and debris-proof integrity of the case.
Cons:
This case is slick, which may not be the best thing if you use your iPhone around the water a lot where it can get wet and slippery. It's hard to grip when it's dry, and even harder when you are swimming and splashing around with it. At least it has a lanyard you can loop over your wrist! That said, I personally appreciate the slick feel this case has, though I know there will be some folks out there who will wish for some kind of

grippy

rubber traction built into the outer shell.

I've yet to meet a waterproof, ultra-rugged iPhone case that doesn't diminish the audio quality of phone calls, and the Survivor + Catalyst is no exception. The call quality isn't horrible by any means, but it's also not what you get when the iPhone isn't in a case. But tha

t's to be expected. It's the small price we pay to have an iPhone that can handle just about anything you can throw at it.