By Cindy Downes on Mon, 05/09/2011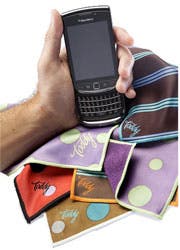 Personally, I cut up a microfiber cloth, which I buy at Wal-mart, to use on my iPad and iPhone. But, I certainly wouldn't give that as a gift.
If you're looking for a gift, check out the Toddy Smart Cloth. Anyone with an iPad or other electronic devices will appreciate it as being functional as well as very nice looking!
The Toddy Smart Cloth is plush microfiber on one side and silk microfiber on the other side. It cleans without sprays of any kind and will not scratch your screen. The cloth comes in 42 colors and patterns! Lots of choices! There's even an "Opening Bell" collection for the businessman! You can have it imprinted with your own logo, too!
I love microfiber for cleaning my devices and you can't have too many of them!