By Cindy Downes on Thu, 10/13/2011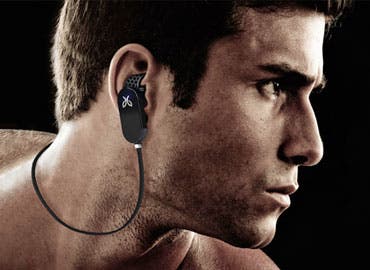 As soon as I unpacked my new Jaybird Freedom Bluetooth Wireless Headphone, I took my dog for a walk; or I should say, she took me for a walk. (She drags me around at 3 mph plus!) The Jaybird was perfect. It remained comfortably in my ear throughout the entire walk, and the sound quality was excellent. I did discover that carrying my iPhone in my pocket caused the sound to cut out every now and then, so I switched to carrying it in my hand. That worked fine. Next time I went for my walk, I used an armband and had no trouble at all.
I particularly liked how well it worked with my workout app. I use Runtastic PRO to track my calories, speed and distance. Runtastic also allows me to use my iTunes within the app, as well as take photos within the app. I was able to take phone calls, listen to music and take photos while I walked with absolutely no problems! The Jaybird worked seamlessly with both my phone and the Runtastic app. I love it!
The only negative thing I have to mention is that the manual gets MINUS 5 stars! The print is so tiny, I had to borrow my husband's Ruby (reader for those who have vision disabilities) to read it. Not good! The company needs to create a page on the website with these instructions so we can actually read them.
Master your iPhone in one minute a day:
Sign up to iPhone Life's Tip of the Day Newsletter and we'll send you a tip each day to save time and get the most out of your iPhone or iPad.
Here's some more info:
• No wires going from your earpiece to your mobile device means no tangled cords. I like that!
• It's super easy to pair. Although the instructions required the user to enter a code in order to complete the sync, I didn't have to. Not sure why this happened, but I didn't have any problems. It paired fine.
• You get lots of extra ear pieces – 3 pair ear tips, 3 pair silicon ear cushions, and 1 pair ear hooks (I didn't need these.). I found the smallest size fit me perfect. Very comfortable.
• The material is sweatproof – easy to wipe off and keep clean
• The hard shell case, the display box and earphones all have an upscale appearance. Nice magnetic closure on the case.
• 6 hours playing time; 2 hours to charge
All in all, this is a superior product. I highly recommend it to anyone who enjoys listening to a mobile device while exercising or doing anything on the go.