By

Anonymous
Fri, 01/15/2010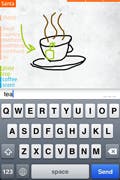 Do you enjoy playing Charades, but hate making a fool of yourself? With Charadium, you don't have to.
Instead of acting out a word, you draw it with your finger on the iPhone screen. I think it's more like Pictionary. After you draw your version of the word on the screen, the other players type in their guesses. The first one to guess correctly wins.
It's a multiplayer game, but you don't have to know the other players. Whoever is on the game at the time you log in are your opponents. Fun!