By Daniel Rasmus on Fri, 06/21/2013
Businesses need to manage social media in an efficient and effective way. As popular client software like TweetDeck—once a cross-platform social media management tool of choice—became the captive property of Twitter, such social media management apps options narrowed.
Enter Viralheat (free). Viralheat is an app and service that offers comprehensive management of all major social networks. The iPhone app offers the ability to create posts for Twitter, LinkedIn, Facebook, and Facebook pages associated with an account. The application also permits the future scheduling of posts.  
Getting started with the app is as simple as creating a new Viralheat account or logging in with Twitter or Facebook (I always recommend a separate account should any party involved become untrustworthy).
Master your iPhone in one minute a day:
Sign up to iPhone Life's Tip of the Day Newsletter and we'll send you a tip each day to save time and get the most out of your iPhone or iPad.
Viralheat consolidates streams from all registered social media accounts, creating a cohesive flow of check-ins, commentaries, and posts from friends, colleagues and those being followed. Tapping an icon at the top of the stream focuses the stream on Twitter, Facebook or LinkedIn. Tap "all" to see everything. The Viralheat app also provides some basic analytics for each service, including followers, following, likes, etc. 
For mobile social media management, Viralheat can't be beat for simplicity and integration. The app uses the term "sources" to identify social media platforms. Once registered, you can easily post to any of them individually or all together.
To get started, tap the menu, tap "messages," and then tap the compose icon (square the pen) to write. At the bottom of the composition screen, a little square with a nondescript head represents the services. Tapping on it reveals a list. Tap the ones where you want the post to appear, hit publish, and you're post goes live. My only complaint is about language used, not function. I would rather see the word "posts" used rather than  "messages," which to me, reinforces our email biases.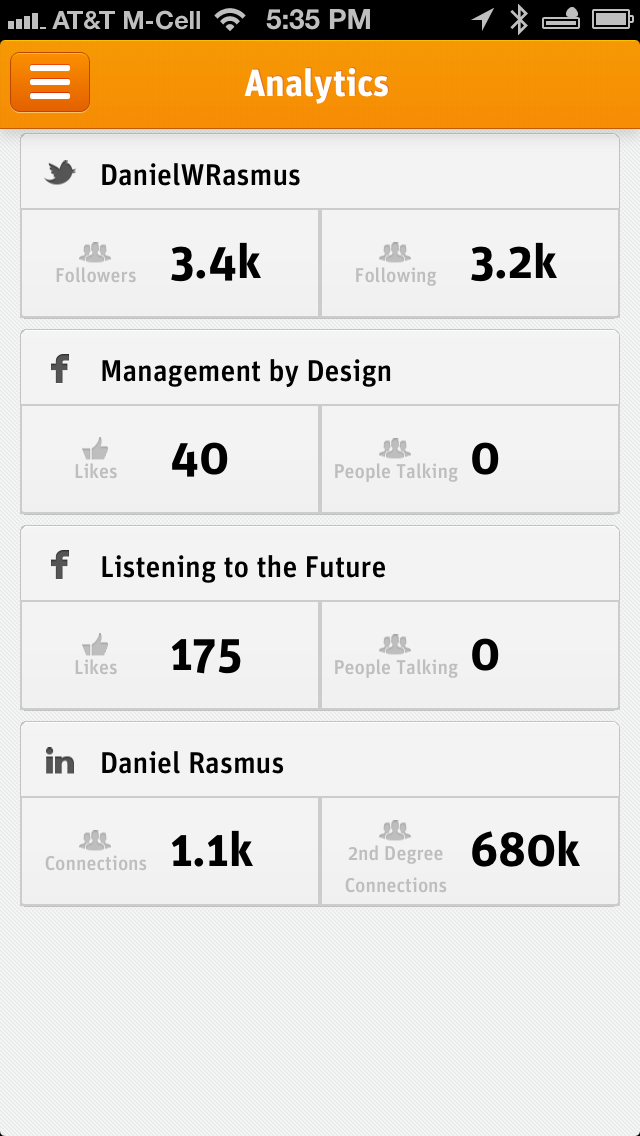 If you're at your PC more than with your phone, Viralheat has an answer for that as well. It's called Flint, a social composition plug-in compatible with Firefox, Safari, and Chrome. Flint primarily offers a quick pop-up posting window that's faster than many web-based social sharing features.
The real value of the Viralheat service comes from the web app, which creates a lens into the social media environment of an individual, a small business, or a large enterprise. The personal service is free, works for up to five social accounts, includes scheduled publishing, and an analytics dashboard. Premier pricing is $99.99 a month and increases the service to include 30 social accounts, five profiles to monitor various forms of social activity, geo-targeting for Facebook, and Google+ page management. It has a number of other features, including sentiment and topic analysis. Enterprises can expect to pay more and receive even more services through negotiated deals. All analytics and others services are available through a browser.
The Viralheat iPhone client offers the kind of functionality needed for today's proliferating social media market, a market that increasingly builds itself around siloed, service-owned clients. Although HootSuite still offers a client for managing multiple social media accounts, it feels big and complex next to Viralheat's simple and elegant user interface. The market needs good cross-platform tools to help individuals and enterprises manage their social interactions effectively. I look forward to a true iPad client at some point, as the iPad screen real estate would permit space for all of the web features.
If you need to manage multiple Twitter accounts Facebook page or two, look into Viralheat. It may just become the social media companion you're looking for.
Note: Not all social media events are good, and not all of them are well planned. Men's Warehouse uses Viralheat to view brand mentions and monitor promotions. As I was writing this post, the company announced it was parting ways with founder and long-time spokesperson George Zimmer (Los Angeles Times: "Men's Wearhouse fires founder George Zimmer; no reason given") With the stock price plummeting in after hours trading and a lack of information from the company, social media is buzzing. Just the kind of event Viralheat's services were designed to monitor.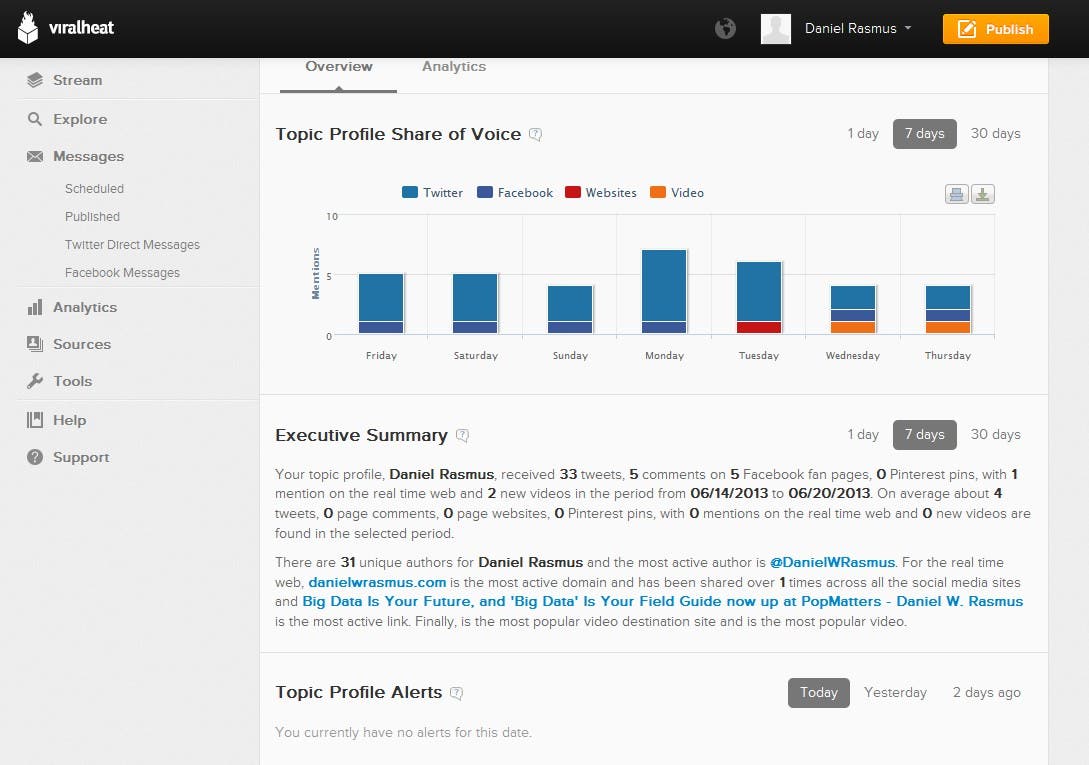 An example of the web service, showing sentiment analysis.