By Daniel Rasmus on Sat, 06/16/2012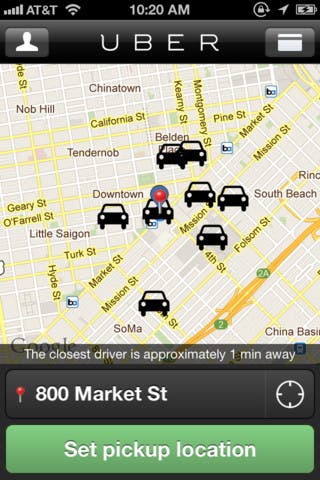 Over a year ago I was off the main taxi routes in the outskirts of downtown San Francisco. I asked my client to call a taxi so I could return to my hotel. As has become so common these days, he suggested offer me this courtesy, but that I download an app. That app was Uber.
So I downloaded the app, created an account and added in my credit card information.
I then used the app, which knew where I was standing via location services, to get me a cab. A few minutes later a taxi showed up. Before that, I knew the name of the driver and I could watch as he navigated his way toward me.
Master your iPhone in one minute a day:
Sign up to iPhone Life's Tip of the Day Newsletter and we'll send you a tip each day to save time and get the most out of your iPhone or iPad.
The app was new and was only available, at that time, in San Francisco.
Last week, I was in Chicago. I checked out of my hotel, and rather than use the doorman's whistle service, I called on Ubber, which was been in the Chicago area now for a few months.
I was quickly connected to Mokhtar and his car.
The car arrived. I got in, had a nice conversation with Mokhtar, retrieved my bags at the airport and exited.
Uber transactions are paperless. You simply leave the car. No tip. Not to say, however, no premium.
I took a taxi from the airport upon my arrival, through heavy traffic, and paid $50 to be deposited at my hotel. To depart, the fee was $75 for a ride through less traffic, but I was in a limo, had a nice cold bottle of water, and enjoyed a comfortable ride.
And after the transaction, Uber sends a receipt immeidately to the e-mail account associated with the Uber account.  Convienence has value. And you control the final outcome through a rating of the experience.
In the outskirts of San Francisco's downtown, off the beaten path of taxi drivers, Uber is great. Uber worked well in the high traffic downtown area as well, but I waved off at least 5 taxi's who saw me in front of my hotel with my bags. That probably means I spent both more money and more time than was necessary when using the app.  That said, Mokhtar and his car were both professional, and the association with Uber made for not only a more comfortable ride, but a more comfortable transaction. I think the less traveled paths are more the sweet spot for Uber, or perhaps, as I have experienced several times in big cities, those moments where the doorman can't get you a cab because of some event has clogged the thoroughfares.
Regardless of the use-case, the application is well executed, the model appears secure and I've had two very good experiences. I'm sure those of you who live in Uber service areas have much more experience than I do–I'd love to hear your thoughts.
The Uber car approaches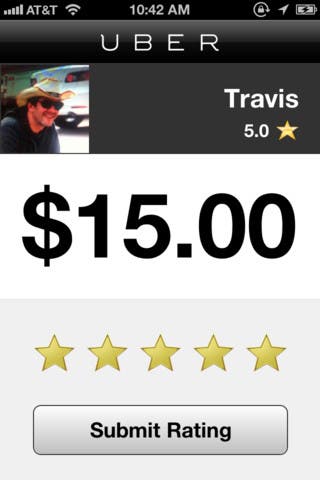 The transaction and the driver rating.