By Daniel Rasmus on Tue, 05/15/2012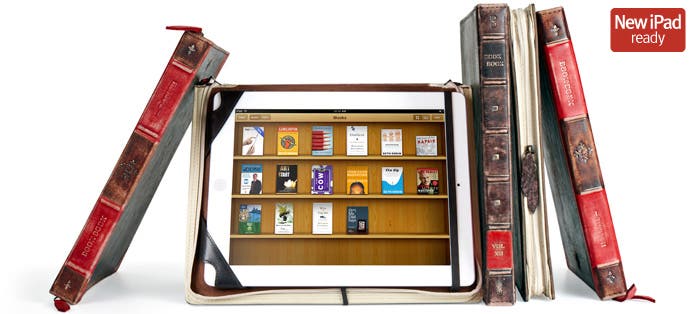 I love books. When I acquire a classic and it ships to me, I wait patiently, but attentively, sometimes with speculative anticipation. This time was no different. I have looked longingly at this book more than once, in small shops in San Francisco's SOMA and in Cambridge's Central Square. And now it is to be mine.
When the box arrived I looked first at the packaging. Care was taken. A satiny drawstring bag enveloped the vintage leather. I careful removed the bag. In my hand now, scuffed and worn, aged, with a fine patina, was my Twelve South BookBook for iPad. The ultimate iPad case for the book lover.
It is very simple to insert the iPad into the BookBook. Place one end into the leather feet and place the elastic band over the other. The rich, padded interior offers good protection and a comfortable surface for holding the iPad. Don't think because the BookBook looks like a book that you can't perform the unconscionable act of folding back the cover, you can.  Unlike a real book, you won't damage the spine and cause signature stitched pages to pop their bindings a fly into the air. No, you will just be able to hold your iPad comfortably and shot pigs into submission with abandon.
Master your iPhone in one minute a day:
Sign up to iPhone Life's Tip of the Day Newsletter and we'll send you a tip each day to save time and get the most out of your iPhone or iPad.
The leather strap and the circle of leather stitched in opposite the iPad (no quick brad punch here, stitching — which also means no worry about metal touching your iPad screen). That leather strap loops around the circle to hold the case open with in landscape presentation mode — or when you are watching a movie. The strap can get in the way if you just leave it hanging. Since I don't use the BookBook at an easel very often, I loosely tie the strap underneath the iPad so that it has plenty of give when the cover is flipped back, and staying well contained until called upon.
As much as I love the BookBook, I would suggest two improvements. First, the elastic at the top of the case doesn't hold the iPad securely. When the case is open, the iPad tends to slip which can be a protection issue if you aren't paying attention.  Avoid fast lateral movements that might dislodge your iPad. I tend to leave my Incipio smartFeather on when using the BookBook as extra protection. They may want to consider embedding a snap-in case feature for better security. That would probably increase the cost as the current configuration fit all iPads—it is precisely because the BookBook isn't overly precise that it fits all models. However, unlike some case, it is easy to get the iPad in and out of the BookBook, but that ease also reflects on its sometimes tenuous hold on your hardware.
Let me clear on protection. My concern focuses on an open BookBook, not one that is zipped securely. Once zipped, I have no concerns about this case protecting an iPad, and in style. The zipper pulls, also of stitched leather, look like book marks, and the amble edges that protrude beyond the zipper area are more than adequate for most bumps and spills.
My second suggestion has already been headed in their new iPhone offering: pockets on the interior. A business card holder should have been standard on any of these cases, but a version with places for notes, even a pen or stylus, would be good (it could easily accommodate a pen along the interior spine). I think Twelve South could easily increase functionality without making it complex or weighty, or more expensive.
These suggestions are nits and aren't part of the current design intent — and the BookBook is all about retro design. And in design, I think it is extraordinarily clever. I could easily see this product in the stall of Florences's San Lorenzo Market. The BookBook is a case made with care and with a love of tradition. As a writer and a poet, I find it touching that a company creates products that help us retain our history and our context even as technology marches inevitably forward.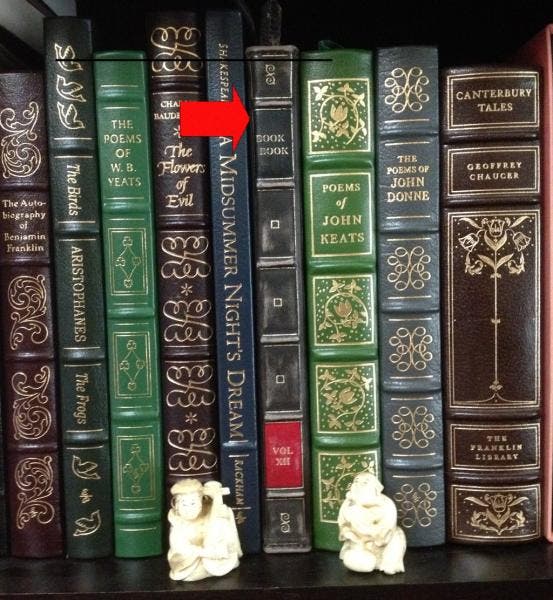 A pciture of my BookBook surrounded by other classics:
BookBook for iPad
$69.99
Comes in Black or Red