By Daniel Rasmus on Mon, 02/10/2014
Twelve South sent me their $99 BookBook Travel Journal (4 stars out of 5) as a companion for my many trips. I now take it everywhere, but I don't exactly use it as intended. But let me share intentions first.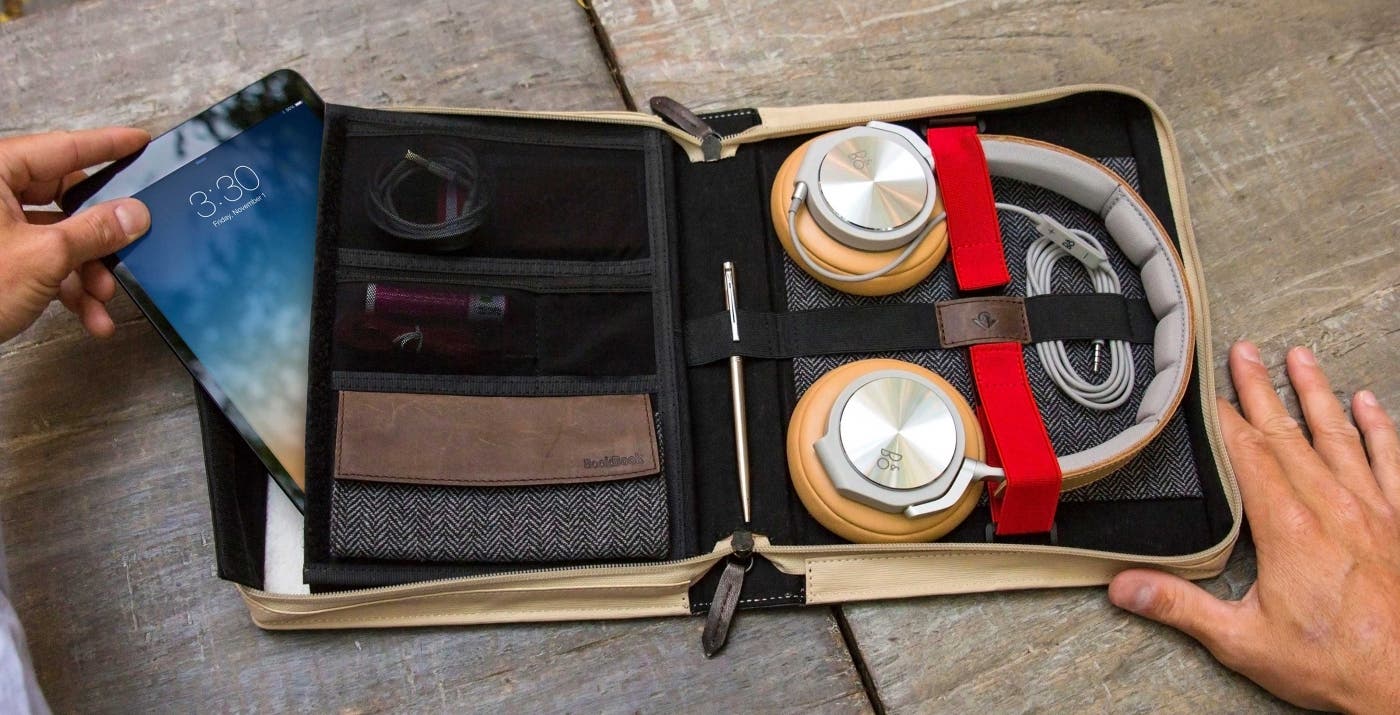 Master your iPhone in one minute a day:
Sign up to iPhone Life's Tip of the Day Newsletter and we'll send you a tip each day to save time and get the most out of your iPhone or iPad.
The BookBook Travel Journal is a leather bound case for holding all the stuff you need to support an iPad lifestyle. Headphones, chargers, connectors, and a wide range of other stuff easily fits into the Journal. And it is supposed to also hold your iPad. For many of you, it might not do that. If you have a case much thicker than Apple's basic cover, the tolerances are too tight. 19 out of 20 cases I evaluated recently are too thick or add too much length or breadth to permit the iPad entry into the Journal's slim recesses. So I use the BookBook Travel Journal for all the accessories, and then place my Amazon Kindle Paperwhite into the sleeve. Not that that is a bad thing, because my Paperwhite is naked and needs protection. It would have to go somewhere.
The intent is for people who have gone iPad only to just use the BookBook. I think Twelve South needs a next generation to make that viable. That next generation should include an oversize pocket tolerance that includes cases as large as the OtterBox Defender. I would also like to see it with handles so it can be more easily carried (I know books don't have handles, but many leather briefcase portfolios have handles that slide down out of the way when tucked under an arm. The Travel Journal would benefit from that design.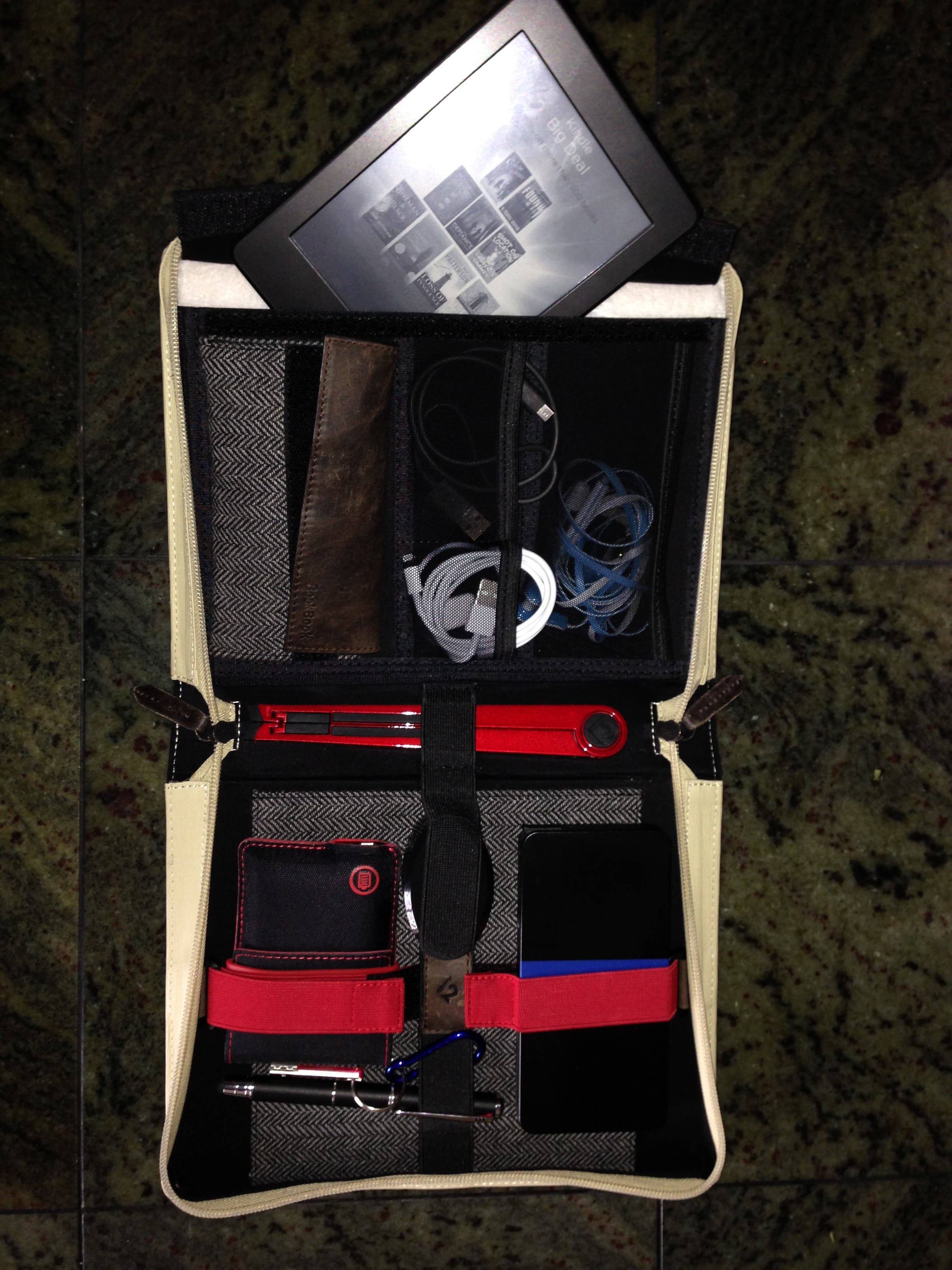 OK, enough suggestions. What do I love about the BookBook Travel Journal that makes it a worthy companion even if it doesn't house my iPad? First it the quality of the workmanship and materials. Everything Twelve South makes is beautiful and well-constructed. The Journal is clearly made of great materials, from leather to tweed. Inside the zipper leather exterior a number of pockets and straps await items of all types. Here's what's in mine:
Apple Lightning cable
Apple HDMI adapter
Apple VGA adapter
Screen cleaning cloth
Mini-usb cable
16GB USB stick on a carbineer
That's a pretty good haul. And as you can see from the images, if you want to replace the battery and a couple of other items with full-sized headphones, you can easily reconfigure the interior to hold whatever kit you like.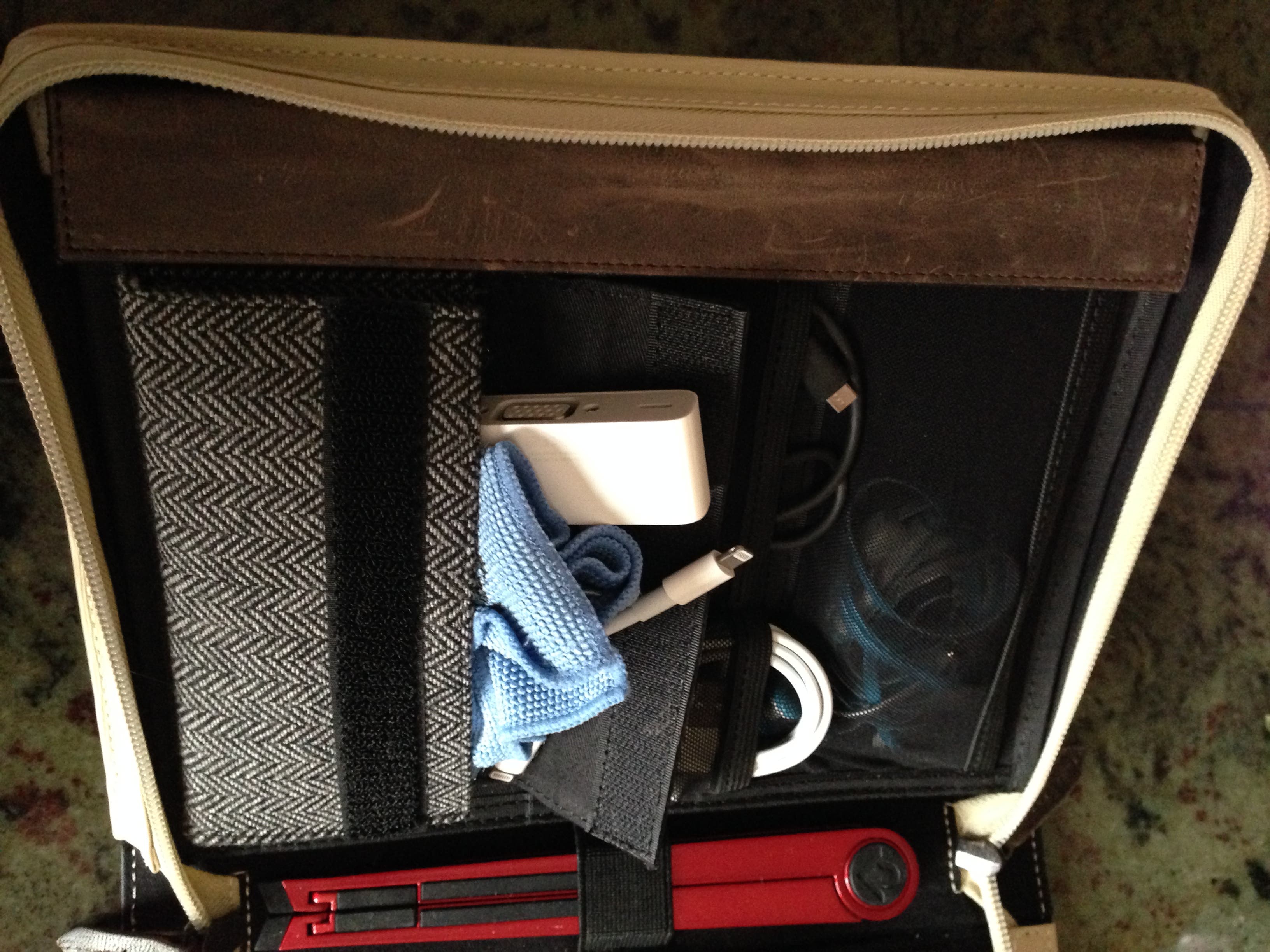 But as a person who has gone all in on the iPad when I travel, I still carry additional items, like a business card scanner, extension cords, and other items in a pair of Cacoon Grid-it organizers.
I love books. And I love the BookBook Travel Journal. If you carry your iPad in the raw, then the Travel Journal may be all you need. If you encase your iPad in something more robust, you may find the Travel Journal a core component of your cadre of travel kit, but not the only element. I still find myself carrying a backpack or shoulder bag because I would rather wear or roll my stuff during a trip, than carry it in my hands. I have to say, however, that when I pull out the Travel Journal and start to configure my work area or plug-in for a presentation, my colleagues are very impressed with the look and utility of the Travel Journal.