By Daniel Rasmus updated on 03/26/2013
When studying the solar system, it's hard to beat Solar Walk ($2.99) from Vito Technology. You begin with an image of the earth with many light blue lines circling it. Tap one and the app provides a close-up view of a satellite. All the satellites are rendered in 3D, and a clickable info button reveals information and images associated with the satellite. Solar Walk provides enough satellite detail to have good conversations about orbits, satellite construction, and observation. Combine this app with Google Earth and you can have a good dialog about public and private surveillance. There also is information on the International Space Station.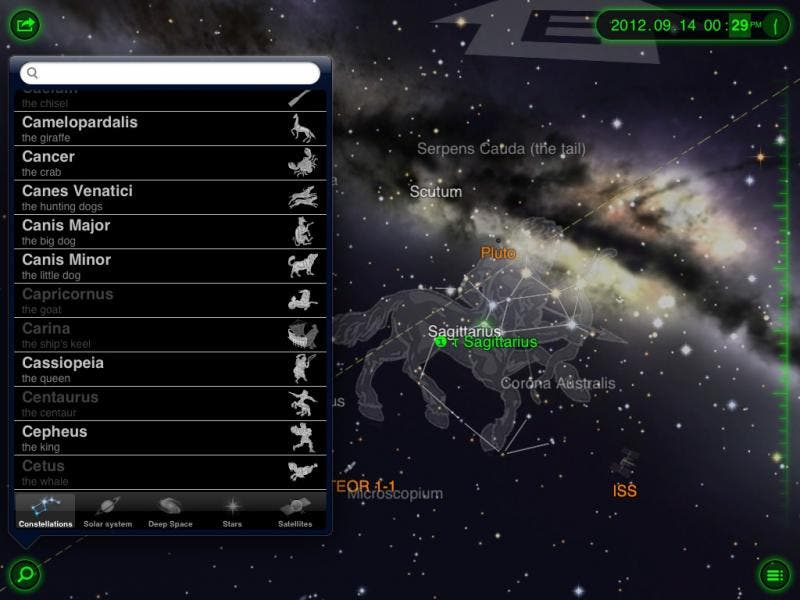 Solar Walk lets students navigate through the solar system and watch several short videos that compare planet sizes, simulate solar eclipses, moon phases, tides, and explore other planetary phenomenon. Solar Walk is easy to navigate, enhances the experience with a mellow soundtrack, and if you have the green-red 3D glasses, the app will bring a little bit of the solar system into the room with you.
Master your iPhone in one minute a day:
Sign up to iPhone Life's Tip of the Day Newsletter and we'll send you a tip each day to save time and get the most out of your iPhone or iPad.
If you step back and wait for the sun to go down, a number of applications can turn star gazing into a deep learning experience. Star Walk ($2.99), Distant Suns ($9.99) and Pocket Universe ($1.99) all create virtual views of the night sky and provide various ways to interact with it. Think about star gazing night as school. Those evenings often include a few science teachers roaming among parents and children. With iPads and iPhones pointed at the night sky, everyone can be an expert on the points of light they observe. And as an added bonus, these apps let you turn iPads into private planetariums so students can explore the sky during the day.
Distant Suns ($9.99) includes a lot of information, but most of it isn't meaningful to the high school science student. The app, however, can easily become an astronomical cheat sheet for the astronomy student.  Need to know magnitudes, variable class, period, parallax of other data, if it exists in public databases, it has probably been imported into Distant Suns. For the sidewalk astronomer, Distant Suns let you quickly find the object or event you left your house to observe.
Star Walk ($2.99) offers a similar interface to its sister program, Solar Walk. Both have a nice sound track and easy-to-use controls. It is much more artistic in feel than the more scientifically-oriented Distant Suns. Star Walk also creates a better-shared learning environment with one tap access to twitter, Facebook, e-mail, camera roll, and printing. The Picture of the Day feature, along with a gallery of galaxies and nebula from various European agencies create daily opportunities to discuss space science. Unfortunately, not all of the images include self-contained descriptions, but tapping a button at the top the display bounces out to the image source for additional detail. Star Walk also includes a very cool augmented reality that maps your location against its star charts in real-time through your camera.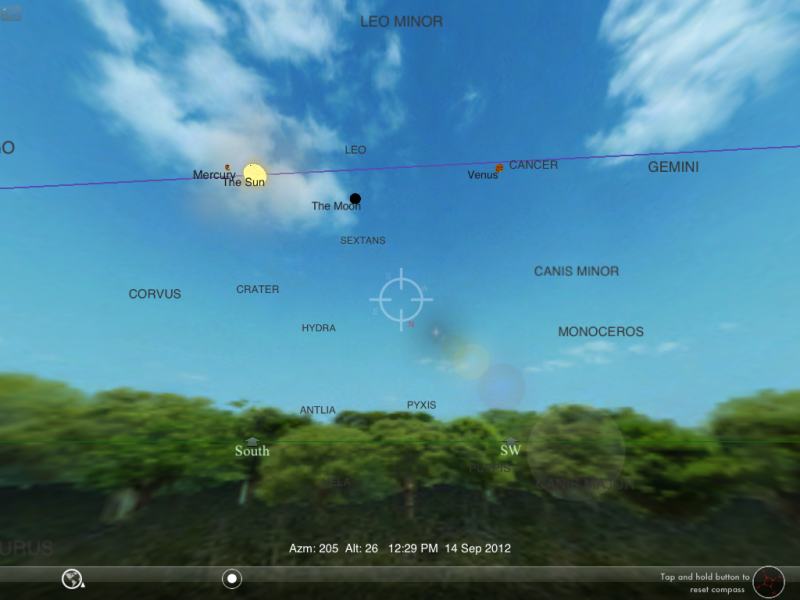 Pocket Universe ($1.99)offers yet another view into the sky, with a much more earth-centric point-of-view. It doesn't include as many bells and whistles as the other products, but its straightforward interface has helped me identify or find objects quickly and efficiently. Extras include quick access to the night's events, virtual moon and mars walks, and quizzes about stars and constellations.