By Daniel Rasmus on Tue, 04/09/2013
If you're anything like me, your desk is covered in stuff: pens, paperclips, business cards, CDs, receipts, a stylus or two, a mini flashlight, rubber bands, and memory cards. You get the point. And, if you're like me, your desk drawers are filled with too much stuff for you to find anything you need at the moment.
1. mykeyO Bluetooth "the restt" Keyboard Organizer ($39.95)
Master your iPhone in one minute a day:
Sign up to iPhone Life's Tip of the Day Newsletter and we'll send you a tip each day to save time and get the most out of your iPhone or iPad.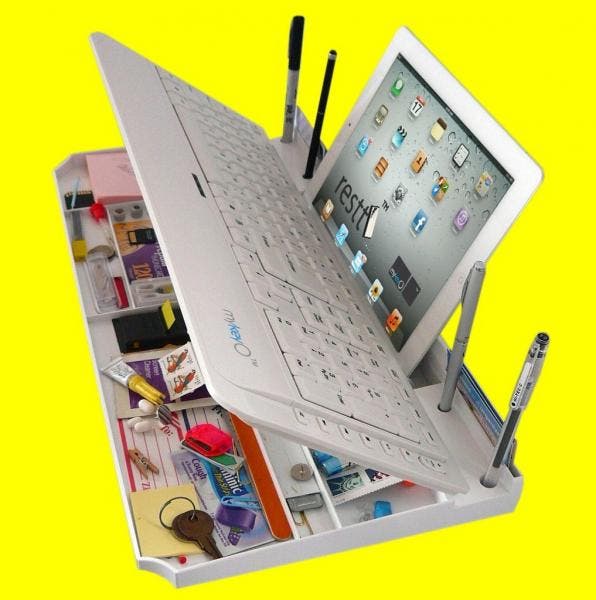 If the above description hits close to home, mykeyO may just have the answer for you with its Bluetooth-enabled keyboard. At first glance, "the restt" is just a solid, basic, full-sized keyboard. mykeyO hasn't attempted anything fancy with the typing — function keys are function keys and off to the side are a few extras to support Windows and multimedia functions.
At the top of the keyboard, however, mykeyO has cleverly carved out a resting place for an iPad or iPhone, which it connects to via Bluetooth. Next to the device tray are areas for business cards, pens, and styli. It even includes openings wide enough to accommodate charging cables, complete with notches to keep the keyboard level.
Lift the keyboard to reveal a series of compartments to hold everything from DVDs to CDs, stamps, glasses, a microfiber cloth, or almost any small item currently cluttering your desk. The keyboard, even with the tray, remains relatively low profile. If you need an even lower profile, the keyboard can be easily snapped off the tray and used independently.
As a Bluetooth keyboard, no app is required. The media, search, and other keys that make sense on the tablet work as expected. "The restt" runs on standard AAA batteries that should last for about six months of regular use.
mykeyO sells Bluetooth and USB versions of the keyboard, which come in black, white, or pink. I'm looking forward to its new executive version previewed at the Consumer Electronics Show this year. It is a tray that perfectly matches Apple's portable and desktop keyboards. And rather than plastic, these executive tablet storage units are solid aluminum. At $149, the executive version is a bit more expensive than its consumer counterparts.
2. FAVI Bluetooth PC / Tablet Keyboard and Presenter with Laser Pointer ($79.99)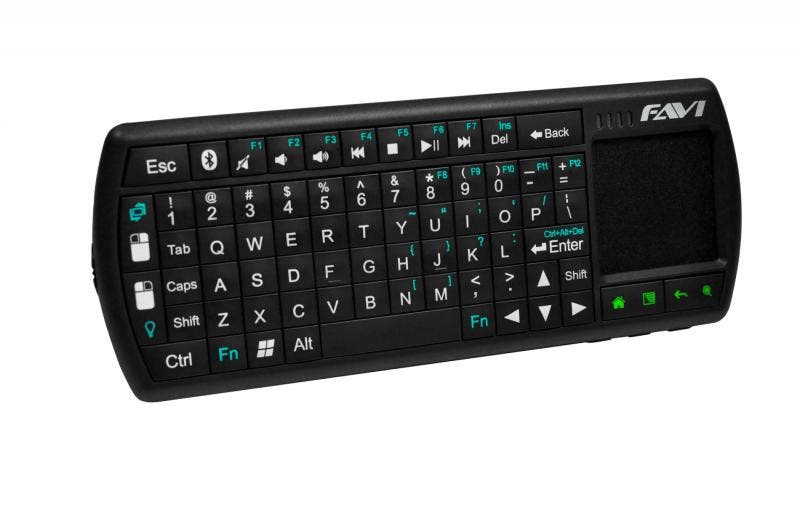 Slightly larger than a package of Reese's Peanut Butter Cups, the only thing big about this keyboard is its name. I will just refer to as the FAVI from here on out. The FAVI is a full multimedia entertainment keyboard complete with track pad, mouse click equivalents, and a laser pointer.
Like the mykeyO, this diminutive device sports a hidden compartment. But alas, it's only big enough to hold its rechargeable battery and a tiny Bluetooth dongle.
The FAVI is not intended for speed typing, but is bigger than most phone keyboards and includes a track pad. Home and search keys work with iOS, as does the keyboard itself. But the FAVI was really designed for Android, which includes full mouse support. So for iOS users, the trackpad just takes up space. Although the keyboard works great with the desktop versions of PowerPoint and Keynote in presentation mode, FAVI hasn't included the equivalent clicks needed to move along an iOS Keynote presentation, so it isn't all that good as an iPad remote control. In FAVI's defense, even the Apple Bluetooth Keyboard doesn't support slide advance in KeyNote on iOS. The only solution is Apple Keynote Remote ($0.99), which supports remote control from an iPhone.
It's cute and pretty well made, though it took me awhile to slide the back off to reveal the Bluetooth dongle. Unlike many consumer electronics today, the battery isn't sealed and can be replace it. I'm disappointed FAVI doesn't offer a pure iOS version (or one that can be switched), but works well on a Mac, PC, or Kindle Fire. 
Typing it Out
Keyboards, like many other gadgets, are now available in designs suited for any given context. The FAVI is great for remote PC or Mac presentations, while the mykeyO beckons to the clutter bug in all of us. Like iPhone cases, sunglasses, or baseball caps, it seems even keyboards have entered the realm of "the right one for the right occasion."