By Daniel Rasmus updated on 02/08/2014
The iPad is notoriously insensitive to pressure. To an iPad, a finger is a monochromatic experience. But with new stylus products like the Pogo Touch, things changed. Through the magic of Bluetooth 4.0, the iPad can receive information from an external sensor. For the most part this has come in the form of stylus products that provide pressure-sensitive input to the iPad.
As the number of pressure-sensitive stylus options increases, style, design, and usability become an important element. It is no longer unique enough to deliver a stylus that can apply a pressure-sensitive input to the iOS environment, now you have to do it well.
Master your iPhone in one minute a day:
Sign up to iPhone Life's Tip of the Day Newsletter and we'll send you a tip each day to save time and get the most out of your iPhone or iPad.
Before I review the latest entries, let me cover two major issue with all of these devices: parts and buttons.
Parts: When you are working in a mobile environment, anything with parts introduces complexities. Every pressure-sensitive stylus I have used includes extra parts like batteries, caps, nibs, or chargers. And because this is a new market, with the exception of batteries, most of these items are unique to the device, and therefore, if lost, require replacement at a cost.
Buttons: Pencils don't have buttons. With electronics, we seem to feel a need to design buttons and extra functions, regardless of actual need for those buttons or features. Take a pressure-sensitive stylus. Touch a button and the stylus becomes an eraser. Great idea, until you touch the button at the wrong time, which means that you are worrying, at least a little bit, about how to hold the stylus rather than concentrating fully on creation.
Note: to remain compatible with the previously published stylus round-up, each review will be followed by a table with attribute scores.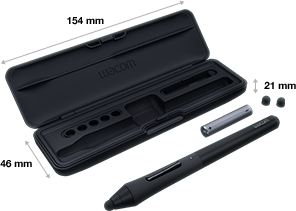 On many tablet computers, Wacom is a digitizer. The screen technology and the stylus for older PC-based tablet computers was also developed by Wacom. Apple didn't go that direction, so Wacom was forced to invent a new technology that would allow a good stylus experience on iOS. Their solution was the Intuos, which bring 2048 levels of pressure sensitivity to the iPad.
On the parts front, the Intuos comes in a case with a place for the pen, an extra AAAA battery, and the replaceable rubber nibs, of which you get two. As stated in the parts note above, this means the nibs wear out or get lost, and it also means you may need to replace the battery.
The Intuos is ergonomic, consisting of a combination of metal and plastic that terminates in a rubber nib used to transmit pressure back to the pen, then to the iPad. The stylus feels balanced, looks good, and provides a good feel on the screen surface, but the nib does obscure the location of the input so it feels somewhat imprecise.
Wacom is a leader in stylus technology, so I was hoping they would create a stylus that was as mobile as the iPad itself. With the case and all, it feels like I have to decide where I'm going to use the Intuos, which eliminates some of the spontaneity of owning an iPad.
| | | | | | |
| --- | --- | --- | --- | --- | --- |
| Usability | Design | Unique Features | Durability | Price | Overall Score |
| 3 | 3 | 5 | 4 | 2 | 17 |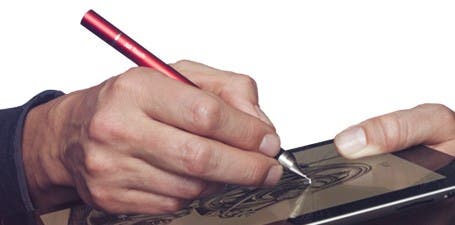 The Adonit Jot Touch 4 looks like a tube with a flying saucer attached to it. That flying saucer is known as the precision disc and it's Adonit's coolest innovation. Their styluses use this design even on non-pressure-sensitive models. Only the GoSmart Stylus offers as unique a tip design.
The Touch is a beautifully engineered product. It is sleek and precisely machined. And it delivers on its pressure-sensitive promise for the applications that support it. That said, the cap that protects the precision disc must be unscrewed and rescrewed to the top before the stylus becomes functional (sure, you can place the cover next you for more instant access, but it is a tube, so if it rolls it might get lost).
And then there are the buttons. Some apps, like Noteshelf, default to no action on the buttons, which is what I want, but their mere presence makes me more aware of them than I want to be, and therefore, less fluid in my thinking.
Unlike the Intuos, which requires a AAA battery, the Jot Touch 4 houses a rechargeable battery, which requires the unique, but included, USB charger. Place the pen writing-end up in the dock and it charges. Like the rest of the Adonit package, this little USB dock reflects precision engineering and fine craftsmanship, but it also means one more thing to loose (and if you lose this, you have to purchase a replacement because there are no third-party or standard charging alternatives for the Jot Touch Pro. And speaking of parts, a precision disc replacement also comes in the box, which again, implies you might lose the disc every once in a while. As beautiful as it is, the plastic disc over a sensor on a ball joint looks pretty fragile under magnification.
I do like the minimalist design inherited from the Jot Pro, but the buttons take away from that. And unlike the Jot Pro, which includes magnets for adhering to an iPad, the Jot Touch 4 has none. For precision work though, the clear disc offers better visibility than the Pogo Connect or the Intuos.
| | | | | | |
| --- | --- | --- | --- | --- | --- |
| Usability | Design | Unique Features | Durability | Price | Overall Score |
| 4 | 4 | 5 | 4 | 3 | 20 |
Conclusion
Both products require Bluetooth 4.0, so if you don't have an iPad 3 or later, you won't be able to take advantage of the pressure-sensitive features of these styli (both companies, and many others, offer a range of passive stylus options). If you are looking for a pressure-sensitive stylus, both of these products work well with the apps that accept them. If an app doesn't recognize them, they offer no more utility than their less expensive cousins.
The scoring for both comes in at the high end of the previous comparison chart primarily because the very high price of Bluetooth stylus products offsets their unique features.
Yes, I criticize the parts and the buttons, the non-universal use, and the expense, but if you are an artist or designer, and the iPad is your tool of choice, then one of these, or some other pressure-sensitive stylus is an essential part of your toolkit. You simply can't do your work without one. Regular users probably don't need a pressure-sensitive stylus and should buy a Pogo Sketch Pro or Griffin Stylus + Pen+ Laser Pointer—they'll probably get more use from the pen and the laser pointer than from the pressure-sensitive features.