By Daniel Rasmus on Wed, 08/08/2012
Slappa
$139.99
Note: This is a supplement to the iPhone Life print edition article: "It's In the Bag! Best Backpacks and Bags for the iStudent." September-October 2012.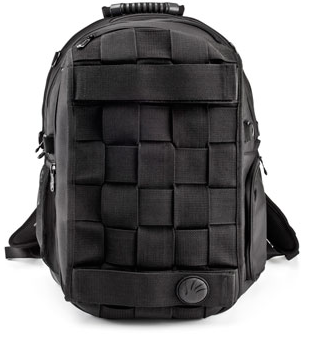 There is only one word for this backpack, and that words is: awesome.
I know most students aren't going to need a customizable 17-inch backpack that costs $139 when its not on sale. But if you are going to spend $139 on a backpack, I have not seen a better backpack on the market. It is more a competitor for the Ogio Bolt RSS than anything else I evaluated, and a bit less expensive.
So what makes this backpack so awesome. First, it is completely customizable. If you don't like the Jedi Mind Trix face pictured below (which came with the eval unit--and which, I should say, I love with its intimidating weave), Slappa offers five additional faces to match your particular needs for storage and style.
You can also pick your the lining color and the internal artwork that lines the front section.
The 1680D Ballistic Nylon pack feel like quality throughout. Heavy metal pulls on the zippers. And the pulls include lock holes, which is rare in a backpack. The straps werer clearly designed to carry the weight of a 17-inch laptop and all its kit (accessories, accoutrements, pick a word -- this bag says kit). The straps feel substantial, well-attached and comfortably padded.
And to add to the cool factor, rather than the common mesh back that most other high-end bags now sport, Slappa ships with their hand logo as the design for the mesh airflow section of the pack.
Storage. For Everything. A secure place for a tablet (though not lined, so I suggest a tablet in a case). As mentioned, up to a 17-inch backpack, and a variety of mesh, velcro-closure and zippered hideaways to organize the kit. And with the Jedi Mind Trix face, two great big heavy duty velcro straps across its front that clearly call out for a skateboard (or a phaser rifle or a sword). I think Slappa should run a contest to see what people do with those straps. Could be very interesting and pretty funny. And if you need to strap other stuff onto it, there are a couple of sets of rings securely attached to both side of the bag.
And don't worry about this bag slipping off while carrying it. To pull through the trends, it also has a chest strap and a waist strap, both large enough to fit my ample bits (I stay with British for the moment - and btw, this bag could be as much Bond as it is Star Wars. I'd like to see what Q would fill it with).
The plastic-covered handle fits over the uprights on a roller bag, making this a better-than-average travel companion. Since this is a big bag, you may think it would be hard to find a pen in its ample interior. Fear not: the standard office stuff, like pens and a USB-stick or two conveniently fit into the exterior side pocket (the one on the right in the picture).
So again, this isn't you're average $19.95 back-to-school bag, but neither are any of the others I've review. Yes, this bag is about $40 more than the average, but you can actually see and feel where that money went (well, some pre-margin part of that money).
If you want to be the class badass rather than the class clown, get this bag. And if you are already the class badass, get this bag. What ultimately defines your perception is not what you carry, but how you carry it (and what you carry in it). The Jedi Mindtrix and its cousins will easily accommodate everything required by a skater boy, a tech geek or a poet. This bag isn't a throwaway. It will last. Luckily, Slappa created a customizable architecture that will help your pack keep up with your moods, your whims and your ever increasing levels of maturity.