By Daniel Rasmus on Wed, 07/09/2014
I've been a fan of Scott Jordan's SCOTTeVEST products for years. Every once in a while, they get excited enough about a product to send me one, or I ask for the latest while heading off to some land far far from Seattle, Washington.
Most recently, I received the new Sterling Jacket for Men ($150), which is my favorite so far. It is stylish, has pockets for everything (24 in all) and includes an RFID pocket for protecting credit cards and passports. For weather and spills, the jacket sports a Teflon-treated overcoat of its own to repel all but the most egregious attacks from nature or humankind.
Master your iPhone in one minute a day:
Sign up to iPhone Life's Tip of the Day Newsletter and we'll send you a tip each day to save time and get the most out of your iPhone or iPad.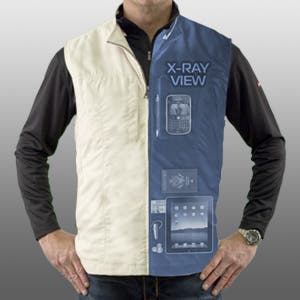 As I've written in the past, some of my small items find their way out of my pockets and into the lost world of tiny electronics and socks. I can proudly say on my most recent trip to Amsterdam, I lost nothing. I battened down my headphones in SCOTTeVEST Personal Area Network or PAN, a series of interconnecting tunnels and conduits through the jacket that links those still wired parts of our lives (like headphones and external batteries) to those less wired things, like iPods and iPhones.
One of the learning journeys associated with the Dutch workshop was a trip to the Rijksmuseum. I had already worn the jacket and people were intrigued. It started raining, out came the umbrella. Somebody needed a phone jump-start, out came a battery and a cable. I hate carrying things when walking, so attendees also watched as souvenirs disappeared into the jacket's hidden recesses. At one point during the tour, we were standing by the 1615 Amsterdam Admiralty Canon and I was asked if my jacket had a canon pocket. I said yes, of course. After the museum, we walked back out into a rainy Amsterdam evening, and to dinner. When I walked into the restaurant, I whipped out the microfiber chamois from the glasses pocket and removed the raindrops from my eyewear. The evening eventually ended up with my Sterling Jacket transforming me into James Bond. After that, all I can say is what happens in Amsterdam usually stays in Amsterdam. But there are pictures.
The internal and external illustrations speak for themselves. You can't but be amazed at the number of places to put things, things as big as an iPad 2. Like any indulgence, after too many items the jacket does get to feel a bit bloated, but the weight management system holds its pretty steady. I personally would rather distribute the weight of things I'm carrying than let one shoulder sustain the burden with a shoulder bag, or feel gravity pulling me backward with a backpack.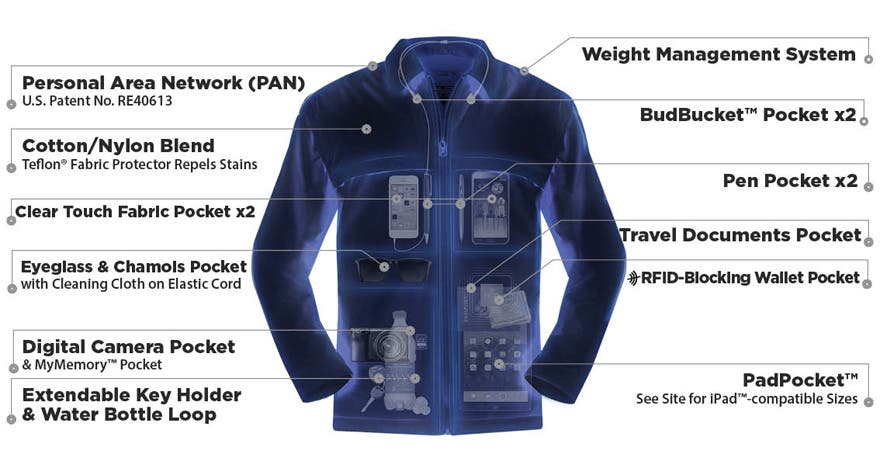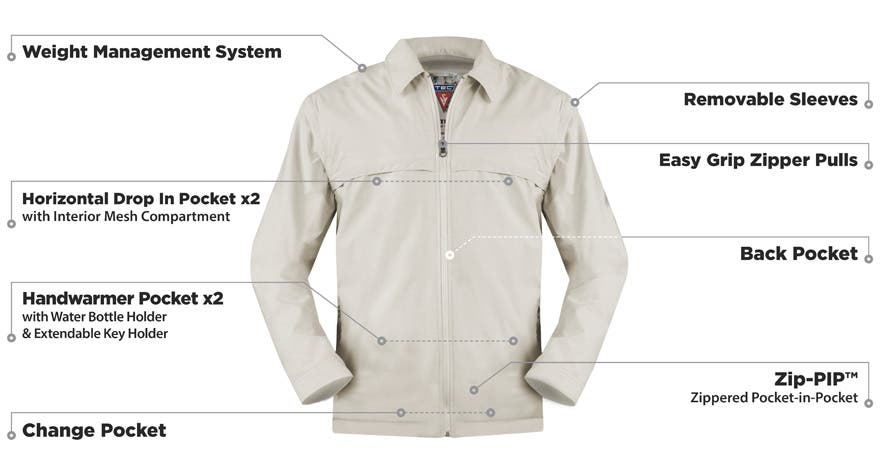 My only complaint about the Sterling is the fit, but it may be unique to me. At 6'4", I need a tall, but also a XXXL. The XXXL doesn't come in tall (but n XXL does). Unfortunately, the sleeves are slightly too short, but I really only notice that when driving or reaching for the top shelf. Regular walking is just fine.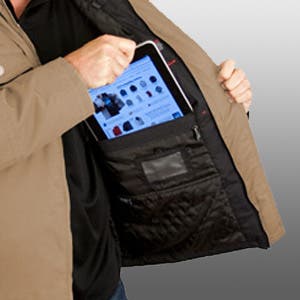 A few add ons recently arrived for the jacket (not from the SCOTTeVEST team, but from the far reaches of the United Federation of Planets,) which will be accompanying me to Comic-Con in San Diego. Watch twitter starting July 24 (@iphonelife and @DanielWRasmus) to see how I've transformed my Sterling for the Con.
The 65-35 poly blend Sterling Jacket for Men sells for $150 at scottevest.com.
iPhone Life rating: 4.5 out for 5 stars