By Daniel Rasmus on Thu, 03/29/2012
and let me add..."Credit Card Hard Shell Case with Silicone Core".  That's the official name of this case on Incipio's website. For brevity I'll just call is the Stowaway.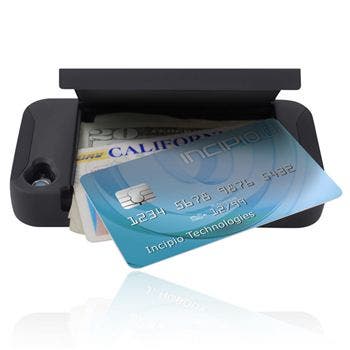 The first thing I always ask myself is "who is the case made for?" In the case of this case, I've selected three audiences:
men with gym memberships
men out on the town, particular at clubs
teenagers
A review for each.
Master your iPhone in one minute a day:
Sign up to iPhone Life's Tip of the Day Newsletter and we'll send you a tip each day to save time and get the most out of your iPhone or iPad.
Men with gym memberships
Guys, you want to be minimalist. Tuck in your membership card, favorite credit card and ID into the Stowaway, tuck the whole lot in your sweats, and you're good to go. The Stowaway may be a bit bulky, but you won't have a wallet. And bulkiness can turn into comfortable advantage, or annoying disadvantage depending on where you tuck it. That choice is yours. If your phone slips out of your pocket, it is likely the Stowaway will protect it admirably. Which is the main reason you want a case in the first place. (And yes, you still need a different place to put your keys. Of course, since it's about working out, perhaps you should just walk.)
Men out on the down, particular at clubs
Let's be realistic. The men out on the town are the same men above, they just aren't in the gym anymore. The same basic requirements apply. Tuck and go. Light but functional. And instead of dropping the iPhone on the StairMaster, you have to worry about your precious white or black communication jewel tumbling onto the edge of the dance floor. You know that awkward place where the brass edge meets the plywood. With the Stowaway, you should be good to go unless your iPhone lands face-first and you step on it. Don't step on it.
Teenagers
Do I need to say more. Rubber and hard-shell to keep your investment safe. A place to stash stuff. Perfect. And transgender. Plenty of cool colors (black on black, grey and black, blue and grey, orange and gray, purple and pink) should offer sufficient lunch hangout style appeal.
General impressions
The Stowaway comes in two pieces, a silicone wrapper that offers cushy protection for your precious Siri and her home, and a harder plastic outer case that adds additional protection from more volatile bumps, bruises and puncture wounds. It also comes, as do most Incipio products, with a screen protector, cleaning cloth and cardboard bubble-taker-outer/smoother-screeny-thingy.
The Stowaway's downside is bulk. Good protection takes up space, and the Stowaway offers good protection and utility. And utility takes up space. So yeah, a bit bulky, which is why I focused on men, not women (and again, teenagers probably won't care).
And not only does the case keep your iPhone happy as it impacts with a surface, it will also keeps it (or you) happy while its in your hand. The case feels good, with plenty of grip for your grip.
If you worry about keeping the two things you are most likely to loose in one place, then keep your ID and credit card in your wallet and let the Stowaway panel fold out into a stand for watching the latest episode of Alcatraz. That makes the Stowaway a good option for the guys who hit the gym, as well as those who would avoid a gym at all costs.
iPhone 4 4S Stowaway Credit Card Hard Shell Case with Silicone Core
$34.99