By Daniel Rasmus on Sun, 05/06/2012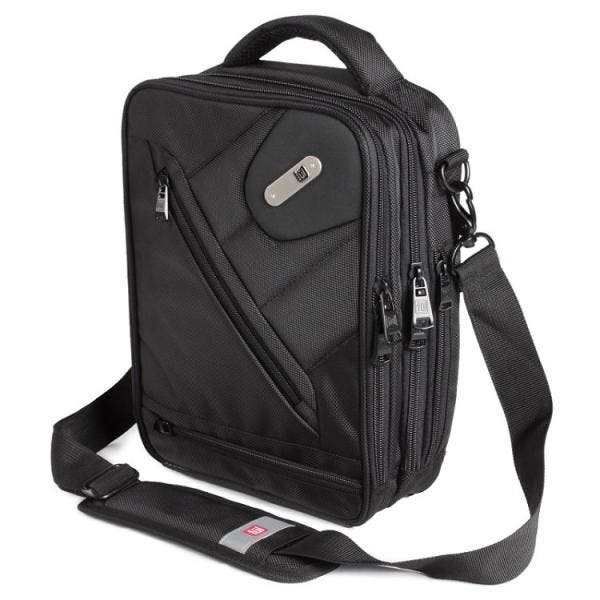 Bag manufacturers spend much of their design budgets guessing what enough people will like in a bag so that a particular bag will sell well enough to make a profit. People want specific things from their bags. In a world of 7 Billion people, you need a lot of bag designs.
Thus companies like fūl create a wide range of products. My most recent encounter comes in the form of the fūl Sidecar. This $60 bag is ideal for tablet owners who want to carry more than their tablet. I know a lot of bags say they have plenty of room for "stuff", but this bag is made for the right amount of stuff—at least for me, not too little nor too much. Many tablet bags anticipate the size of your tablet and if you put that tablet in a case, it no longer fits in the designated slot. Not so with the Sidecar, which offers generous, padded support, for an iPad and more. On my most recent trip I put an iPad with SmartCover and Incipio smart feather, along with a 2nd Generation Amazon Kindle in full-leather case. They moved around a bit, but they were both in their own cases so I didn't really care—and when they moved, they were constrained by a nice, snuggly padded enclosure.
Behind them was just what I needed for the plane ride: an ample place to put a major accessory. This is often an issue with the iPad-oriented bags. Great protection for the iPad—scant place to put much else, even a charging cable. Not so with the Sidecar. My choice was not a keyboard, but the rather bulky case of my Bose Quiet Comfort headphones.
Master your iPhone in one minute a day:
Sign up to iPhone Life's Tip of the Day Newsletter and we'll send you a tip each day to save time and get the most out of your iPhone or iPad.
And I still had room for a charger, which I didn't need on the plane, in the diagonally slotted pocket on the front of the case. The Sidecar also included a somewhat anomalous lower zippered slot along its bottom. I used this for change, but it could also hold cables, fancy pens or anything else that would fit. I like it when designers ask, in a meaningful way, what can be done with a space that might, in other circumstances, just be extra padding or nothing at all.
That bag also includes slots for papers and other items on the inside of the rear pouch. And in a surprise as this bag seems to do, pen holders run along the side of the rear pouch. I haven't seen that before, and found it another rather cleaver use of space.
The handle is very sturdy, another fūl trademark. The strap is long, well-padded and fully articulated at both ends. And as with many fūl  bags, the hidden mesh water bottle holder waits in its pouch for easy deployment.
On the rear of the case is another zippered pocket that can hold tickets or other papers, or can be used as a hideaway for the shoulder strap when the bag is under the seat, keeping the aisle and the o-so-limited and precious foot space clear. The one thing I would like to see in a next version (I know, there are rarely next versions) is a zipper on the bottom of the back pocket so the pocket could be converted into an over-the-roller-bag-handle sheath. Any bag, of any size, the doesn't have the ability to ride my roller bag in style loses style points.
Overall, this is a fine bag. It looks good: basic business black with good lines and solid functionality. I find it useful and happily share with fellow conference goers and travelers its make and its model.
Dimensions: 12.25in x 9.25in x 3.25in
eReader Compartment: 10in x 8.25in x 1in
Cubic Capacity: 368 cu in
1680D Poly
$60 US