By Daniel Rasmus on Tue, 04/10/2012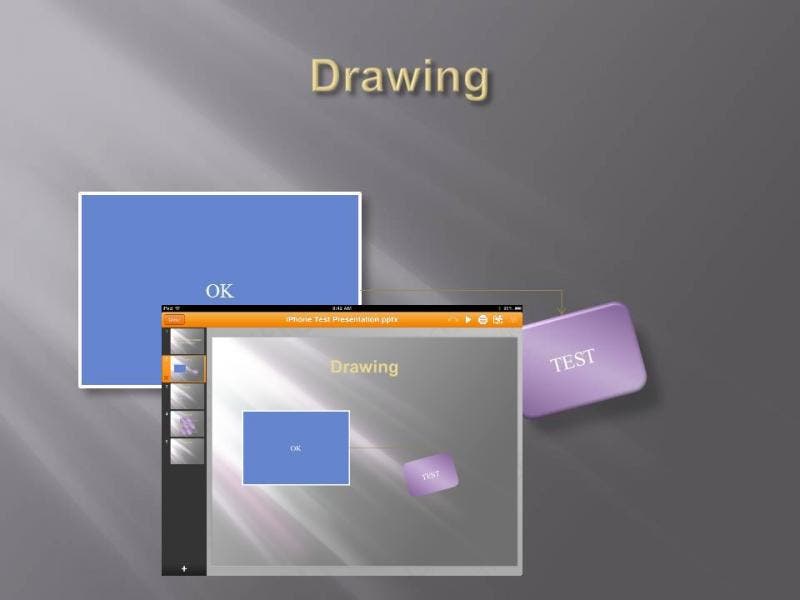 PowerPoint is the perfect application for an iPad. Graphical in orientation with messages simplified to the point of contention and very photographic in its organization. But Microsoft's ambivalence toward the platform meant it was left to third parties to create the PowerPoint experience for the iPad.  With version 4.5 of Quickoffice Pro HD, Quickoffice users can now edit native PowerPoint files. Well, sort of.
DataViz's Documents to Go permitted editing of PowerPoint 2010 documents, but the images that arrived through the translation process weren't the same fidelity as the native PowerPoint on the PC or Mac. Fonts, colors, and drawings were disoriented or missing. I don't know about you, but when it comes to editing a PowerPoint document, the issue is usually precision tweeking at the end of the process, not just adding another bullet here or there.
With Quickoffice HD for the iPad, the $14.99 app delivers a solid editing environment. All is not perfect, however, if you bring across a PC file that was not developed for the iPad. One of the biggest issue comes from fonts, but that same issue exists between the OS X version of Keynote, and the iOS version. If you haven't selected a font that is native to Quickoffice, then the translation looks wrong. Like application developers, presentation creators need to understand the capabilities, and limitations, of their target platform—and stay within the confines of those constraints.
Master your iPhone in one minute a day:
Sign up to iPhone Life's Tip of the Day Newsletter and we'll send you a tip each day to save time and get the most out of your iPhone or iPad.
Quickoffice, BTW, doesn't use all of the iPad fonts, only a subset of Microsoft fonts - Arial, Arial Narrow, Calibri, Cambria, Courier, Courier New, Georgia, Helvetica, Times New Roman, Trebuchet MS and Verdana.
I created a basic presentation with a drawing, a list and a SmartArt graphic. The drawing came across fine, the list was OK, except the special character bullets didn't translate, and the SmartArt, well...
...unfortunately for Quickoffice HD, one of those limitations is SmartArt. I created a text hexagon SmartArt Element and the slide was just blank.  I was able to convert the SmartArt to shapes in PowerPoint and those came across, but the colors were lost as Quickoffice translated the multiple shapes into a single graphic. Using SmartArt introduces extra steps that makes returning to the native PPTX file difficult. If you are planning on presenting using Quickoffice, I suggest your avoid SmartArt of any type. (I open the same file in Documents to Go and not even the shapes came across, just the text).
The best way to create a PowerPoint presentation on the iPad using Quickoffice is to develop it natively, but unlike the iOS version of Keynote, Quickoffice doesn't include templates. So that means a bit more convolution: start with PowerPoint and a general idea. Save a mostly blank template (perhaps some text or simple drawings) and then complete the task on the iPad.
There is one more option for complex images with non-native fonts: save the slides as a JPEGs and paste the entire slide into a presentation.
If you are a power PowerPoint user, then Quickoffice will continue to frustrate you, but at least you can do more than see an Office 2010 PowerPoint document now.  iOS remains firmly in the hands of Apple when it comes to native productivity app capabilities. Neither Documents to Go nor Quickoffice provide a high level of comfort that what you create on the iPad will come across to the PC in a way that doesn't require extra work. A few edits in a word processing document that isn't overly persnickety about its formatting, or some revised numbers in a spreadsheet are OK. Beyond that, you run the risk of creating a document that doesn't reflect your vision, and one that might take more time that you want editing back on in the Mac or PC client.  Kudos to the Quickoffice team for pressing on in Microsoft's mostly Office absence on iOS (they do offer the basic, and Live tethered version OneNote) but until Microsoft decides to compete head-to-head with the iWork suite, you will probably be left with a less than satisfying Office experience on iOS.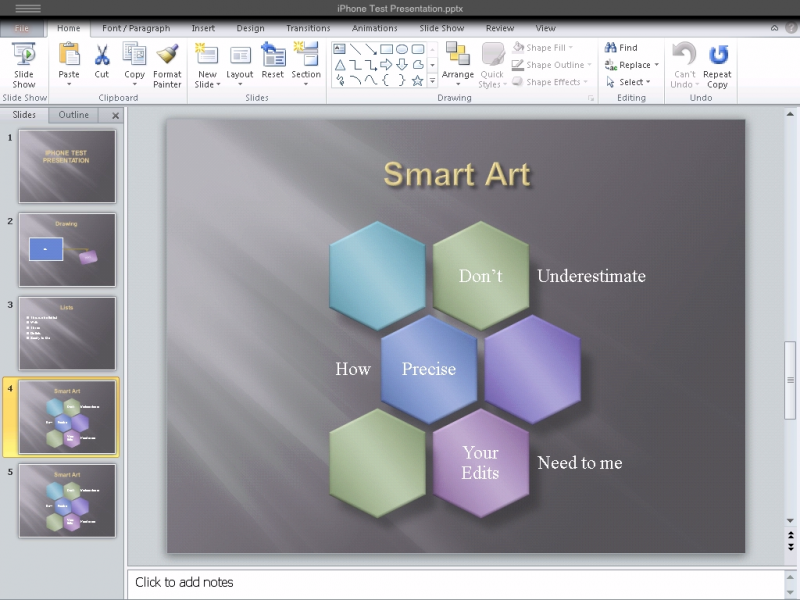 Note: This was not intended to be an Microsoft Office head-to-head comparison, but rather a report on the 4.5 version of Quickoffice. That said, I opened the same document with CloudOn Inc.'s CloudOn and it brought across the PowerPoint file without issue, including the SmartArt object in editable form, and with all colors preserved.  CloudOn also mimics the Microsoft user interface, albeit a bit sluggishly at times, and with a need for pretty precise finger pointing given some tiny targets. If you want to see a real attempt to create a Microsoft Office-like environment on the iPad, then consider CloudOn.
The following images show the native PowerPoint test file with the Quickoffice version inset.  An overview screen shot from CloudOn is also included to the right (or right/above depending on how this article is rendered).