By Daniel Rasmus updated on 08/31/2012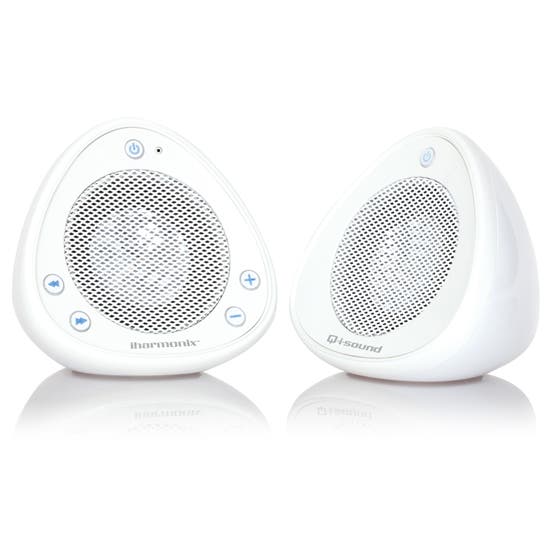 If you travel a lot you probably want to listen to music occasionally in a fashion that doesn't require shoving rubber nibs into your ears. Speakers on devices do the trick, but not very well.

Well, over the years I've had the pleasure of playing with a number of speakers, from devices that turn any surface into a speaker to tiny, tinny things with little power the support someone like Adele's belt.

Portable speakers continue to improve and innovate.  My latest find is the Qmadix iharmonix Q-i-sound stereo Bluetooth speakers. Qmadix isn't all that well known, but they have a great design team that comes up with compelling ways to reimagine products. These speakers, which come in white or black (get the white ones,) offer full stereo separation because they are actually two speakers connected via Bluetooth, not two speakers in one box. They can sit up to fifteen feet apart and up to 33 feet from the sound source. So yes, you can listen to your iPhone that's charging while you shower.

The speakers last up to 8-hours on their built-in lithium ion batteries. A non-standard USB cable (two power-out ports to connect to the separate speakers) and a portable USB wall-charger come standard. Charge them after each use and they'll be ready for over a week between uses.

For storage, the speakers match up with front-facing magnets and then slip into a cool, custom case. Unfortunately, the somewhat unwieldy power cable doesn't fit in the case, leaving it to you to figure out which pouch or tie or pocket to store the cable and charger in.

As for sound, the stereo separation is nice. I is refreshing to hear music with channels on portable speakers. I however, was hoping for a thick, rich tones, but the speakers don't deliver that milkshake of sound. They struggle with base, leaving the highs unbalanced. At top volumes, they distort the output, prompting quick moves to decrease volume.  It seems like the more processed the sound, the more likely it is to distort. The Beatles fare better than Katie Perry. Unlike unpowered speakers, though, these speakers can be heard easily out-of-doors where they are serviceable beach or picnic companions. In outdoor environments mask  the sound issues.

And, of course, nothing is single function anymore. Not only do these speakers offer sound while traveling, they also double as speakerphones.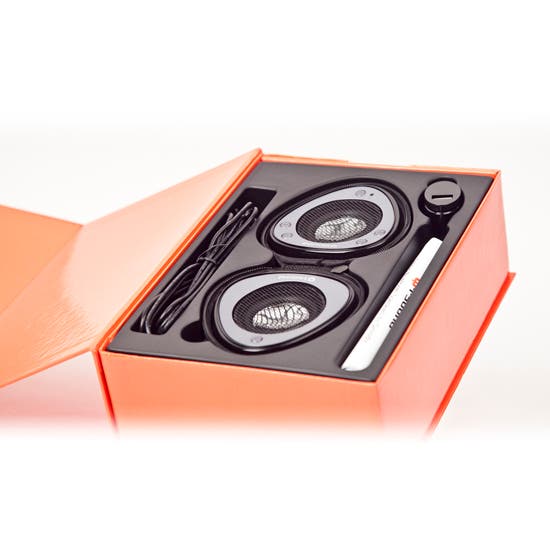 Buttons on the front of the speakers include volume, answer, pair and track forward and backward.

These speakers offer outstanding design They look cool, especially the white ones, when powered, with their blue LEDs flashing in a dimly lit environment. They will definitely start conversations. I wish the sound quality was a little better. They do, however, pair easily, work flawlessly and deliver decent sound. At $150 they aren't a cheap choice, when compared to the Jawbone Jambox they turn in good performance, are $50 less expensive and come complete with a carrying case.  And from the moment you open the box, you get a bit of that Apple consumer experience vibe. The box is as well designed as the hardware. Now Qmadix needs to deliver just little bit better speaker hardware at the core.
Qmadix
Master your iPhone in one minute a day:
Sign up to iPhone Life's Tip of the Day Newsletter and we'll send you a tip each day to save time and get the most out of your iPhone or iPad.
iharmonix Q-i-sound Bluetooth Speakers
$150