By Daniel Rasmus updated on 08/28/2013
Sometimes a parent just has too many pictures of his children. And although the dominant photo-print services deliver beautiful hardcopy books, they don't really help people organize their images. At the end of a long day of work, diaper changing, back-and-forth on swings, and handing out snacks, sitting down at a computer to organize pictures isn't high on most people's priority list.
So here are two companies with very different approaches to help busy parents organize and share images.
---
The Tapsbook Solution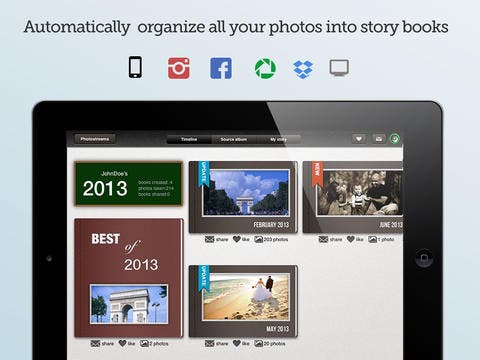 Sherwood Yao and his wife know the circumstances described above all too well. Their 6- and 3-year-old sons keep them plenty busy. But unlike most people, Sherwood has a background in Big Data from a large technology company. Enter Tapsbook (Free), built from the ground up with the iPad in mind.
Master your iPhone in one minute a day:
Sign up to iPhone Life's Tip of the Day Newsletter and we'll send you a tip each day to save time and get the most out of your iPhone or iPad.
Since most of the pictures taken for personal use come from mobile devices, and an overwhelming number of those are iOS devices, Yao decided to mine the information attached to personal images to create instant organization. (This mining is for the benefit of the image owners and is not shared with anyone.) Once the organized images are tucked away into an automatic Tapsbook, the fun begins.
Tapsbook users can like images from their existing collections to promote them to a "best of the year" collection. Dragging pictures of a special occasion into a personal story creates a new Tapsbook just for those images.
Unlike solutions that require upload, Tapsbook "taps" into photo feeds from iOS (Camera Roll and PhotoSteam), Facebook, Dropbox, and other sources. So no matter how you get your images to the web, Tapsbook knows about them and incorporates them into its books. A few taps in those moments of quiet and you have instantly updated memories of the kids playing, while the picture you accidentally took of the kitchen floor is out of the mix forever.
And when your book is ready, you can easily share it with others through the Tapsbook social interface.
Yao wants Tapsbook to become an easy way for busy people to organize their photo stories and to share them with others. He also sees business applications, such as making the creation of photo-centric catalogs easier to manage. We'll be keeping an eye on Yao and the future of Tapsbook.
Printic and the Personal Touch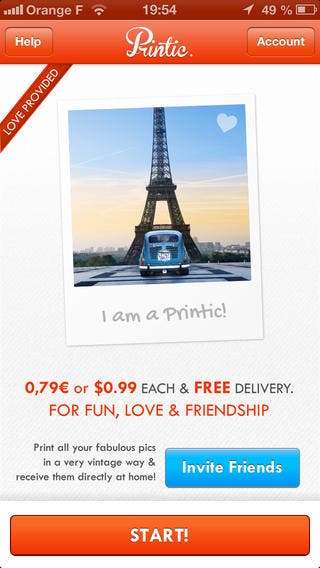 Stories told in pictures haven't always been virtual, and there is some movement toward meeting the need for more tangible artifacts of our existence. When the mail arrives, people cherish those now very occasional personalized notes, postcards, invitations, and other mail intended just for them.
Like Yao, the team at Printic (free) saw the desire for personalized mail as an opportunity, but mail is physical, and mail needs infrastructure, and it needs things like pretty envelopes and clever ways to seal them.
So the Printic team designed a retro-looking, Polaroid-like image generated from photos in Camera Rolls and Photostreams. And they made the strategic decision to deliver their images in about 3 days.
But first they had to get the images from iPhones and iPads into a place where they could be printed. And they didn't just want a digital print, they wanted a quality image that would last. So they went to one of the top photo labs in Paris (did I mention that Printic started in Europe?) and negotiated their first production deal. They now have a partner facility in San Francisco with more opening soon in other parts of the world.
Like Tapsbook, Printic wanted simple. Simple for them, simple for the user. A very basic application and credits model allows customers to select photos to send to themselves or others. It's simple for Printic because they constrain the output: One size only, with a line of text printed below. Prints run $0.99 with a three print minimum and no shipping costs or other fees.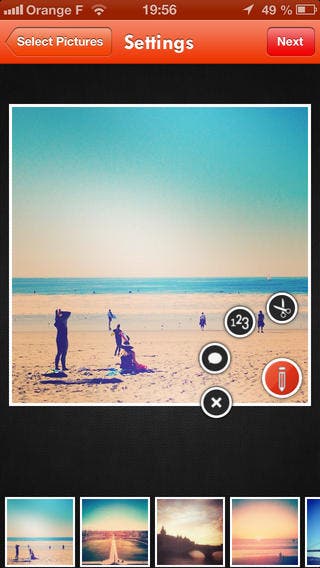 Images arrive quickly and they deliver on the promise of quality. At least on the day of the photos' arrival, the mail will once again be something that leads to a conversation, a story, or a recalled memory rather than just recycling and bill paying. And hopefully the lovely prints will help those stories return for years to come.
The Business of Telling Stories
Humans are a story-telling species. We learn through stories, we entertain through stories, and we stay connected through stories. The old adage that a picture is worth a thousand words reminds us how powerful images convey our stories.
If you are looking for a better way to tell your stories through digital memories, look to Tapsbook and Printic as two very different apps and businesses with one common goal: to help people share their memories with loved ones through images.