By Daniel Rasmus updated on 04/25/2014
If you want to take really good pictures with your iPhone or iPad you need to enhance your devices, or perhaps just not use them at all. I'll come back to that last bit later.
Schneider Optics iPro Lenses ($39.00 and up)
Master your iPhone in one minute a day:
Sign up to iPhone Life's Tip of the Day Newsletter and we'll send you a tip each day to save time and get the most out of your iPhone or iPad.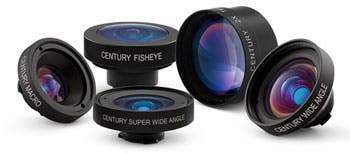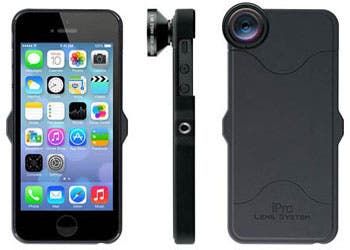 This lens system includes a thin iPhone case that doubles as a lens attachment system and a tripod mount. The lenses attach easily over the iPhone's camera lens. The tripod attachment requires a secondary piece that adds standard threads. When everything is attached, your iPhone will look more like a camera than a phone, but it will take much better pictures. I brought the extra wide and the 2x wide angle. Both work well, as does the attachment system which secure locks the lens onto the case.
Pros: Great lenses provide a variety of options for the iPhone.
Cons: A collection that provides an iPhone with as many options as a good camera will cost you much more than a good camera.
Final verdict: Great quality and design. If you are determined to make the iPhone your camera of choice, this is a must have. If you don't mind two devices, each used to best effect, then keep reading...
Now, if you don't want to spend money adding more kit to your phone, you might want to consider another device, something called a camera. I debated with myself about upgrading my iPhone for more memory and thus, the improved camera of the 5s, but couldn't really justify the $299 upgrade fee for the camera feature only. So I started thinking about alternatives, and opted for a camera.

My choice? A Canon SX280. This camera zooms in at up to 20 times optical, which is better than anything you can do with an iPhone for any reasonable investment, At just $199 in recent sales (listed on Canon website at $279.99 as an estimated retail price) the SX280 is a good deal. The camera connects directly to the iPad via, wait for it, WiFi. Once set-up, the SX280 becomes a WiFi hot spot; while Canon's CameraWindow app opens a window into the camera's memory, all images display pretty quickly on the iPad Air. A tap transfers the high quality images to the iPad. Although many people don't like carrying two devices, on a trip where the iPhone is in the bag anyway because it can't be online without racking up roaming charges, the camera makes sense. And despite the latest Nokia phones becoming more camera than phone, even their best isn't as good as a dedicated camera. Canon sells more expensive cameras with more sophisticated features, but I found the SX280 a good compromise between features, quality, and size
Canon CameraWindow (Free)
Pros: Easily connects iPad to Camera.
Cons: App is simple and well done. WiFi setup on the SX280 could be made easier with some defaults.
Final Verdict: Simple app that does what it is supposed to do with elegance are the best kind. This single-purpose app delivers well.