By Daniel Rasmus on Mon, 10/28/2013
Some controversy erupted last week after Apple implied that giving away its iWork Suite to new buyers of iOS and Macs would provide them with the productivity tools they need. Microsoft's VP of Communications, Frank Shaw, in a blog response wrote the following: "And so it's not surprising that we see other folks now talking about how much "work" you can get done on their devices. Adding watered down productivity apps. Bolting on aftermarket input devices. All in an effort to convince people that their entertainment devices are really work machines." That was followed by a swipe at the press for positive coverage of Apple giving away iWork, a product Shaw said "was already priced like an afterthought."
Shaw needs to realize that much of that aftermarket community also supports various Microsoft-related products. The Nokia Lumina tablet is going to need third-party keyboards because from what I've seen, their keyboard isn't laid out to support touch typing (small right-shift key folly). Perhaps new Microsoft subsidiary Nokia hasn't yet integrated the productivity knowledge Shaw refers to in his post, but regardless, if Microsoft Surface is going to thrive, it will do so not because of Microsoft's direct investments, but because of the indirect good-will that comes from an inspired ecosystem of designers, manufacturers, and developers.
Master your iPhone in one minute a day:
Sign up to iPhone Life's Tip of the Day Newsletter and we'll send you a tip each day to save time and get the most out of your iPhone or iPad.
Nimblstand ($39.99) is a great example of belief in the iPad as a content creation device. This extruded bit of plastic, made in the USA, transforms the iPad into an ergonomically designed work environment. It is designed to integrate an Apple wireless keyboard and a Wacom stylus. Flip the iPad into portrait mode, and it becomes a useful word processing station. Of course, the stand works equally well with the keyboard and the iPad in landscape orientation for spreadsheets and other more horizontal work.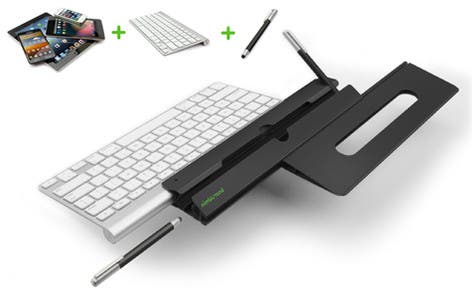 Flip Nimblstand around and the iPad is oriented to a flatter angle, making it suitable for finger or stylus work.
Though the Nimblstand was clearly designed with the iPad and Apple in mind (only the Apple Wireless Keyboard integrates with Nimblstand) it is device agnostic. A Samsung Galaxy Note, a Amazon Kindle Fire or even an iPhone work equally well with the stand. For a few dollars more, you can buy a Wacom Bamboo stylus with the stand ($56.99) that fits in a well for easy access when the iPad is in stylus-input-orientation. My only ask is that a future model also include a stylus well for keyboard orientation. As it is now, the stylus slides into a storage slot, but it takes a bit of effort to get it in and out in the heat of creation.
So Nimblstand, a little company that invested over 2 years of time to create 64 prototypes believes that the iPad is a content creation device. No, Apple Pages is not Microsoft Word, but it is a very good word processor. If you need mail-merge and Outlook for e-mail or print material campaigns, by all means, you need Word. But to capture ideas and format them elegantly and presentably, Pages does a fine job. For managing the household budget, Apple's Numbers works fine—for managing a multi-layered underwriting advisory application that just happens to be a spreadsheet, not so much. But then again, how many people actually do that? And Apple's Keynote does give PowerPoint a run for its money. As with stands and cases, a diverse ecosystem is a good thing. Presentation upstart Prezi is making Microsoft and Apple take notice as it starts sneaking in to big time presentations. Being the entrenched leader is never a good position in an innovative market. Stay entrenched and eventually you get disrupted, then displaced and replaced.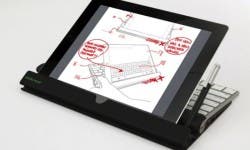 Here's the problem with Microsoft's quick defense of its position. First, if Microsoft is so firmly ensconced and not feeling threatened, then it shouldn't lash out with posts like this—it shouldn't need to. Second, a Microsoft-only sourcing of Surface accessories doesn't make any business sense, not for Microsoft and certainly not for consumers. One of the reasons that Nimblstand exists alongside the incase Origami Workstation ($29.95) and the IK Media iKlip Stand ($69.99), is because consumers and designers found themselves inspired to apply the chameleon-like iPad to tasks and situations Apple didn't imagine. Of course, Apple imagined productivity use-cases, but it didn't create a device only for that purpose—it created a device that through clever invention could be morphed into what its owners imagined it could do. Microsoft needs to learn that its consumers don't need the tech giant to do all of their thinking for them. Maybe they want something that can be molded to their own work approach, not Microsoft's pre-conception of what work looks like.
Nimblstand, the company, does a great job of reminding us that if we can imagine something, we can make it. Nimblstand the product, reminds us that our iPads, iPhones, or other tablets aren't restricted to the vision of the engineers who designed them, but empowered by the customers who purchase them, and use them every day to play, to create, and yes, even to get stuff done.