By Daniel Rasmus updated on 03/26/2013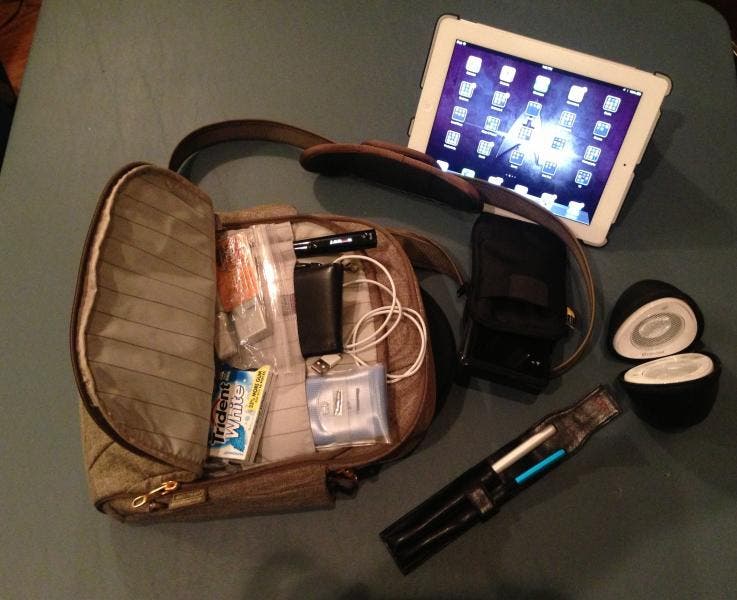 This is the first entry in what I'm calling my "Urban Adventure Series." So what is an urban adventure? Quite simply, it is a vacation in an urban setting, in this case, New York City. Each day I will use various technology including my iPad, iPhone, and numerous other gadgets to help share my experiences with all of you.
As I travel, I will check in using FourSquare, tweet via @DanielWRasmus, and maybe even check into a Broadway show via GetGlue. Each evening, I will return to my warm and cozy room to compose a blog post that shares pictures and thoughts about how I used technology throughout my day. 
Master your iPhone in one minute a day:
Sign up to iPhone Life's Tip of the Day Newsletter and we'll send you a tip each day to save time and get the most out of your iPhone or iPad.
I've finished packing for the trip, and have several carry-on bags and accessories tailored for transporting electronic gear. The pacsafe metrosafe GII 250 ($90) will be my primary bag during the day, and the one that will slip "under the seat in front of me" on the plane tomorrow. This bag isn't perfect for packing a lot of stuff, and I've probably overextended it. But once I'm in the city, it will be ideal for carrying the few things I need while walking. Its nylon-mesh reinforced fabric, strap, radio-frequency identification(RFID) protection, and various locking mechanisms will help keep my kit connected to me while I lunch, shop, and attend shows. Tomorrow I will use it primarily to house my iPad, Seagate GoFlex Satellite Wi-Fi Drive, and a Powerocks Stone3 to help recharge the drive or my iPad. Overhead will be a Targus Sport Rolling Backpack Case with most of the other kit in it. A few things, like HDMI cables and extension cords, that I won't need until I get to my room, will be checked through.
My iPhone 5 with its LifeProof case and FlyGrip attached to it will be housed in my third carry on, my ScotteVest. With a ScotteVest, anything you need with you when you sit down, including your iPad, can be placed inside the jacket. And since you are wearing it, it doesn't count as a carry on. You can simply leave everything neatly zipped inside the jacket's myriad pockets, run the entire thing through the scanners at security, and put it back on. 
I can't wait to watch video streaming off my personal Wi-Fi network while in the air, followed by getting into the New York state of mind with a family dinner somewhere in Times Square soon after we check in to our hotel. Look for comments about the flight and pictures of Times Square early tomorrow morning.
I look forward to sharing my urban adventure with you and all I learn about using technology when you travel.
Here is a list of what I packed for my urban adventure: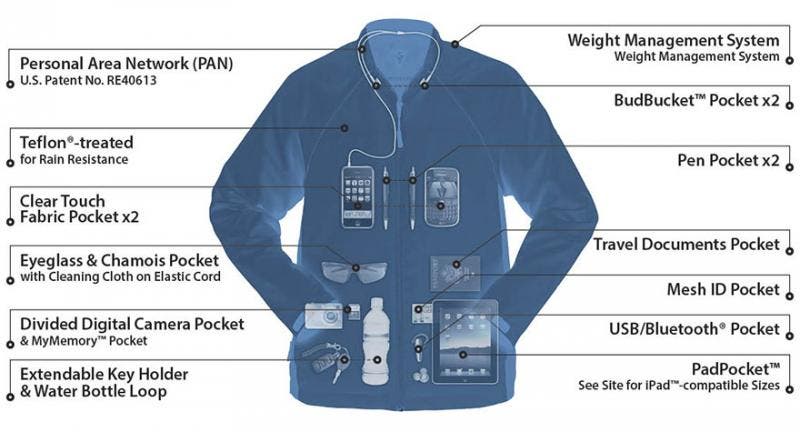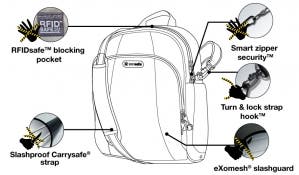 Jawbone Era with Siri App installed.
Scanner Guard wallet insert to protect my cards information and my identity from walk-by identity thieves.
Qmadix USB Dual Travel Charging Hub and a Lenmar Dual USB Wall Adaptor for charging everything.
Qmadix Apple Adapter Extender (pre-lighting) for adapting my wife's iPhone to the mostly inevitable iHome alarm without removing it from its case.
Powerocks Stone3 Dual USB Powerbank mAh and a Powerocks Magic Cube 6000 mAh external batteries.
Lenmar PowerPort 2400 and PowerPort Wave7000 (new).
Lenmar Micro USB to Apple 30-pin Connector (new).
Skooba Wrap (early RoadWired version) used to protect small items or an entire device like an iPad.
Seagate GoFlex Satellite Wi-Fi Drive with power cable.
LiveScribe Echo SmartPen and small notepads, pen refills.
Ten One Design's Pogo Connect stylus and Adonit Jot Pro Stylus (for sketching) in Tumi Pen Case.
Wacom Bamboo Stylus Duo (for everyday use).
3 lightning connectors for charging phone/ipad travel, including an Apple 30-pin to Lighting adaptor, just in case.
Samsung SL30 Camera.
Multiple mini-USB and Apple 30-pin cables for recharging everything.
Panasonic BQ-390 Quick Charger for recharge AAA headphone batteries.
Apple VGA and HDMI Lightning connectors to connect the iPad, I hope, to my big screen in the room.
Woods portable surge suppressor (for PC).
Mini-tripod.
LED Flashlight.
Mini Sharpies.
Many microfiber cloths.
Extension Cord.
Acer Netbook with Kensington Computer Lock (just in case I need a full PC for anything.)
A travel umbrella.
business cards.