By Daniel Rasmus on Fri, 03/15/2013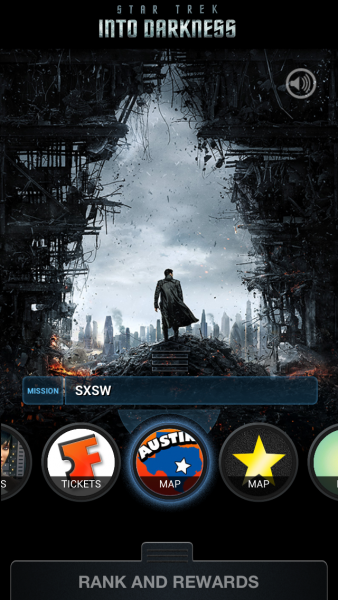 If you can't wait until May to get your Star Trek geek on, then consider downloading the Official Paramount Star Trek App (Free). Unlike most movie apps that combine a game with access to trailers, this app creates a virtual — and constantly changing — scavenger hunt. 
As you locate items, from magazine pages to movie clips of the much-anticipated film, Star Trek Into Darkness, you point your phone's camera or microphone at the digital and physical artifacts. They register in the app. The more items you find, the higher your rank. As you find items, not only do you rise in rank, but you also unlock images and clips that only exist within the app for now.
Master your iPhone in one minute a day:
Sign up to iPhone Life's Tip of the Day Newsletter and we'll send you a tip each day to save time and get the most out of your iPhone or iPad.
The app uses Star Trek terminology for its scavenger hunts, referring to each as a mission. So far mission types include:
Image Scan: Point your iPhone or iPad at the image the app prompts you for and it will recognize the image and give you points toward your next higher rank.
Sound Scan: Score points by playing a clip or other sound in "listening mode" so the app can confirm that you found the right item.
Map Mission:  These are the hardest to do, because you have to actually be someplace to accomplish them like South-By-Southwest (SXSW) or the Space Needle. As a  Seattle resident, I'm trying that one out soon.
The Star Trek App also consolidates news feeds and provides special promotions (like the early sale of tickets for a special preview showing of Star Trek Into Darkness only for app owners.) The app also lets cadets, enlisted personnel, or officers register to win prizes, including uniforms.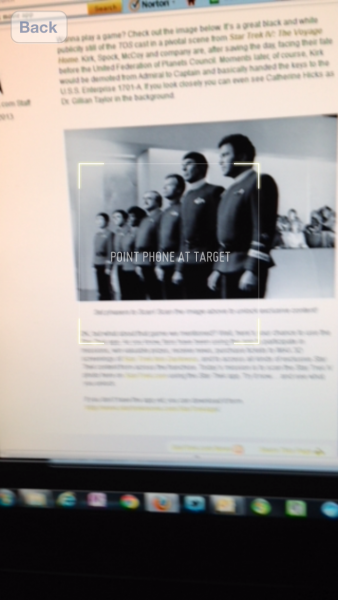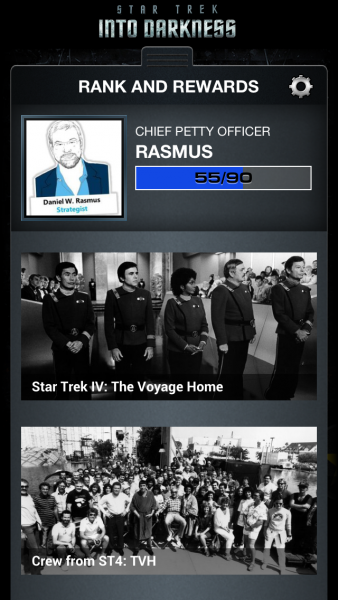 From a marketing standpoint, the app does its job, taking its users across Star Trek web properties, asking them to watch for particular moments in older films, to find posters and uncover articles. If you ever wondered about Star Trek's reach, this app will belay any doubts.
Fans of Star Trek will enjoy using this app. It doesn't emulate any of the devices like other Trek apps or use the familiar Star Trek the Next Generation-like user interface, but it does include a few beeps and buzzes—and a very engaging experience. On Super Bowl Sunday, I found myself waiting for a clip so I could match the sounds and unlock content. The app receives updated content regularly, is easy to use, looks great, and perhaps best of all, it doesn't require Klingon or Vulcan to master.
I am currently a Chief Petty Officer — in reality, I am a Fleet Captain, but that rank was conferred back when knowing trivia at a Star Trek convention was the best way to earn one's stripes (Do you know the difference between a warp conduit and a Jefferies tube?).
Hint: if you want to shortcut your rise through the ranks, use your favorite search engine to boldly go and seek out content. Many of the images, clips and sounds the app requires for points can be found on the web, which will save you from scavenging science fiction magazines at your local Barnes and Noble or hunting down posters at your favorite theaters.
Watch below for the trailor of Star Trek Into Darkness.