By Daniel Rasmus updated on 04/01/2014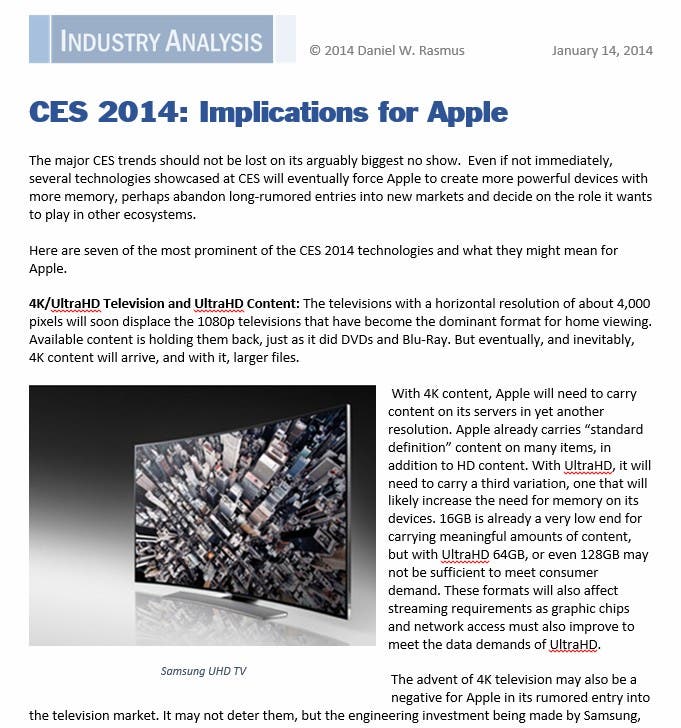 When I'm not evaluating the latest iOS apps, or experimenting with the newest iPad or iPhone accessories, I spend my time helping organizations think about their future. The Consumer Electronics Show included plenty of announcements that will influence the strategic choices made at Apple for years to come.
I wrote a report, CES 2014: Implications for Apple, that outlines seven areas in which CES "trends" will help shape Apple's future. Here is a brief summary.
Master your iPhone in one minute a day:
Sign up to iPhone Life's Tip of the Day Newsletter and we'll send you a tip each day to save time and get the most out of your iPhone or iPad.
4K/UltraHD Television and UltraHD Content: Apple's iTunes store already offers standard and high definition content. In the next couple of years (some speculate by 2015) enough UltraHD, or UHD, content will be available that Apple will need to start carrying that at iTunes. But the story doesn't end there. UHD will take more bandwidth and more memory so iOS devices will have to include much more storage and download expectations may well change because it isn't likely that bandwidth to homes will be overwhelmingly better before bigger file sizes arrive—and Apple TV will need to at least adjust its buffers and probably other features to push UHD content to the new sets. This also has implications for the rumored Apple TV. With the amount of engineering already demonstrated by the likes of Samsung and LG, it may prove hard for Apple to enter the already over saturated television market in a meaningful way.
Wearables: Wearables clearly remain an idea brought forward from science fiction that has yet to find practical application. Few of the devices shown at CES do anything more than Microsoft's failed SPOT watch from a decade ago, though some offer color and most integrate with other devices. There has been much speculation about an Apple iWatch, and it may well be that the failure of a real market for wearable devices has the leadership in Cupertino spending time looking for a compelling, or "killer app," before they venture forth.
Smart Automobiles: Apple is making strategic investments and that is a good thing. Automobile technology is a hodgepodge of services and interfaces. If Apple can create a rationalized experience and get auto makers to standardize on it, the future could be very Apple inside your next car. That may mean, however, that Apple will end up attending CES again, even if it doesn't really want to.
The Internet of Things: For many consumers, an iOS device will sit at the center of The Internet of Things. Unfortunately, outside of discrete functions and interfaces, like controlling lights, monitoring video or setting a thermostat, little has been done in the cooperation and coordination of various connected devices. I don't want fire trucks steaming through an intersection right now thinking they control the signals when another emergency vehicle is heading for the same intersection. If Apple can do the fundamental engineering to coordinate the Internet of Things, they can stay at the center. If not, the company who owns that software and the protocols associated with it will take the lead.
Intuitive computing: Apple's acquisition of PrimeSense in November, 2013 provides the starting point for them to deliver innovative gestures and movement interfaces in the mobile realm, a key area for future market differentiation.
3D Printing: Like the Internet of Things, 3D printing will likely find iOS as one of its primary interfaces. If you need a replacement cover for your keyboard's battery door, it will probably be a simply app that sends the specs to the printer, not an elaborate design environment. Might not disrupt Apple, but someday, you may download a phone case design rather than buy a case.
Robotics and Drones: Robots and drones may well become more autonomous in the future, but they will still require something, perhaps an iOS device, to set them on their way, monitor their data feeds, and intervene should they lose their vision and haplessly careen toward the neighbor's new electric car.
Read my entire analyst report here: CES 2014: Implications for Apple