By Daniel Rasmus updated on 06/13/2012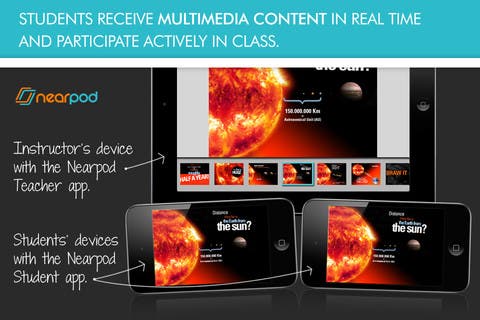 I met with Guido Kovalskys, CEO of Panarea Digital, last week for a demo of their new education app Nearpod. Panarea designed Nearpod not as an education revolution, but as an education evolution.
Amid all the talk of education reform comes the simple reality that not all educators are comfortable with flipped classrooms, co-created curriculum and collaborative pedagogy. For those educators who want to take advantage of the iPad as a learning tool, but remain in control of the experience, Nearpod offers this best-of-both-worlds approach.
Getting started is easy: download the Nearpod Teacher app. After installation of the app, the educator needs to create a free account, once complete the teacher app becomes active, including tutorial content. Start by going through the Nearpod formatted introductory lesson, then explore the store to see if presentations that meet your needs already exist. If not, Nearpod helps educators create their own (after a brief foray into the free account upgrade that turns on authoring features).
Master your iPhone in one minute a day:
Sign up to iPhone Life's Tip of the Day Newsletter and we'll send you a tip each day to save time and get the most out of your iPhone or iPad.
Important note: Authoring is web-based, not iPad based. Basic authoring consists of uploading a PDF of a presentation (created in PowerPoint or Keynote, for instance) and then adding interaction in the form of questions, feedback gestures and other features. As a doc in the library, educators can load it, receive a pin and ask students to connect via the pin.  Today, everything happens in the cloud, but tomorrow, private clouds may offer security and performance enhancements.
Given the current low level of iPad deployment in schools, the default assumption is a shared device, which means students should be handed devices that don't think they are still connected to an expired session.
Panarea created Nearpod with experience in mind. Although links can be embedded, for the most part, Nearpod downloads everything the student needs at the beginning of the session into the Nearpod Student app on a local device. That translates into very snappy performance for all. And perhaps best of all, when using Nearpod, teachers maintain complete control of the iPad experience.
In terms of class management, the teacher app shows who is connected and tracks student performance behind the scenes. Graphs and  charts reflect aggregate performance. Students also receive individual feedback on questions and activities.  Data isn't currently directly integrated with any Learning Management Systems, but it creates open files that can easily be imported.
I like this app, not just for its simplicity, but for the wonderful story about students signing up for teacher accounts to create lessons that demonstrate their knowledge. Although designed for evolution, like so much software, design intent often finds itself ignored by clever end users who turn simplicity into something astonishing. As an educator myself, I know of no better way to assess a student's progress than seeing them transfer knowledge themselves. Nearpod facilitates that. These students, who download the teacher program, craft their own interactive assessments, demonstrating knowledge far beyond any rote fact recall or simple reasoning a standard test would provide.
When students become effective teachers, everyone wins. Nearpod may just be the app that changes the assessment paradigm even as it tries to preserve traditional models of knowledge delivery.