By Daniel Rasmus on Thu, 05/16/2013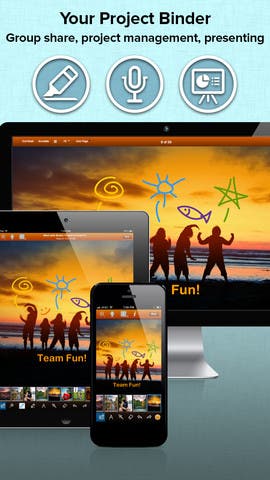 Moxtra (free) brings together real-time collaboration and personal knowledge management in an app designed to help people collect their artifacts of work or play. Moxtra lets you not only share your projects with others, but work on them together across a variety of mobile modalities. Many people compare Moxtra to Evernote or to Microsoft's OneNote, and to be honest, there are overlaps.
There is nothing new about collaboration. Lotus Development, now part of IBM Corporation, created the first large-scale enterprise solution with Lotus Notes. Developers designed and built Lotus Notes and all other current collaboration solutions during the era of client-server computing, where internal servers hosted databases accessed by desktop computers. We now live in a post-PC world where devices need different tools and workers have widely different expectations.
Master your iPhone in one minute a day:
Sign up to iPhone Life's Tip of the Day Newsletter and we'll send you a tip each day to save time and get the most out of your iPhone or iPad.
Moxtra focuses on mobile devices. Rather than forcing organizations to deploy internal infrastructure and client software, the company offers its collaboration technology through mobile devices via downloaded apps or browsers. Moxtra runs on both the iPad and the iPhone and requires iOS 5.0 or later.
All content in Moxtra are organized within binders. Given the lack of a centralized file structure on the iPad, Moxtra creates its own virtual structure. Tap the "+" on the bottom of the screen to open a blank page, add a video or photo, take a new picture, or import a document from a desktop (via the Moxtra desktop app) or from Box or Dropbox. You can bring almost any kind of document into Moxtra. The company sees Moxtra not as a creation hub, but as a collaboration hub.
Once an item arrives in a binder, a number of basic annotation tools become available to mark-up the document. It also supports voice overs in combination with the annotation tools. Imagine marking up a web page design while talking about what you are pointing to or circling. This creates a much richer experience than typing a report to match an image, and a much more immediate and visceral one as well.
Moxtra Note offers basic document creation within the app. Notes also can overlay any existing page. If you want the note as the primary input, you have to create a blank page first. The note feature doesn't feel finished, and access to it is a bit convoluted. Moxtra Notes would be more elegant integrated with the "+" rather than off on its own (or if the app was able to create a blank page directly from the Moxtra Note interface in one tap). As with much early software, the UI will evolve over time as the company receives feedback from users.
In collaboration, two modes predominate. The first is called asynchronous, meaning people work on something at different times, often in different places. The Shared Moxtra binders and Moxtra Notes send via email and text cover this ground. The second kind of collaboration is called synchronous. A meeting is a synchronous event if all participants meet at the same time, even if not in the same place.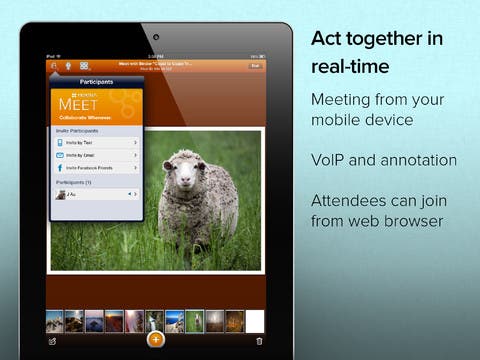 Moxtra also supports synchronous collaboration. If you want to work synchronously, go back to the home page (or a binder) and click the networking icon next to the big "+" sign and the Start Meet dialog pops up. Start Meet lets participants share a binder in real-time. Meeting attendees must have been previously invited to the Moxtra space. Hopefully future versions will integrate sharing, meetings and contacts to keep the number of steps to a minimum.
If Moxtra becomes central to an individual's personal knowledge management efforts, and they rarely share or collaborate, then the comparisons to Evernote are apt. Moxtra isn't ready to take on that functionality though. If, however, you want to collaborate on a mobile device synchronously or asynchronously, Moxtra offers superior tools. Its real-time sharing, annotation, and rich attachments to email and SMS make it innovative and useful. Many of the minds behind Webex are working diligently to take on their previous creation, now owned by networking and collaboration company Cisco. The future of collaboration will empower mobile users with a variety of devices. Moxtra offers a glimpse of that future.
Watch the video overview of Moxtra here: