By Daniel Rasmus updated on 07/09/2012
When I first opened the samples from the mEdge team, I was a little thrown by a green iPad case, its heavy, olive-colored nylon case covered in loops, and what to most people who have seen it, matching olive-colored carpet.  The case waited in line and kept kind of slipping down the testing queue.
But now, surprisingly, the mEdge Recon has become a very common home for my iPad, which is pretty good if you consider the competition it has for iPad coverage attention.
First of all, this case is all military, or seemingly military. I've outfitted mine with a couple of Star Fleet emblems to make it look more legit, at least in the 24th-Century.  Unlike some cases that come with a minimalized, stay out of the way vibe, the Recon is all up in your face.  
Master your iPhone in one minute a day:
Sign up to iPhone Life's Tip of the Day Newsletter and we'll send you a tip each day to save time and get the most out of your iPhone or iPad.
The Recon sports a heavy, clear-plastic mounting frame that, like many mEdge products, offers substantial protection, along a bit of weight. A strong structural infrastructure creates protection while leaving open area to reduce weight. Without an iPad installed it looks a bit like turtle's ribs and backbone without a carapace. To take pictures, push the iPad holder until the camera edge clears the case.
The inside of this model uses layers of fabric to create stops for rear of the case: places to adjust viewing angle.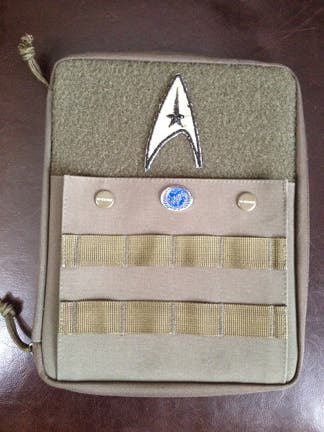 On the outside a snapped pocket joins the tough outer layer and its velcro patch.  The pocket can hold an iPhone, or other items of similar size and thickness. Once you get used to this case, you realize it is very useful.
For a total package consider carrying the Recon inside a STM Hood pack-back or a Ful Paul Revere.  Although from different manufacturers, the military styling associated with these products creates a great complementary look.
When I first bought the iPad I thought the answer to carrying it around was to mimic its sleek design. The longer I own the iPad, however, the more I realize the slick design needs a little earthly, organic, human-touch. It feels a bit naked by itself. mEdge's Recon offers strong, functional and funky production. It's not the only case I use, but it has become a common companion, perhaps because it is the first case I feel like I can personalize to the point it has become uniquely mine.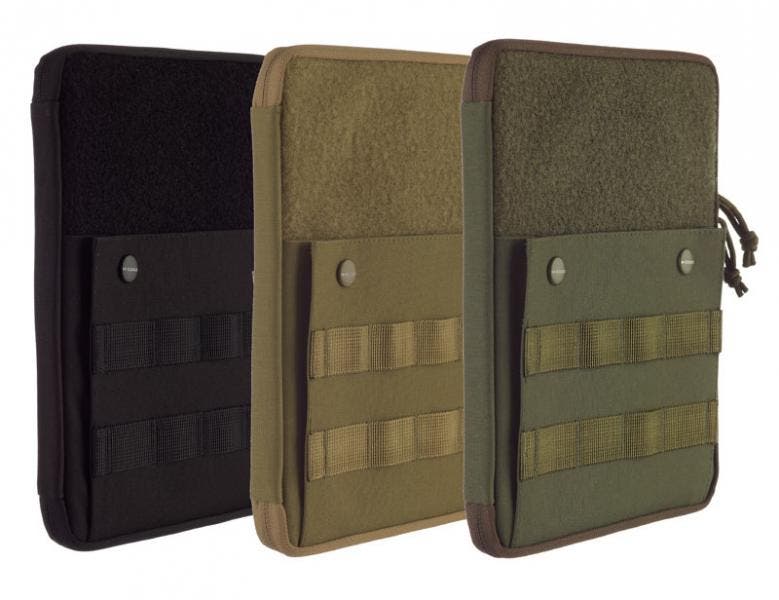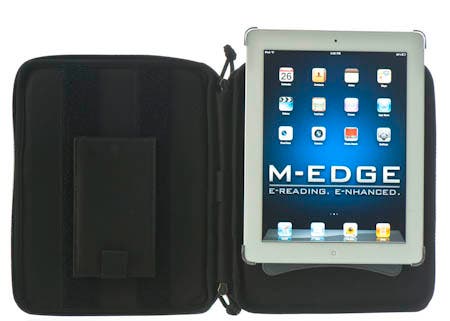 Note: this image shows the older iPad 2 only version, which is still available. Both versions can easily be reconfigured for orietation, and can also be pushed-up either direction (so it doesn't matter which way you mount the iPad in the case) to expose the camera lens.
mEdge
Recon Case for iPad 2 and New iPad
Weight: 17.6oz
Dimensions: 8.25in x 10.5in x .9in
Multiple Colors