By Daniel Rasmus on Wed, 05/09/2012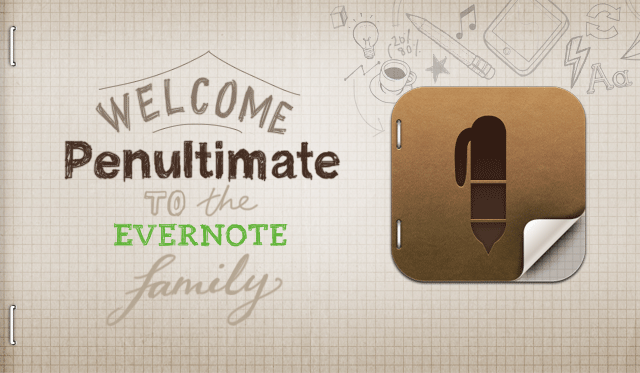 Evernote continues to expand their horizons and increase their value. This week they acquired Cocoa Box Design's Penultimate, one of the best apps on the iPad for capturing handwritten notes and annotating images, and one of the top paid apps of all time. The $0.99 app complements Evernote's  already industry leading note synchronization technology, easy to use interface for capturing typed notes, images and voice, and its earlier acquisition, Skitch, focused on image annotation.
Penultimate and Skitch share some features, like being able to draw on an image. Hopefully Everynote will start moving these apps inside the Evernote environment so people can capture finger or pen strokes directly inside a new note, or sketch on an image right after it is taken (without later remembering to move the image to Evernote).  Although both Skitch and Penultimate offer easy movement of notes to Evernote, they don't feel as integrated as they could be. Evernote is going to have to look at its feature and data architectures from these acquisitions and start the rationalization process.
In webtime, the clock is ticking so I hope we see a plan, if not products updates, sooner than later. So far, they haven't integrated Skitch beyond its original ability to move images to Evernote. The acquisition notes from Evernote say they will leave the Penultimate alone and keep it separate, but that is business-speak for not upsetting the developer right after an acquisition. Evernote needs serious internal capabilities for handwritten notes that can be recognized and indexed. At that point it becomes an even more serious OneNote challenger (from the feature standpoint).  Relegating all new feature acquisitions to external apps doesn't make sense over the long term. I wouldn't put much stock in early acquisition strategic direction statements.
Master your iPhone in one minute a day:
Sign up to iPhone Life's Tip of the Day Newsletter and we'll send you a tip each day to save time and get the most out of your iPhone or iPad.
The company also continues to improve their core products with major updates out this week for iOS and the Mac that include a number of new features and user interface enhancements. My favorites are improved checkmarks on iOS and the new Card View on the Mac.
Evernote is a small company that has made itself indispensable to users across platforms. That is a major accomplishment in these days of OS-specific app development.  With the "Trunk" they have also attracted their own development community, yet another strategic asset that makes Evernote a major contender going forward. I would suggest now is the time for them to concentrate on making their offerings integrate more elegantly before adding too many new products, or product teams, to their mix.