By Daniel Rasmus on Fri, 08/10/2012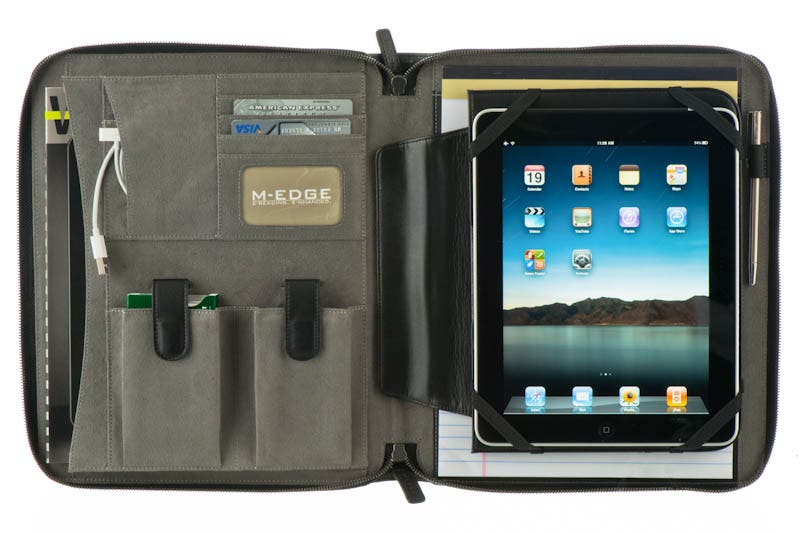 Sometimes you need more than an iPad. You may need a pad of paper, business cards, a phone, a place to stash papers that others give you, or papers you want to give others. And if you are in school, most classes will still have some piece of paper they want you to take, at least sometime. And hey, with a pad of paper you can take notes on your iPad and still doodle. Let's be honest, the iPad doesn't really let you multi-task quite the same way as you can with a pad of paper sitting next to it.
And you want to look professional, at least sometimes.
On all counts, the M-Edge Modular Method Portfolio comes to the rescue.
Here's the quick overview:
Synthetic leather exterior
Micro-suede interior
Large storage pocket holds legal size notepad on interior back panel
Multiple interior storage pockets including four card pockets, two interior cell phone-sized pockets with magnetic closures, large document pocket, as well as an elastic pen loop
Zipper that encloses the entire case
Apple iPad 1, 2 and the new iPad sleeve that snaps in for left-or-right orientation (important in an election year :) ).
So this portfolio is essentially a business portfolio with one important added feature: a snap in sleeve. The sleeve holds the iPad. When you want to use the iPad you slip it out of the sleeve and into the waiting elastic holders on the outside corners of the sleeve. You then use your iPad. When done, make sure you put it back into the sleeve. It is that simple.
M-Edge is clever about multiple device use. The important innovation here is the snap-in sleeve. If you own a Barnes and Noble Nook or a Kindle of some sort, M-Edge probably has a sleeve for you. The portfolio remains the same, you simply snap in a new sleeve. For someone who has many devices, that is a very nice feature. Extra sleeves run about $20.
Although like most things these days, this product is micro-fiber this, and micro-suede that (and not leather or, well, leather) it is made well and looks like it will last for a long time. I wish the sleeve had a little more give so it wasn't as much of a struggle to get the iPad out, but when it is in there, I certainly know my device is protected.
Sometimes you just need to carry something that is less than a backpack and more that a simple sleeve. The images demonstrate typical Modular Portfolio use. The case holds enough stuff for a day at a conference, a few hours at a conference table, or a class about the
October 1927 Fifth Solvay International Conference on Electrons and Photons
. The M-Edge Modular Method Portfolio is designed to look professional and help make its owner more productive.
M-Edge
$99.99