By Daniel Rasmus on Wed, 11/20/2013
I often conduct interviews. I usually capture those interviews with my LiveScribe Echo SmartPen, that records both my notes, and if I choose, the sounds around me, but the fidelity of the sound is often lacking. So I need something with a little more pick-up to complement the Echo. Enter the iRig Mics from ikmultimedia.
1. iRig Mic Cast ($39.99)
Master your iPhone in one minute a day:
Sign up to iPhone Life's Tip of the Day Newsletter and we'll send you a tip each day to save time and get the most out of your iPhone or iPad.
4 out of 5 Stars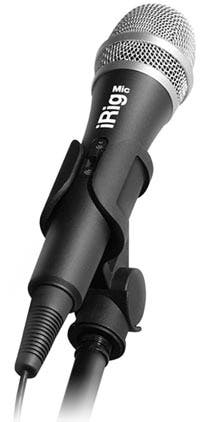 With an iPhone you don't need a digital recorder. Well, you don't need a digital recorder with your iPhone if you own an iRig Mic Cast. Sound, like images, depends on the quality of the sensors. The iPhone's built-in microphone is fine when placed close to a mouth, but it isn't that good even with a little distance. The iRig Mic Cast includes a switch to adjust recording sensitivity settings for close-up or distant sources. It even includes a stereo output jack for monitoring.
I have a little baggy of things that I push under a strap on my Grip-it when I travel. My Lighting adapter (for hotels with iPhone compatible alarm clocks), Square, and iRig Mic Cast share that bag and go everywhere I go.
2. iRig Mic ($59.99)
4 out of 5 Stars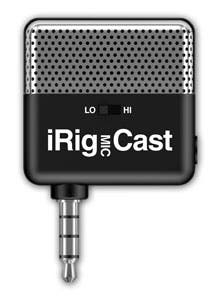 Have you ever wanted to look like a talk show host, with a big microphone on your desk? iRig Mic fulfills that dream, but unlike those 1950s icons that sit on the desk of Letterman and O'Brien, this microphone actually works. And it works well. Just plug it into the headphone jack (and if using iOS 7, give the appropriate app access to the microphone) and you're off.
The iRig Mic includes a three-level gain switch (for low, medium, and high sound pressure sources) and a mini-jack connector and 2m/6.5-foot cable which connects to any iOS (or Android) device and lets you place the microphone a useful distance from the recording device. A monitoring connection is built into the cable so you can output sound to power speakers and PA systems while still recording.
My only suggestion for IK Multimedia would be to include a small desk stand, not just a mike stand clip. I went to Amazon and bought an inexpensive stand easily enough, but until it arrived, I didn't really put the microphone to use—I'm just not a handheld mike kind of guy. The iRig Mic now sits on my desk ready to record random thoughts, and eventually, all those audio blog entries I never get around to.
Conclusion
This is a hardware review, but iRig goes well beyond hardware. Their "included" apps, which can be downloaded from the iTune Store, are:  VocalLive FREE, AmpliTube FREE and iRig Recorder FREE. Of course, because they have "Free" in their title, that also implies they offer paid versions (iRig Recorder, for instance, is $7.99). I've found the free versions work well, but it you want more features, you will have to shell out cash.
If you want to use your own professional microphone, or connect an instrument to your iPad, iPhone, or iPod Touch, consider the iRig PRE ($39.99) pre-amp with a standard XLR input connector and the ability to drive a condenser studio microphone for up to 10 hours via its built-in Phantom Power feature driven by the included (and replaceable) 9V battery.
Both of these products offer professional sound options for iOS. They will greatly improve the quality of your audio if you are creating a podcast, recording a video, capturing a lecture, or laying down a track for your first demo.