By Daniel Rasmus on Thu, 08/16/2012
There are many ways to bring extra power to your iPhone when on the road. No solution does so as stylishly as those from Qmadix. I recently had the opportunity to take three of their power products on a trip and found them useful companions.
First up, and most important if your room offers an iPhone docking station, is the
Docking Station Adaptor
. Why do you need an extended docking port? Because you probably have a case that is either thick and completely unlikely to fit in a docking station, or a small case that you think is thin enough, but adds just enough bulk so the iPhone won't fit in the docking bay, or will hover just above the port, unable to make a connection. Put this 30-pin iOS extender in your phones power port and you gain enough room to connect any phone with almost any case, to almost any dock. I keep it in my kit bag to help keep my iPhone out of tight spaces, so to speak.
At 2" x 1.4" x 1" the
Qmadix boostpac quick shot
, can easily fit in your pocket. And because it doesn't expose any connectors when folded up, it can jingle around with your keys all day and it won't be damaged. And when your iPhone starts to wane and you fear that your next call to Siri may be the last of the day, fear not. Insert this little gem into the iPhone's 30-pin connector and receive a quick reprieve.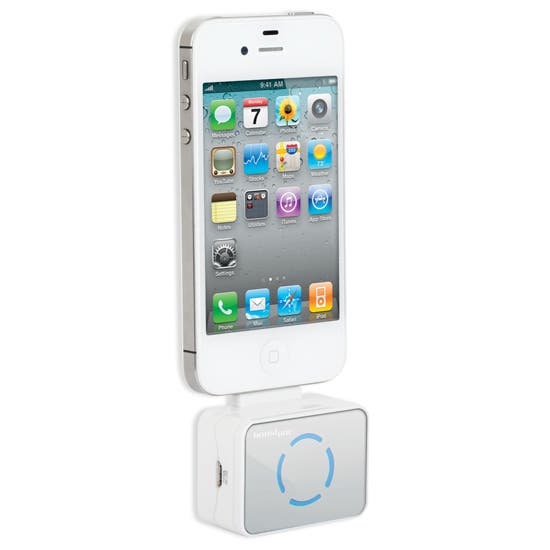 The quick shot's bigger cousin, the boostpac eclipse, provides more power (1500 mAm vs. the quick shot's 1000 mAh,) in a slightly bigger 2.7" x 2" x 0.9" package. Unlike the quick shot, the eclipse becomes a stand for the iPhone, making it not only a good recharging option, but a decent accessory for long conference calls.
As with most products from Qmadix, design is king, from the well constructed and informative packaging to the devices themselves, with their glowing blue LEDs. I wouldn't be surprised to see a quick shot appear on a Sci-Fi (or SyFy) show representing something other than power, like a scanner or a subspace modulartor. Its circular LEDs provide clear indicators for charging and discharging, and a nice show too. Both units come with a USB charging cable that matches their color. As always, I'm partitial to the white, though both boostpacs also come in black.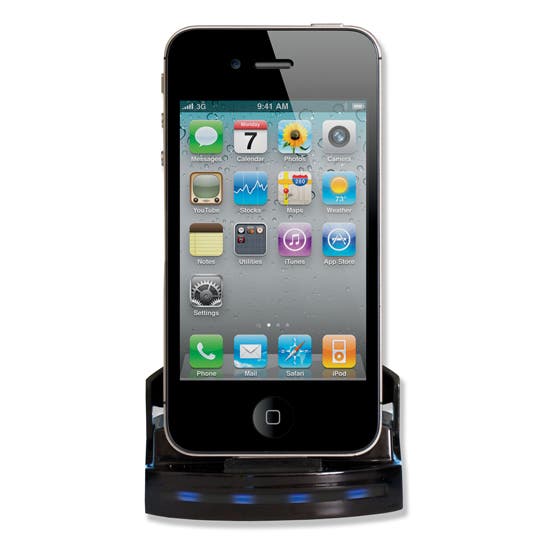 Although most people reading this post are Apple aficionados, not everyone is. These boostpacs include standard USB out ports so they can power most devices. The quick shot includes a built-in iOS 30-pin connector and a mini-USB, while the eclipse offers a standard USB along with iOS port so you can use your device's cable for charging.
Qmadix combines function with design in ways that complement the iOS devices they support. I look forward to seeing their next round of innovations.
Qmadix
Qmadix power products
here
.
Qmadix Docking Station Adapter
$19.99
boostpac quick shot 1000mAh Auxiliary Battery Pack
$39.99
boostpac eclipse 1500mAh Auxiliary Battery Pack
$49.99