By Daniel Rasmus updated on 07/02/2013
iPhone 5 cases continue to arrive on the market in all shapes and sizes. Here is a roundup of a few of the more unusual ones I've received over the last few weeks.
If you often visit an area with sketchy Wi-Fi, or have a place in your home were your signal just isn't great, you may want to consider a Linkase for iPhone 5 from Absolute. Here's the basic idea: when you use your phone, your hand can interfere with the Wi-Fi signal as can walls and other obstructions. If you're on top of your router, that probably isn't an issue. But as you move into marginal areas, any interference degrades performance. The Absolute Linkase creates an antenna of sorts, called an electro-magnetic waveguide or EMW that helps gather Wi-Fi signals.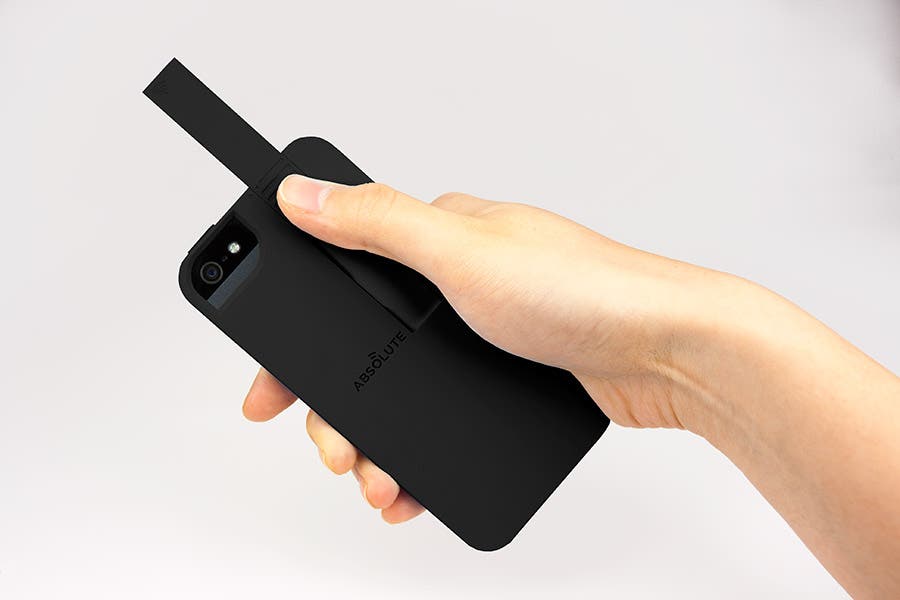 Does it work? Yes. When in areas with marginal Wi-Fi service areas, I found that extending the EMW did boost signal and throughput. That said, I spent a lot of time trying to find a good test area with a weak signal. It worked best at 2.4GHz., offering little or no improvement at 5GHz. When I have a choice, I use 5Ghz.
Master your iPhone in one minute a day:
Sign up to iPhone Life's Tip of the Day Newsletter and we'll send you a tip each day to save time and get the most out of your iPhone or iPad.
The case itself is an adequate case for basic iPhone protection. You can purchase it in a variety of colors, each with two EMW elements of different colors. Additional EMWs are available to create customer color combinations. If you work or live in a place with weak 2.4GHz signals, the $50 investment for an Linkase may make sense. As the world becomes ever more bathed in electromagnetic signals, the people who need such a signal booster will shrink. Absolute has an interesting product with a pretty small customer footprint, but if you are one of those challenged by basic Wi-Fi, this case may be just what you are looking for.

Most iPhone cases are made of an all-encompassing plastic or metal shell. Brenthaven thought outside the box, creating a case covering just the corners and back. The result was the Exo iPhone 5 Case, a unique, organic-looking, minimalist protective solution. The Exo places foam protection in the corners and against the main body, helping your iPhone survive minor bumps, even drops. My concern, and I don't want to try it, is if the angle of impact misses the Exo iPhone 5 Case. In something like the Otterbox Armor product, there is no surface that isn't highly protected. With the Exo iPhone 5 Case, I feel like the audience is more casual users who don't often put their iPhones in jeopardy. The case ships with a screen protector as well.                                   
The other very cool feature of this case is its "push release" stand that seems to mimic what scientists call "smart material."  It pops out when needed, and returns to form, snug against the back of the case, when not in use. When deployed, it works in horizontal or vertical orientation.                                          
If you are environmentally conscious, you'll be interested to know this case is made from 50 percent post-industrial recycled plastic.                                        
The Exo iPhone 5 Case comes with a lifetime guarantee, looks great, offers good feel, and provides basic protection. The case complements the iPhone 5's beautiful design without hiding too much of it.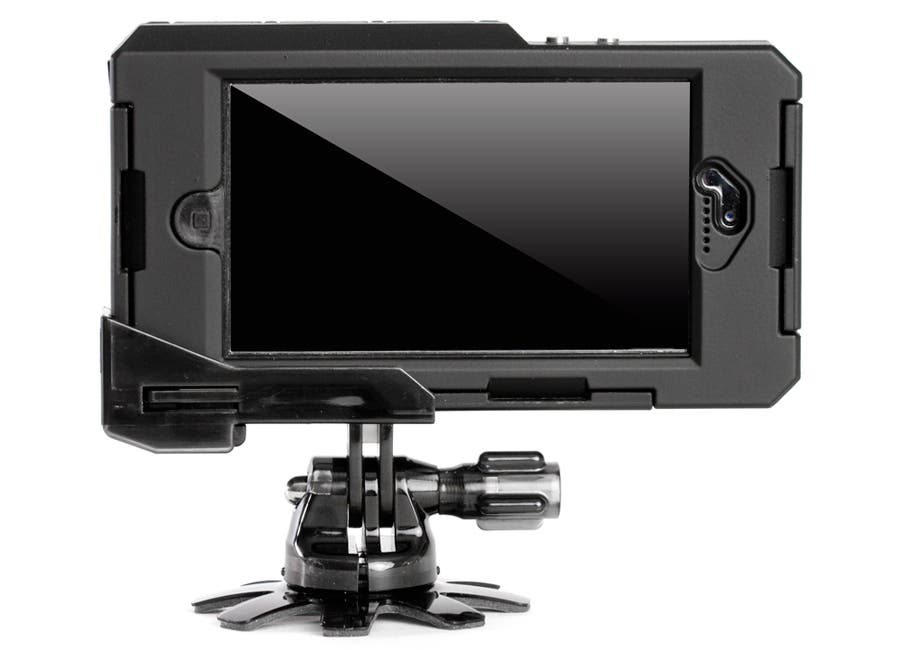 As a case, the HitCase is rugged and waterproof. As those kinds of cases go, it is bulkier and more angular than any other case of this type. And because it also includes the wide angle camera lens, it no longer makes the iPhone feel trim. But then, it is waterproof up to 33 feet.
But you probably aren't buying the HitcasePro as a case; you're buying it because you want to transform your iPhone from random photo device into part of a professional photographic arsenal.
So what does the HitcasePro offer for professional photographers and videographers? First off, its  mounting system allows the case to attach to anything with a standard camera mount. That means anything: helmets, car exteriors, and dashboards, bicycles, and motorcycles. If you can figure out how to attach a standard camera mount, you can attach the HitcasePro to that mount.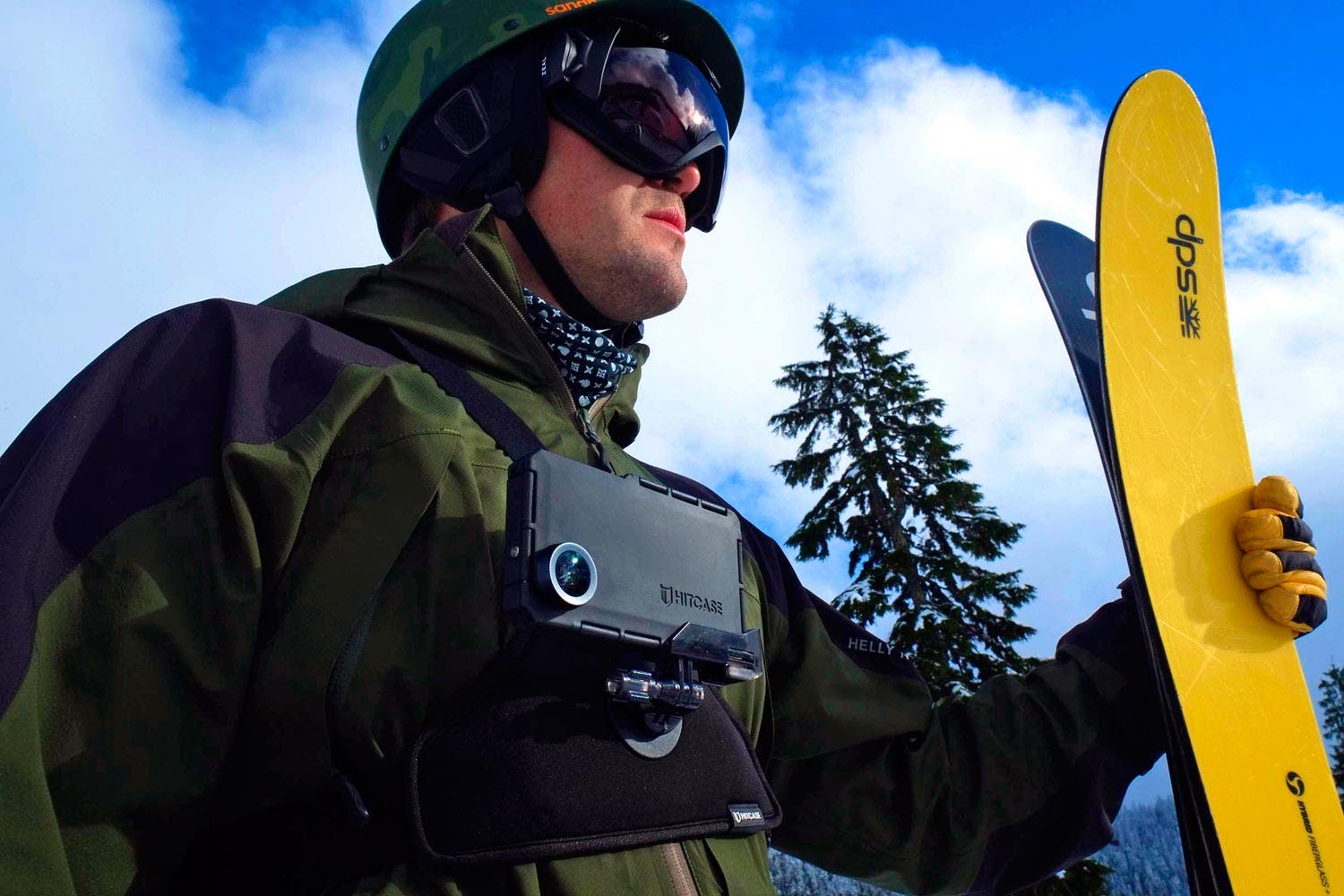 And that really gets to the intended audience: outdoor sports adventures. My daughter is a film studies major, and in her evaluation of the case, she found the wide angle lens limiting when trying to get different type of shots in short periods of time. As a camera for taking wide outdoor shots while someone careens down a snow covered slope, it should do nicely, and the case will ensure the snow pummeling the skier doesn't ruin the iPhone by the end of the run. Hitcase also offers its own video app to maximize your experience record by overlaying speed, altitude, shock, and G-Force on your videos.
Like many rugged cases, getting the case on and off is not a mundane task. And once on, the case limits access to buttons. They all work, but you have to reach in and push hard to get them to work.
I don't recommend the HitcasePro as an everyday case—it is a lifestyle case. If your lifestyle requires you to capture video while playing a sport or engaging in a rough-and-tumble outdoor activity, then this is the case for you.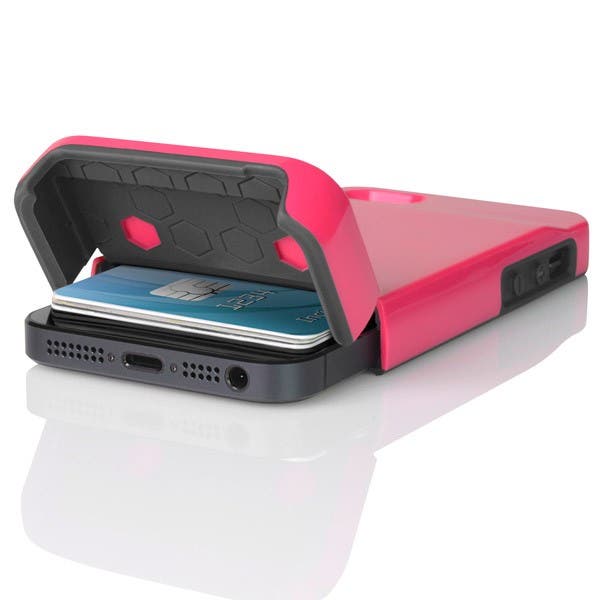 There is a holly grail in phone cases: eliminate the wallet. Each of the following cases offers a unique approach to helping iPhone 5 users stash their IDs and credit cards with their phones.
First of all, even without the wallet feature, the Stashback is a good case that offers solid protection. A shock absorbing interior complements a rigid exterior frame. Like all Incipio cases it also ships with a screen protector and application kit. Rather than adding an extra pouch or bulge, the Stashback hides its card compartment under the back of the case. Flip up the bottom edge of the case and find space for about 3 cards. 
The well-designed stashback comes in a variety of colors, including black, grey, white and pink each with its own accent c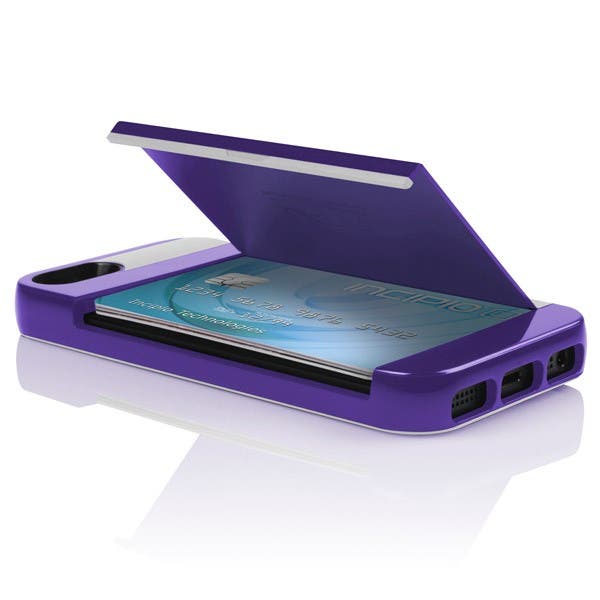 olors.
Like its cousin the Stashback, the Stowaway is a good case to begin with and includes the Incipio screen cover. Unlike the Stashback, the Stowaway includes a built-in stand for horizontal viewing of videos or for Facetime. The stand also doubles as the hatch under which one would store their cards.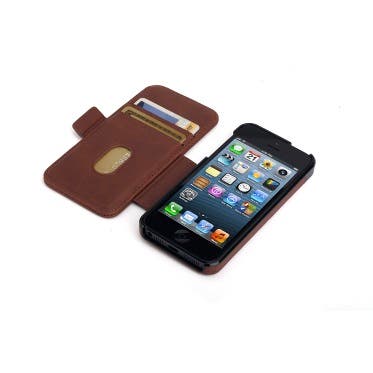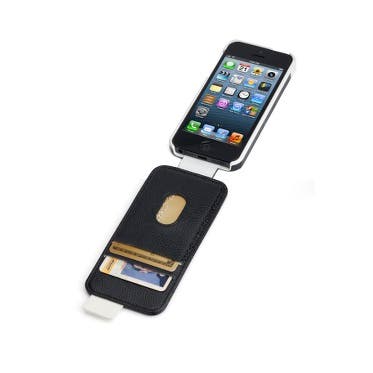 First of all, these are nice looking cases. They aren't leather, but it's getting harder to tell these days. Both cases offer wallet features, one with a flip down, the other with a flip-to-the-side.  If you are looking for a wallet alternative, then these are the most wallet looking of any of the cases I've seen. That being said, an iPhone case that works as a wallet takes away some of the convenience of what was once called the "candy bar" style phone. Your slim, one-piece iPhone now has flaps, and you have to figure out what to do with them while on a call or initiating a call.  They can dangle or be flipped back, neither really works for me. Combined with a Bluetooth headset, though, these cases are probably fine. 
One other word of caution. If you buy one of these cases, don't take your cards in and out and angles or too quickly. The pockets on the case are pretty thin, and given the material isn't leather, it will likely tear if not used a bit gingerly.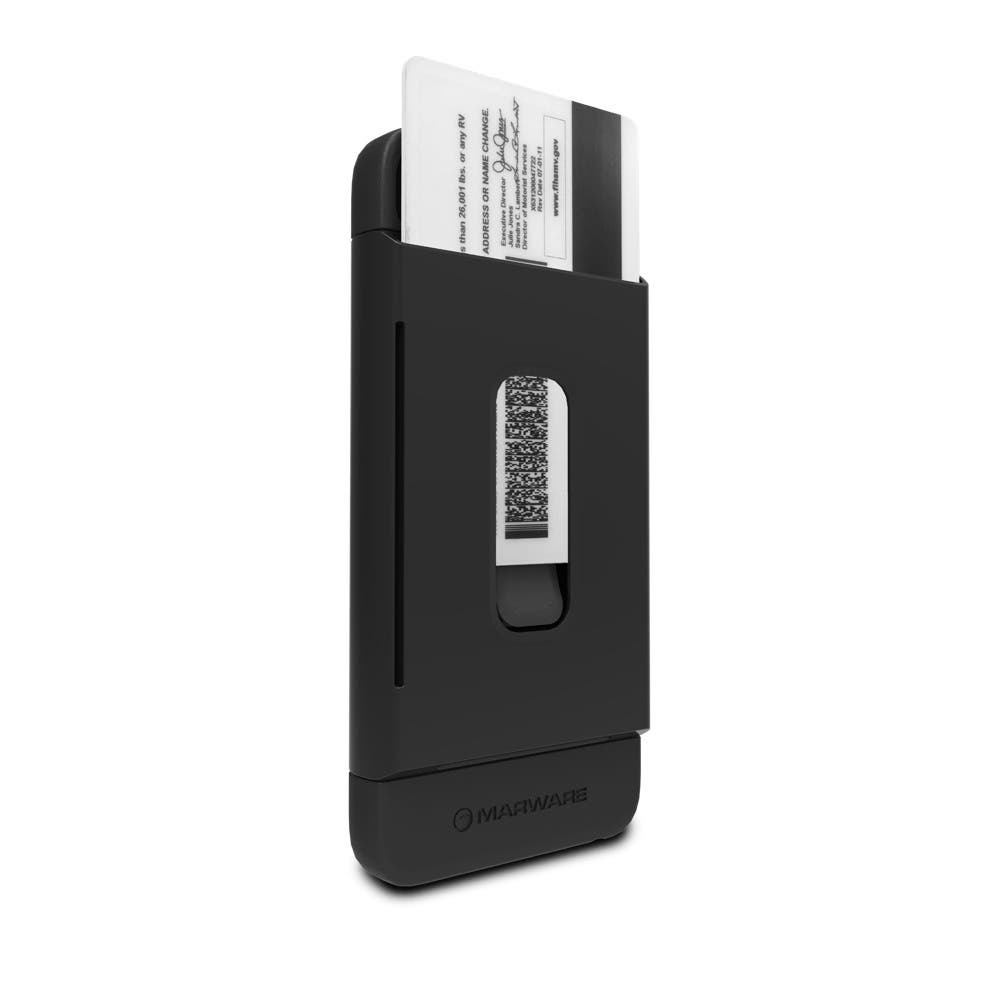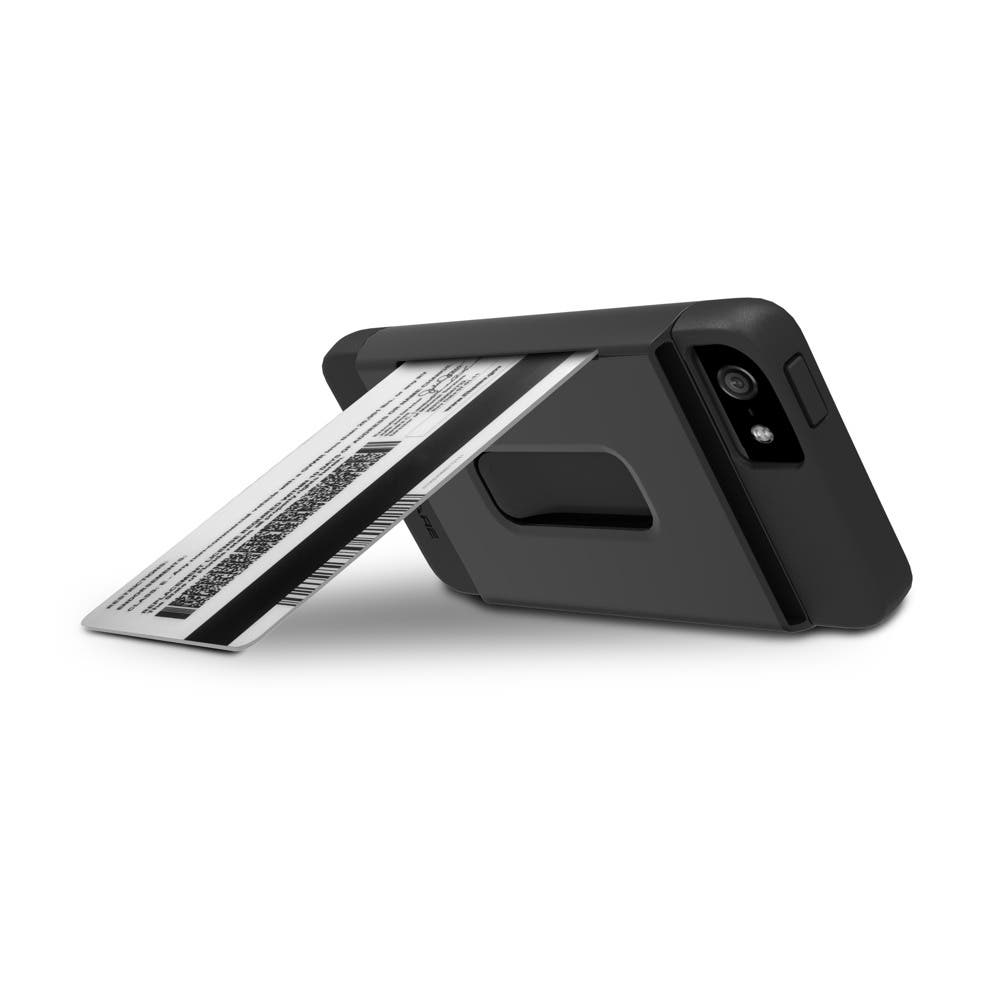 The Marware Stash offers good protection but does add a bit of bulk. The question is, does lack of bulk in purse or back pocket compensate for the added thickness of the phone? Answers: For those of us with wallets full of credit cards and loyalty cards, these cases just don't make sense. For younger iPhone owners out for the night and trying to travel light, then the Stash may work well. You can also use it to hold an airline program card and ID for frequent flyers trying to expedite their TSA screening time.                           
As an extra benefit, a slot on the back of the case accepts a credit card that then doubles as a stand. Clever, but I would suggest a feature best used in the hotel room and not in a public place if you are worried about identity theft.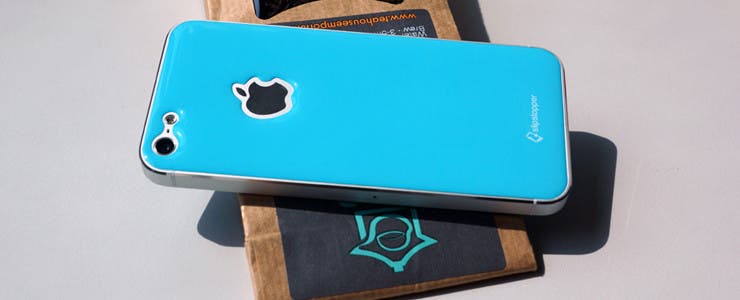 The final case in this roundup is the Slip Stopper, and it isn't really a case, it is a triad of cushy gel skins that stop the iPhone from slipping once applied. The skins are perfectly aligned to the back, top, and bottom of the screen. The two front stickers lift the screen just enough that you can lay it face down without worry about the screen contacting the surface. Both the front and the back stickers adhere to surfaces just enough to stop the phone from slipping or sliding. They use 3M adhesive to make them removable and reusable.  The Slip Stopper comes in a variety of colors, and the company even occasionally offers theme versions (like the couple kissing on the "Love in the Rain"  Slip Stopper I received for review around Valentine's Day).              
If you are a minimalist with a desire to keep your iPhone firmly planted wherever you place it, this may just be sticky enough to win you over.