By Daniel Rasmus updated on 04/23/2013
So my iPhone 5 arrived, and just before, and through today, new cases have arrived for me to slip on, poke at and to drop, stomp and rollover — well, ok, yeah, I have been known to throw a case or two, without an iPhone, to see how they hold up to the punishment. 
Let me just review my basic review critera for a phone case:
1.       It should cover the edges of the phone well (where it is likely to bump into things).
Master your iPhone in one minute a day:
Sign up to iPhone Life's Tip of the Day Newsletter and we'll send you a tip each day to save time and get the most out of your iPhone or iPad.
2.       It should leave ports exposed or at least accessible.
3.       It should be one piece.
Those are my requirements. If you treat your iPhone with a more delicate touch, or a rougher one, you may need more from a case or less.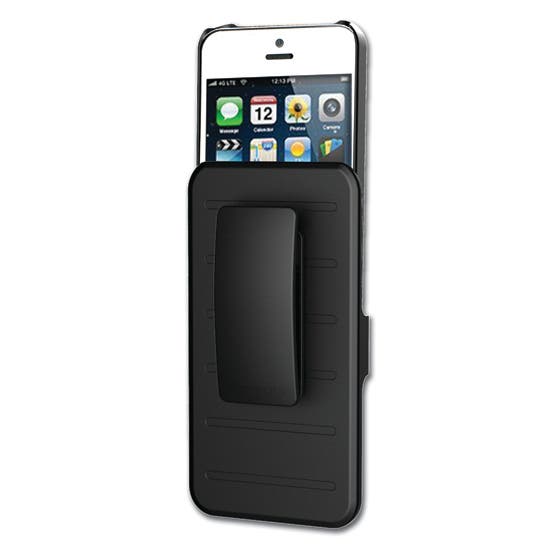 The Qmadix Epic was first case I used, and the one I will likely take on trips. It combines a one piece case with a custom fit holster. Yes, holsters are a boy thing, but, I'm a boy. If I can wear rather than carry, then I wear.  I wish the Epic had a little more top and bottom coverage on the case itself, but when in the holster, the iPhone becomes pretty isolated from every day wear and tear. If you like switching up your style, the Epic comes sans holster, in white and red, so you can re-case your phone but still slip it into its protective holster for additional protection and wearability.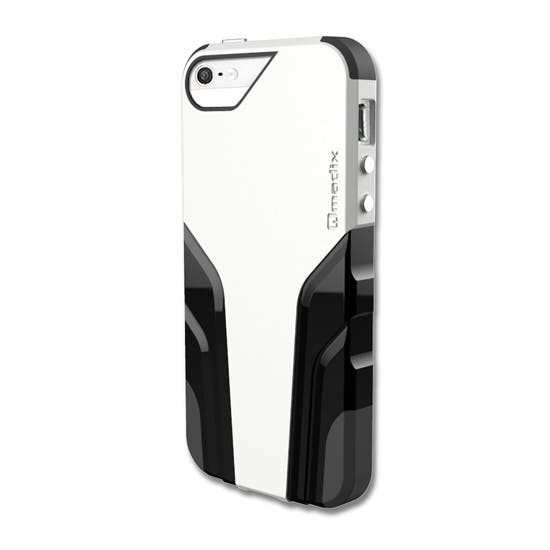 My phone is currently in home mode, and usually travels in a shift pocket or in my Scottevest where it rests comfortably against my chest in its touch-sensitive zipper/Velcro pocket. For home use I have violated my item number 3, and adopted the Qmadix Vital. Unlike some multipart cases (those with silicon or other interior material designed to guard against shock and buffeting,) the Qmadix Vital's outer plastic case doesn't feel like it is slipping against the inner material.  And this case looks very stylish, including chrome-like inlays for power and sound. I'm using the black-and-white version, but if you're feely EMO or Darthy, you can go with the all black version with chrome highlights.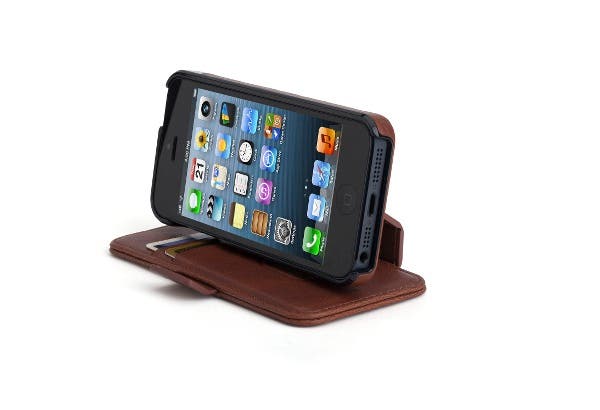 From there I move into executive mode, and that means ditching the wallet in my back pocket for a smoother line — a smoother line that includes the Kensington Portfolio Duo which can easily accommodate my ID and a credit card. This marbled leather case will add a touch of glamor equally to a sport coat pocket or a designer purse. Its magnetic clasp keeps the cover secure while the interior plastic enclosure ensures security for the iPhone itself.
These are the cases I tend to use regularly, but there are many other cases that have offered their protection to my iPhone 5 already, and they fall into certain categories. If any of these categories fit you, I encourage you to explore the cases mentioned to meet your own particular needs.
Other Case Categories
Beauty. The iPhone 5 is an amazingly beautiful piece of technology. It is a shame that it needs to be covered up at all. But it is aluminum and glass, which translates into: if you want it to stay beautiful, then protect it. To appreciate your iPhone, I suggest the clear Snap Case from incase. The Snap Case offers basic protection without taking away from the iPhone. A rim of black encircles the camera port, but other than that, the case remains completely clear. Over time, I've seen clear cases get scratched, although that won't hurt the phone, it will mar the aesthetics. The Snap Case also comes in White, Black and translucent orange.
Light Weight. Incipio leads the light weight category with its "feather" line. The Feather Shine, which I evaluated, offers a smoky plastic sheath with an aluminum-like finish on the back. The "Plextonium™" material used for the basic case claims "high density" which usually decodes into light-weight but still durable (and it sounds so Science Fictiony). Incipio continues to lead the case industry in package experience and overall value by including a cleaning cloth and screen protector with each case. They also design for the most accessible packaging. Incipio's other light weight offering is the DualPro, but I'm not a big fan of this dual layer case made of materials that don't seem to like each other as well as those from the Qmadix Vital. Although the DualPro does come with the Incipio screen package mentioned above, that doesn't make up for the cases oddly disconnected stand that rather oddly, doesn't really seem to stand. The DualPro Shine, however, offers a better blend of materials, even if it still includes the odd stand.
The incase Leather Snap Case also falls into the lightweight category and unlike so many cases that sport a "leather-like" fabric, this case clearly has "genuine leather" stamped on it.  Beside the leather, this is a basic, light case, but it will provide a bit of stylish differentiation from acrylic, pleather and metal-like plastic finishes.
Style. I have to give style points to Qmadix.  All of their cases outshine and outstyle those from other manufacturers. I haven't yet mentioned the Crave, which sports a rich, candy-like exterior and solid, all-around protection. I've seen the red-and-black, and green-and-white versions, and I think they are both fun and stylish.
Ease of Use. The iPhone 5 can scratch easily. As a reviewer, I have to be particularly careful, because unlike most of you, my iPhone 5 will spend much of its life in-and-out of different cases as I test materials, utility and function. If you remove a case regularly, it should be designed to be removed. So far, the case that does that best is the incase Metallic Slider Case. Rather than forcing you to force the iPhone 5 into a case, this case slips over the top, with a smaller piece bringing up the rear. Good protection as well as easy of removal.
Overall, I was most impressed by the Qmadix cases, though I think they could use a little less packaging, tape and film. I think all of the companies did a great job of meeting the needs of the iPhone 5 user quickly. I remember when the iPad first came out, it was weeks or months before the wide offerings you see today arrived in retail. The iPhone 5 has plenty of support from top notch case makers. Find the case that fits your lifestyle or your aesthetic. And don't feel beholden to one. If you live life in many lanes, get a few cases so you can match your style with your moment.
Screen protection note: With the exception of the Qmadix Epic holster, none of these cases offers built-in screen protection. Incipio includes it in the box which is great, but if you choose another case, you may want to consider the Trü HD Crystal Screen Films in Crystal or Anti-Glare. I found them easy to apply, unlike some I've used, they don't easily succumb to my on-again, off-again case machinations.
Qmadix
http://www.qmadix.com
Epic, Crave and Vital
Kensington
http://www.kensington.com
Portfolio Duo™
Incase
http://goincase.com
Leather Snap Case, Snap Case for iPhone 5 and Metallic  Slider Case
Incipio
http://www.incipio.com
Feather Shine, DualPro Shine and DualPro
Scottevest
http://www.scottevest.com/
Trü
HD Crystal Screen Films in Crystal or Anti-Glare
http://www.truprotection.com/