By Daniel Rasmus on Wed, 03/26/2014
The Ideal Keyboard Case
There are many good cases on the market, but the ideal case hasn't been produced yet. Here are the features of the ideal case:
Protects front and back of the device when closed (does not include a built-in screen protector.)
Good keyboard layout (Zagg cover and Logitech Ultrathin Keyboard Cover are best in class here, though most others now are more than adequate.)
Ideally a metal base (Zagg Cover and Logitech Ultrathin Keyboard Cover.)
Keys flush with keyboard surface.
Backlit keyboard.
Ability to shift from "notebook" mode, ideally by removing iPad and rear cover from the keyboard case (NewTrent does this best on their ruggedized AirBender Pro). If using a thin shell design for removal, keep edges compatible with Apple screen-only covers.  If the design uses a "flip-over," bring the back of the iPad into contact with the keys; don't flip the keys around to be on the surface or lap (similar to Belkin QODE Ultimate Keyboard Case). And when in "flip" mode, secure the surface so that the feel is still solid.
Lightweight.
Relatively easy to insert and remove iPad.
Multiple viewing angels, ideally secured by something other than a slot (Velcro or magnets for instance.)
Auto sensing power on and time out when not in use. Switch of key sequence to permanently turn it off.
Lightning charging cable.
Non-marring surface on keyboard base or some sort of feet.
Total edge and back protection.
Optional screen protection that is compatible with the case (something like the NewerTech case-friendly screen protector — though I've never successfully placed an iPad screen protector that didn't have some issue and all of them present stylus challenges.)
Access to SIM slot (usually not a big deal, but very important to international travelers.)
Metal hinges.
These are the constraints that case designers should be using when thinking about case design. They don't lead to one answer, and I'm guessing they may be similar to the ones used to design the cases reviewed here; but execution can be an issue as well as usability. Just because something solves a design constraint doesn't mean it works well in the real world.
Because keyboard and touchscreen coexistence is so mightily important to the Windows 8 market, iPad Air keyboard case designers should be looking to that market for ideas.
Master your iPhone in one minute a day:
Sign up to iPhone Life's Tip of the Day Newsletter and we'll send you a tip each day to save time and get the most out of your iPhone or iPad.
Analysis at a Glance
Best Cases:
Keyboard Only: Logitech Keyboard Cover (advice: ship with a lightweight shell to create a more complete solution).
Overall Design and Value: Airbender 2.0 (advice: make the rear, detachable case compatible with Apple iPad Air covers, so when the iPad Air is detached from the  keyboard, Apple's Smart Cover offers the other half of an elegant solution.)
Complete Cover with Keyboard: Belkin QODE Ultimate Keyboard Case (advice: place magnets along edges so rear cover sits securely on keyboard when in tablet mode).
Best Rugged and Most Innovative Case: NewTrent Airbender (advice: for your audience, pretty solid. But some thinner parts of rubber can stretch and get loose after repeated removals. Make a slightly less rugged version without the built-in screen protector and with easier insertion and removal for iPad). This one has spent plenty of time on my iPad, but it ended up just being too hard to remove for evaluating other solutions. I also worried about removing the case to replace the iPad SIM for international travel.
Least Favorite Case:
Logitech FabricSkin Keyboard Folio (advice: more robust mounting solution, better keyboard layout and backlighting).
The Reviews
1. Griffin Slim Keyboard Folio  ($79.99)
3 out of 5 stars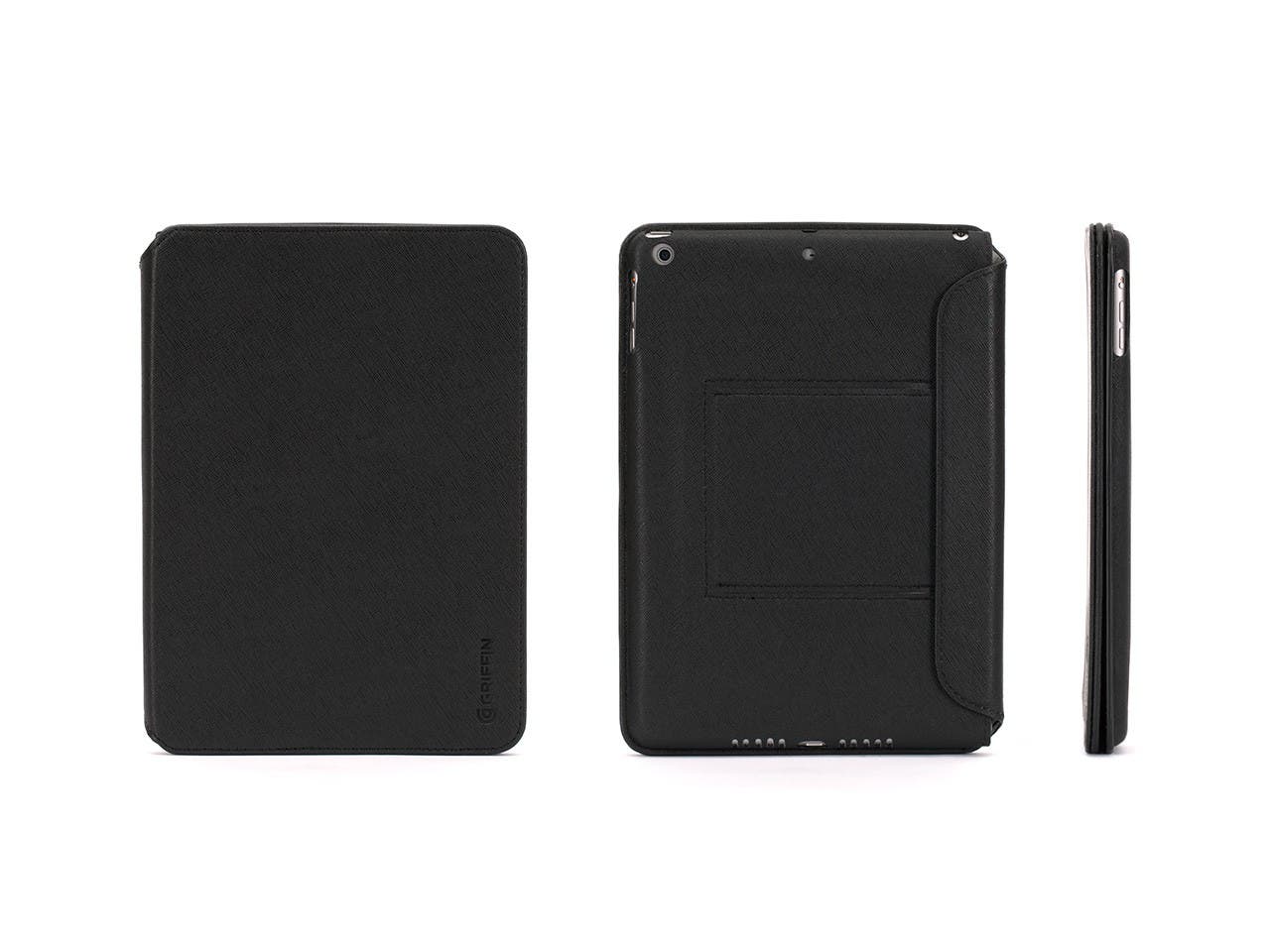 If you want thin, light, and basic, this is the keyboard cover combo for you. Rather than worrying about precision molding, Griffin opted for fabric. The iPad just slips through the bottom and is secure by a flap with magnets. There is also a pretty basic, one-position stand. the design allows for the easiest insertion and removal of the iPad among all the cases.
Pros: Light. Doesn't lock the iPad in.
Cons: Verges on feeling cheap without being cheap. When the features are compared to the Airbender's features at $30 less, it is clearly overpriced. Stand is only one position and held in place by ribbons.
2. Kensington Thin Folio with Keyboard for iPad Air ($109.99)
3 out of 5 stars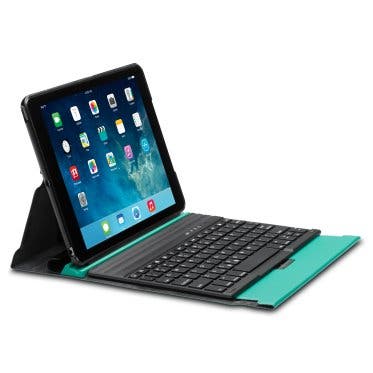 With the Kensington team you don't have to ask,"What was the designer thinking?" since they stream videos on their site with "designer briefings." So what the designer was thinking here, was workstation, not mobile experience. Sure, the Folio folds up into an attractive enough package. Someone carrying it would appear very professional. However, if that same person was walking down the street and needed to whip out the iPad Air for some quick directions, they would look rather awkward. The folio flips on to a magnetic keyboard, so they would, of course, be trying to make sure the keyboard doesn't come loose. Then they would be laying out the case to fold it over the rather massive plastic stylus/dock, and then squeezing it so that the non-aligned cover doesn't slip all over when using the keyboard. I hope you get the picture. With all that said, if you are treating your iPad Air as a workstation and using a phone while walking around, then this is a good solution. The case includes multiple wrist-rest options and for $20 more you can get colorful backlighting for the keyboard. The case is also available in a wide variety of accent colors. If planting yourself isn't the plan, and you regularly switch between tablet mode and notebook mode, this probably isn't the keyboard case for you.
Pros: Looks great and protects the iPad Air when closed. Perfect for people who want to set up shop with their iPads. Backlit keyboard option a plus.
Cons: Awkward switching between cover and iPad mode, if what it does can really be called that. Big plastic insert/stand/stylus holder really increases the weight.
3. ZAGG Cover with Bluetooth Keyboard ($99.99)
2 out of 5 stars
I love Zagg's keyboards. They feel great, look great, and have wonderful backlighting options. But Zagg never gets the case part just right. In previous versions, the keyboards were a bit too recessed accommodate them as an iPad cover, making it feel like you were reaching into the keyboard. This new approach is innovative, but innovative isn't always good. I'm not even sure how to describe the rubberized hinge and socket thing that wraps around the edge of the iPad and supposedly uses magnets to keep it in place. Put pressure in the wrong place and it doesn't stay very well. The joints are also pretty stiff, so I feel like I'm putting too much pressure on the iPad to flip it around. I also have an issue with where it hits the iPad, which is not the same place as Apple's iPad Air cover. That comes into play when using a skin, which I always recommend when using a cover that just covers the front of the device. I applied a Zing Revolution skin, and when I attempt to put this case in place, it not only pushed the skin up and out of place, once I did manage to seat it, the skin interfered with the design, so it didn't seat properly.
Pros: Great keyboard. All keyboards should include backlighting.
Cons: Odd hinge attachment doesn't offer enough confidence that iPad will remain attached when transitioning positions.
4. ZAGG  Folio Case with Bluetooth Keyboard  ($99.99)
3.5 out of 5 stars
Let me start of by repeating that I love the Zagg keyboards. And if you want to transform your iPad into a notebook computer, this is a great case for that. It looks nice and feels nice, but it doesn't flip into tablet mode at all. If you take it out for a quick look, it means going into notebook mode and reaching over the keyboard to touch the screen. Really lovely to look at. Good fit when closed.
Pros: Beautiful keyboard with well-matched rear shell. Great for transforming the iPad Air into a notebook computer.
Cons: Shell might not hold up well to repeated insertions and removals. Power port opening too small for some of Apple's charging adapters. No "tablet mode."
5. NewTrent  Airbender Pro ($79.95)
4 out of 5 stars
If you want one case that does everything, this is the case. If you buy and use an Airbender Pro, it will also likely be your case of choice by necessity, as it isn't easy to get it on or off. Luckily, when I say it does everything, I mean everything. The iPad, upper case portion easily detaches from the keyboard, keeping the rugged screen protection and environmentally sealed features intact. The metal hinge, which is very well constructed, pulls out to provide more viewing angels.
Pros: The total package. Rugged case with built-in screen cover. Check. Detachable case. Check. Good keyboard. Check. You can't buy a more solid or adaptable keyboard case.
Cons: A bit heavy with its metal multiple layers of protection and heavy metal hinges. Not ideal if using your iPad with a stylus as it doesn't glide across the cover as well as it does against the iPad's glass screen.
6. NewTrent  Airbender 2.0 ($44.95)
4 out of 5 stars
This case, which is only slightly less sophisticated than its bigger brother (the element-proof case gives way to a simple shell), rates the same number of stars because it is well designed and very inexpensive. It isn't 5 out of 5 stars because when the iPad is detached, using the same basic snap-on design as the Airbender Pro, the iPad is exposed, unlike the Airbender Pro solution that tends toward over engineered, which might be for some people, but not for all. I think they missed the middle path, which is making the Airbender 2.0 compatible with an Apple Smart Cover.
Pros: Almost a total package. Well designed enough to transform experience from notebook mode to iPad-only mode with a quick-release clip.
Cons: Requires screen protector to protect screen when a little cut-out would have made it compatible with Apple Smart Cover.
7. Logitech The FabricSkin Keyboard Folio for iPad Air ($149)
2 out of 5 stars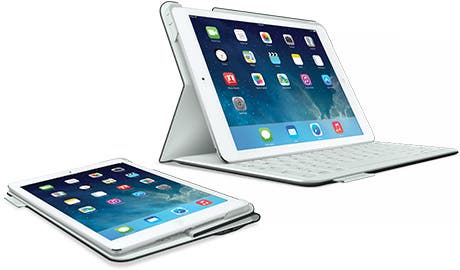 If you want the science fiction thing going for your iPad Air, this is the almost-perfect looking accessory. It's FabricSkin cover shields the iPad front and back while providing an otherworldly feel when holding it. Unlike most Logitech products, the keyboard is oddly off center, with a smallish shift key on the left. The plastic corners that hold the iPad in place are rigged and somewhat thin. Although mine haven't broken, I do worry about what would happen if I were to take the iPad in and out of the case with frequency. 
Pros: Stylish looking and water resistant. Makes iPad Air in case appear color than naked version.
Cons: Odd keyboard with no key travel or feedback. 
8. Logitech The Ultrathin Keyboard for iPad ($99.99)
4 out of 5 stars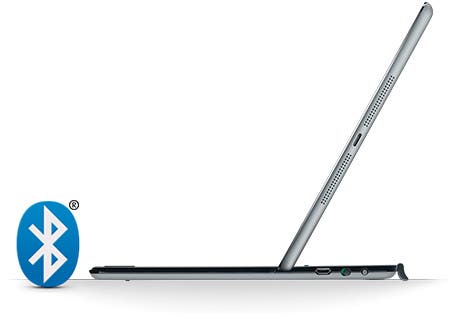 Simple has always been best. And Logitech knows when it has a winner, so it shrunk down its Ultrathin Keyboard for the iPad to Air size. The keyboard is reliable and well constructed with a nice layout. It is a bit more cramped then ones for older iPads, but not by much. Winners don't last forever, and this is a keyboard that could use a next generation design investment, like backlighting and a paired combo shell that protects the back of the iPad.
Pros: Great keyboard with solid construction and good attachment design, compatible with Apple Smart Cover attachment points.
Cons: No protection for rear of iPad. Must be removed and stored separately when using iPad as a tablet. No backlighting.
9. Belkin QODE Ultimate Keyboard Case for iPad Air ($129)
4 out of 5 stars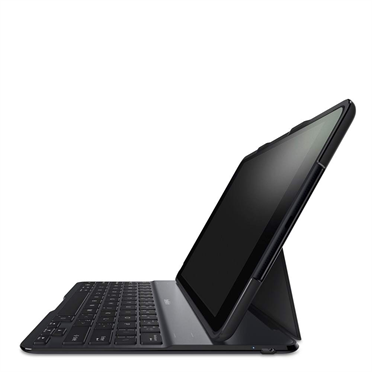 Compared to its earlier offerings, Belkin has done a fine job with this keyboard. A nice rear shell complements a good keyboard. Unlike many of the other cases, this rear shell protector flips down over the keyboard; but unfortunately, it just kind of sits there, contributing a little juggling to the use of the tablet. In "notebook" mode, it works very well, offering multiple magnetically defined positions that hold very firm. I have only two additional suggestions: First, the edge on the bottom panel of the keyboard is a bit sharp—not dangerous, just distracting. Second, I'd love to see another solution to pivoting the iPad Air over the keyboard that is better than a flocked piece of vinyl. As with other rear shell type cases, I worry about cracking the shell when repeatedly taking an iPad in and out of the shel. But not only does this one feel more sturdy, the design also makes it less necessary to remove the iPad. It could use plastic or rubber feet to better protect surfaces.
Pros: Solid design makes for overall protection, along with good keyboard and multiple display angels via magnetic positions.
Cons: Slightly sharp edge on keyboard, needs better solution than vinyl for connecting keyboard with cover.