By Daniel Rasmus on Wed, 07/23/2014
It begins tonight. Superman, Batman, and Wonderwoman. The Hulk, Green Lantern, Thor, and Captain America. Not to mention various forms of Captain Kirk, Mr. Spock, and Darth Vader. And those are just a few of the science-fiction-, fantasy- and manga-inspired characters that will descend on San Diego beginning on Wednesday, July 23, for Comic-Con.
In order to navigate Comic-Con you will want to bring a few apps along for the ride.
Master your iPhone in one minute a day:
Sign up to iPhone Life's Tip of the Day Newsletter and we'll send you a tip each day to save time and get the most out of your iPhone or iPad.
First up is the official Comic-Con app. This is the virtual program. The app includes every session, panel, exclusive collectors' item, or comic book and autograph signing opportunity available. Pick a device though, because the Comic-Con team is still figuring out "the cloud" and the app doesn't synchronize your schedule across devices or with the Sched.org schedule (see below).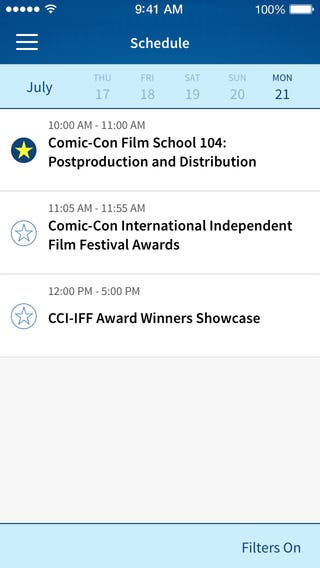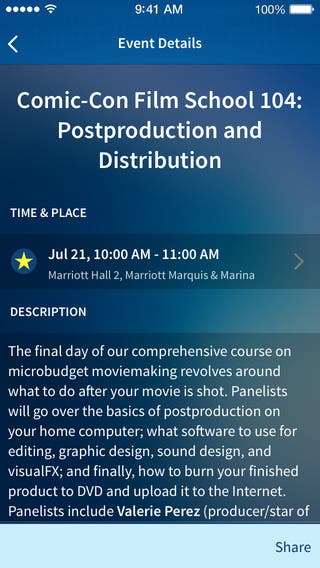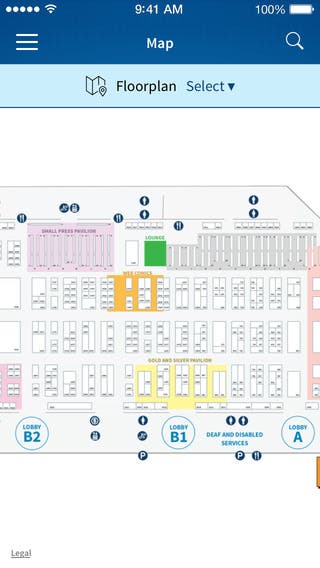 Perhaps the most important feature of the official app is the map of the floor, which can help one navigate the chaos and confusion that occurs when independent comic book creators mingle with Hollywood elite. And speaking of Hollywood elite, this app is highly, and in my opinion, annoyingly sponsored. I don't mind ads, but I really don't want an NBC Constantine splash screen to appear every time I open the app to look for a vendor I want to visit.
If you want a schedule that does synchronize across devices, go with the office Sched.org Comic-Con version. This web-based scheduling tool includes the same information as the official app, but in a cloud-based form. Once you create an account, you can easily install the web-app on your home screen for quick schedule reference. I would suggest you opt for this approach to managing your precious Comic-Con moments rather than using the official app. Find an overview of the system here.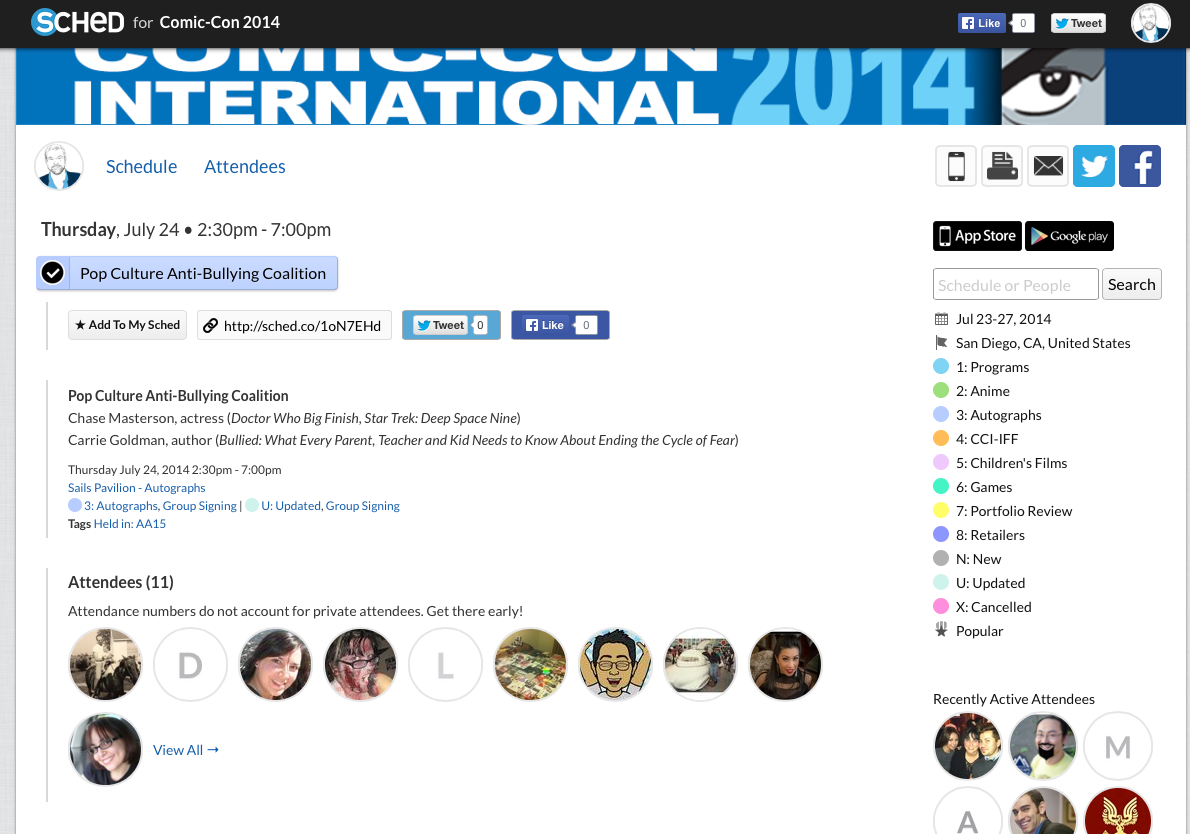 Now, any convention can be an exhausting endeavor with all the walking, sitting, walking, listening, having your picture taken with a celebrity, and walking some more, all while in full costume with a backpack full of water, granola bars, and signed copies of comic books with Comic-Con variant covers protectively wrapped and tucked away from your touch-up make-up. So what's a boy, a girl, or a transgender alien to do?
Visit the Marriott. And I don't mean walk into the lobby or go for a cold one in the bar. Download the Marriott Guest Services app and Marriott will push what they are calling a "local perk" to your iPhone. Convention goers will get the chance to relax, charge their electronics at charging stations, feast on complimentary snacks, create a souvenir "gif" at a gif photo booth, and experience other amenities.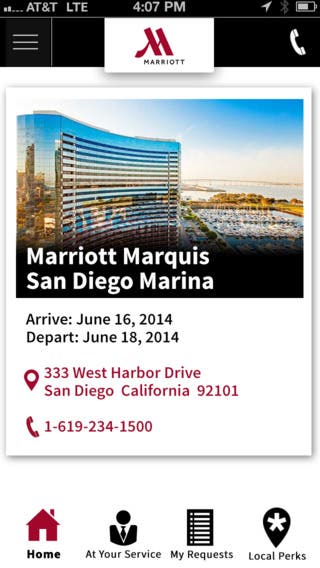 Here's what you need to know to sit down your sword and kick up your feet on Marriott:
WHEN: July 24–27
WHERE: San Diego Marriott Marquis & Marina
                  333 W Harbor Dr, San Diego, CA 92101
                 just a 7 minute walk from the San Diego Convention Center!
TIME: 2 PM – 6 PM PST
*open to the public
HOW: To access the lounge:
if you are an iPhone user: download Marriott's Marriott Guest Services application and accept push notifications. When prompted, accept location services and opt into receiving Local Perks. Go stand by a beacon (they will direct you) and you will receive a Local Perks push notification inviting you to enter the Perk Up! lounge.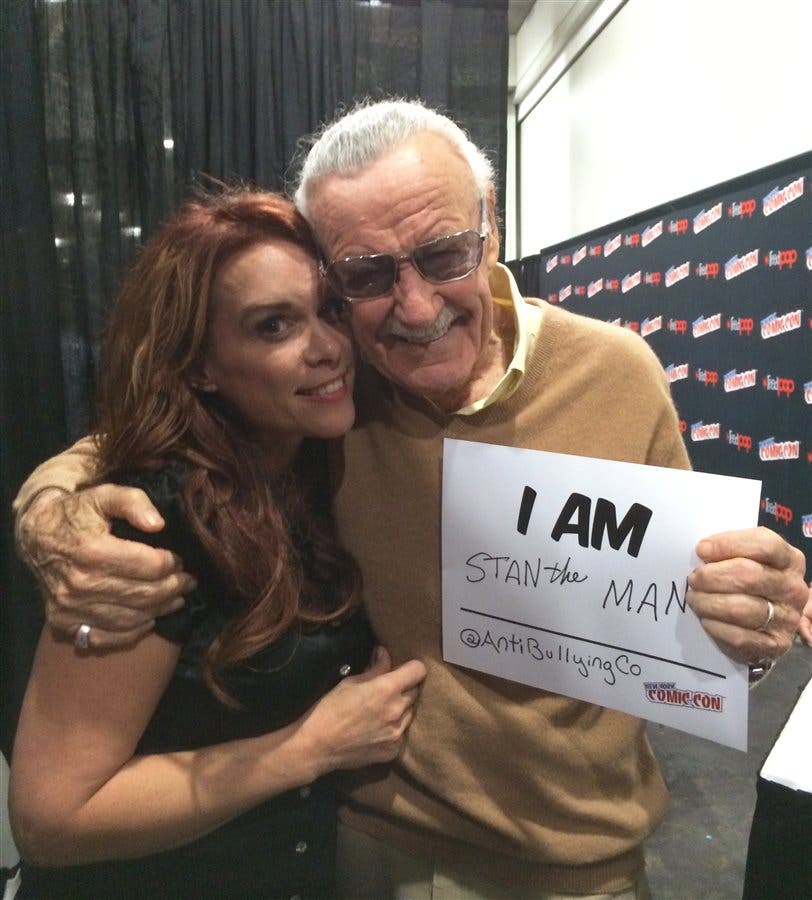 Chase Masterson with Stan Lee at Anti-Bullying Event
iPhone Life readers who attend Comic-Con are highly encouraged to stop by and support the Anti-Bullying Coalition, an organization founded by Star Trek's Chase Masterson and Carry Goldman, the author of Bullied. Take a few minutes to meet Chase and her team at the Pop Culture Anti-Bullying Coalition station found at the Sails Pavilion each day of the conference (see the Sched screen shot above for an example of one Anti-Bullying Coalition event).