By Daniel Rasmus on Wed, 08/08/2012
Brenthaven
$79.95
Note: This is a supplement to the iPhone Life print edition article: "It's In the Bag! Best Backpacks and Bags for the iStudent." September-October 2012.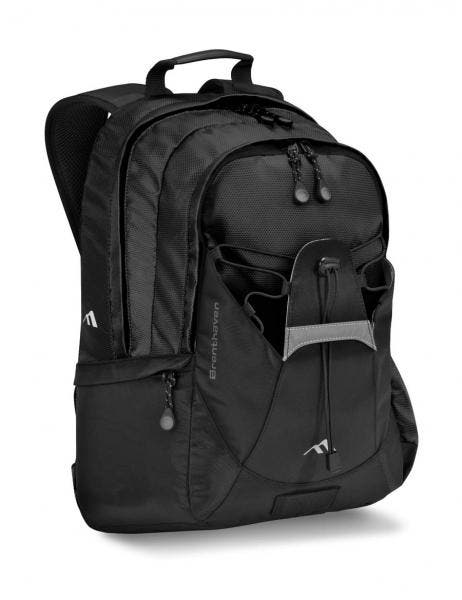 Of all the backpacks I've looked at, this one may be the one that shouts "student" the loudest. Maybe its the cloth zipper pulls, but its probably the big, open, nylon-string-secured front pocket that looks like it just wants to embrace a cheerleader's sweater so that the backpack's owner can gallantly retrieve it when a cool breeze kicks in.
Like most of the others, the Pacific holds up to a 15.5 inch notebook computer (my older 15.6-inch MacBook Pro fits by extends past the padding, which isn't good). The interior is light grey with orange accents. A nice contrast to the grey-and-black exterior.
The front compartment sports a few pockets, including a Velcro-secured phone pocket big enough to hold a large phone (tested with my Samsung Galaxy Note, which fits snuggly but it fit). With all pockets full, the Pacific still has ample room for other items.
The rear compartment includes pockets for the notebook computer and it has a special iPad pocket as well. Both secured by the same Velcro strap. Many of the other backpacks kept the the notebook and the iPad separated for more rapid access. I like that approach better, but this works just fine.
Both compartments are adequately padded, but the bottom of the pack is just one layer of heavy nylon. I would have preferred padding on the bottom as well.
If I was just a girl, sitting in front of a boy, trying to figure out which backpack to buy him, the Brenthaven Pacific would be a safe and functional bet. This pack is all boy on the outside with some very nice features on the inside. I'll let you take the metaphor to the next level.
(BTW, it also comes in blue, grey and red if you want to create your own colorful metaphor).
A signed copy of my book Listening to the Future to the first person to e-mail me accurately with the names of the two movies I barrow references from in this post.