By Daniel Rasmus on Mon, 07/29/2013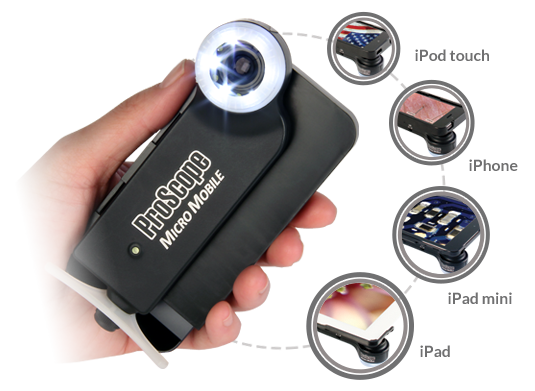 I've always loved microscopes, but I've also hated them in a way. As a kid, my microscope used a mirror or a really tiny light to illuminate the tiny worlds of fly hair and dried and stained amoebas. When I put my eye up against the lens, I often saw more eyelash than fly leg hair. And as I zoomed in, my light source made for ever darker images that turned the intricacies of nature into abstract art.
As an adult, I stopped looking at really tiny things unless I could find a picture of them in book or on a website. At least until now. Now I have a Bodelin ProScope Micro Mobile ($149). This handy device transforms an iPhone, iPad, iPad Mini or iPod Touch into a microscope. Unlike earlier Bodelin microscopes that looked like science fiction guns and required their own WiFi network to stream images to an iOS device and receiving app, the new ProScope Micro Mobile stands alone (well, alone if you count being mounted to an iPhone as alone).
Master your iPhone in one minute a day:
Sign up to iPhone Life's Tip of the Day Newsletter and we'll send you a tip each day to save time and get the most out of your iPhone or iPad.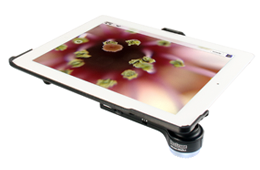 So here's the deal. The ProScope Micro Mobile mounts on a sleeve slips over the camera-lens side of an iPhone or iPad. In a very clever engineering move, the camera unit can be removed from the sleeve and attached to a different sleeve, which means an iPhone and an iPad can share the same camera. Bodelin chose professional level Edmund glass optics to ensure quality images. Unlike cases intended to stay on and protect the device, the ProScope Micro Mobile is all business. Once your done, you can easily remove the microscope and return your iPhone to more plush and protective surroundings.
Once slipped over the iOS device, you have to download an…well, you don't have to download anything. No app. The microscope is designed to use the camera app and its built-in zoom to go from 20x to 80x magnification. If you want to use it without touching it, a built-in stand positions it perfectly for inspecting most flat objects. Combine it with an app like Softbox Pro ($2.99) on an iPad, and transform the iPhone with ProScope Micro Mobile a traditional glass science slide view. A regular light table works too. No eyelashes to get in the way. No poor light conditions.
And speaking of light—the plastic bezel surrounding the lens, designed to be pushed right up against the surface of the subject, includes adjustable LED's that help eliminate reflections, and can be dimmed to put the subject in its best light, so to speak. Power for the lights comes from a Lithium ion battery that runs up to 5 hours and recharges to full capacity in 2.
The ProScope Micro Mobile may look like a toy, but it isn't a toy. It is a serious learning tool for science students, a clinical tool for dermatologists and field tool for paleontologists.  It's also a great tool for philatelists and numismatists and quality inspectors. Parents of elementary school students might find the investment a good one as they strive to eliminate the last lice nit from the house.
Bodelin proudly includes a Made in America logo on its website. The ProScope Micro Mobile is not just designed in Oregon, its actually made there too.