By Daniel Rasmus on Wed, 12/18/2013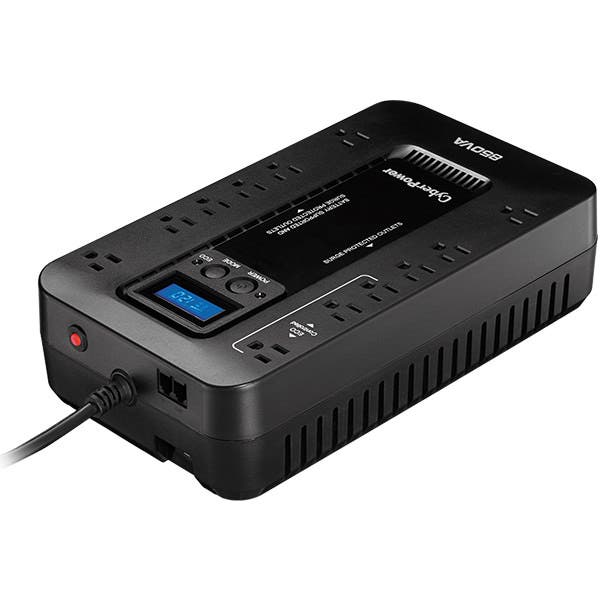 Depending on where you live, you may think winter has already blown in, but astronomical Winter doesn't arrive until December 21, so you still technically have time to prepare for Winter.
We've written many times on the pages of iPhone Life magazine, and in this blog, about external batteries that extend the life of iOS devices, but you also need to consider the power needs of desktop and laptop systems. I was in the middle of copying some movies over to my iPad last time the power went out (hoping to get them on so I could watch them should the power go out). The movies were on a powered external hard drive. Needless to say, the iTunes copy didn't finish. Although the Macintosh and the iPad were still powered, the hard drive stopped working and anything not copied was immediately aborted.
Master your iPhone in one minute a day:
Sign up to iPhone Life's Tip of the Day Newsletter and we'll send you a tip each day to save time and get the most out of your iPhone or iPad.
Other devices to consider are WiFi routers, VoIP and phones, and networked storage, all of which go down when the power goes out. An uninterruptible power supply (UPS) on the home WiFi system means local services, like printing and file sharing, will continue to work despite the loss of Internet access, at least for a while. UPS systems are meant to give you time to finish what you were doing when the power goes out, and then bring down systems gracefully—and to protect them from surges and spikes when power is restored.
I recently had CyberPower send me their EC Series 850va, 510 Watt Battery Backup (EC850LCD, $121.95) for review. Now, you may not think that laptop systems need to concern themselves with a UPS; but many peripherals, like printers, disk drives, and other components aren't connected to the laptop's power, so they go down when the power goes down. Only items like USB-powered disk drives and SD cards remain available when main power ceases to flow.
CyberPower's UPS is as sophisticated as they come for home use. It features 12 outlets, 3 of which are "ECO mode." In "ECO mode," the UPS stops feeding power to the outlet if it doesn't detect a draw. Four of the outlets are widely spaced to accommodate charging blocks. 6 outlets include battery backup and surge protection while the other 6 only offer surge protection. At 12.2 x 3.1 x 7 inches, the unit will fit almost anywhere. Depending on the load, the EC850LCD will run for up to 10 minutes (at 210W of connected devices—at 425W it will run for a little over 2 minutes). The battery under the hood is sealed lead-acid (which technically means there is no hood). The EC850LCD will also protect phone lines should you still have one. An LCD on the top of the unit displays input voltage level, output voltage level, battery capacity, runtime estimate, load capacity and mode. The UPS can lay flat like a traditional power strip, or be mounted via mounting holes on its underside. The EC950LCD comes with a three-year warranty and $100,000 in connected equipment coverage should it fail to protect your hardware from surges.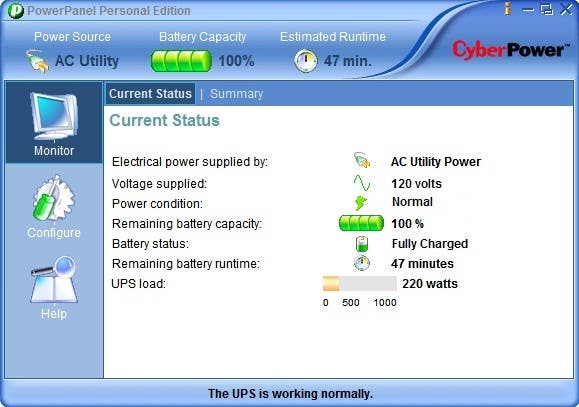 The CyberPower UPS connects back to the PC with a UPS cable. This allows for the PC to monitor the battery and to provide for automation. A downloadable control panel displays the internal status of the battery. It also provides a way to initiate system shutdowns according to pre-programmed schedules. When the power goes down, audible alarms sound, and the PC setting from the control panel can take over and begin the shutdown automatically.
CyberPower makes a range of UPS units to fit personal needs, though for the relative costs, get the best one you can afford. I would suggest trading off features for backup battery size to keep costs down.
So as winter rears its snowy head across the Northern Hemisphere, make sure you have a couple of spare batteries to keep your iOS devices running in a crisis, but also make sure you main systems, disk drive,s and peripherals are protected from the scourge of blackouts—and that you give you and your computers time to react before going dark.
(P.S., I've tested the UPS to see if it works in theory, and everything worked fine. I'll let you know if a storm takes out my power again over the next few months and how the EC850LCS performs in a real world situation).