By Daniel Rasmus on Wed, 04/24/2013
How many backpacks do you own? Some people only see the need for one bag or backpack, which becomes a familiar companion on any trip. Others are bag junkies, and I'm one of those people. 
I have a plethora of bags for trips long and short, meetings formal and casual. I recently received two very different backpacks for review. While they're roughly the same size, only the shoulder straps make these bags anything alike. You can't go wrong with either bag, but each is designed for very different environments and for travelers with different expectations.
Master your iPhone in one minute a day:
Sign up to iPhone Life's Tip of the Day Newsletter and we'll send you a tip each day to save time and get the most out of your iPhone or iPad.
Hex Tribute Cloak Backpack ($99.95)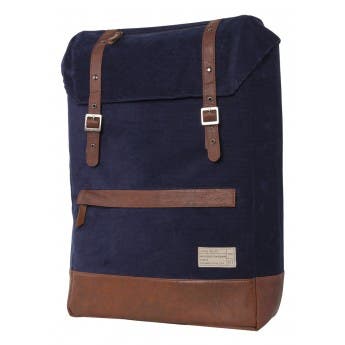 This beautiful, blue corduroy bag looks like something that belongs in the luggage collection of a well-heeled traveler to the Hamptons, or perhaps slung over the should of Martha Gellhorn on a trek with Hemmingway. But at only $99.95, anybody can afford this elegant bag with antique silver metal accent clasps (hiding very functional magnetic closures), real leather zipper pulls, and leather-like accents.
I had never seen a backpack designed to carry technology and also as a rucksack, but now I have. The drawstring cover snuggles around the top of the bag's opening to keep its contents dry and secure. The exterior corduroy repels water while adding an air of class.
As for its technology features, a front, micro-fleece-lined pocket provides easy access to an iPad while the spacious main compartment holds a laptop as wide as 15 inches. A voluminous compartment hides an organizer for pens, business cards, and other travel whatnots (I say hides because this bag is so deep you really need a flashlight to navigate its organizational compartments).
Overall, I like this bag. The straps and back aren't as engineered as more modern-looking cases. It lacks stretch flex material at the shoulders, highly engineered straps, or an airflow contoured back. However, the Hex Tribute Cloak Backpack does offer a quiet elegance and is a perfect travel companion for trips requiring refinement rather than stamina.
Pelican ProGear U140 Urban Elite Tablet Backpack ($260)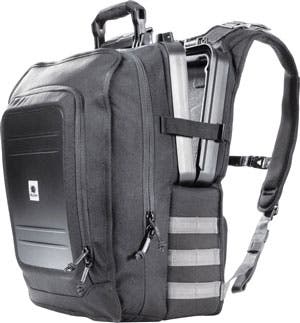 Just as the Hex Tribute is a throwback, the U140 is a throw forward. If stamina is a word that resonates with you, so too will the ProGear. This backpack presents itself as an in-your-face survival companion. Just look at its list of features:
Built-in watertight & crushproof case with a push button latch and two lockable clasps;
Bottom expanding storage sling;
Rugged, rubberized handle;
Load compression straps and padded lumbar storage cavity combine with an ergonomic S-curve comfort back;
Concealed water bottle pocket;
Automatic Pressure Equalization Valve.
While the Hex Tribute would look at home in a sleepy seaport, you'd be more likely to find the U140 in the outskirts of Baghdad or Kandahar. Pelican's entire line of backpacks make you feel like you were released into the Wayne Enterprises prototype chamber and Morgan Freeman is asking to pick one to fit today's whim.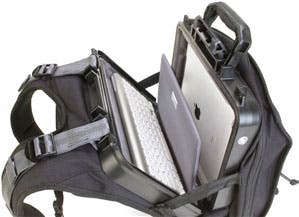 If you ever think you will be running around Gotham City and you might lose your backpack, and that backpack might be run over by a Hummer, then this is the bag for you. But don't get me wrong, this isn't just a bag for urban survivalists, it's also a bag with very practical features, including easy access to office supplies, big compartments for clothing or other supplies (the expandable lumbar storage area is very cool), and ample straps for hanging items on the bag. Unlike many bags that can accommodate a tablet and laptop, this fits only a tablet or small laptop (MacBook Air or Netbook) —  but it provides the best protection I have seen in a consumer backpack. The only feature missing is an electronic lock, which would allow me to slip the hardened tablet case out by clicking a button (do you hear me Morgan Freeman?).
Choosing Your Bag
The Hex is the Yin to the Pelican's Yang. The hex is soft, yielding, and passive while the Pelican is hard, solid, and focused. The Hex Tribute includes a one year warranty, and the Pelican U140 a limited lifetime warranty, with an even better warranty of the iPad's plastic enclosure. 
If you travel a lot, you will probably need bags of both types at some point during your journey (unless you're a one bag person). Regardless of how you choose the bag or backpack you travel with, may you and your gear travel safety!