By Daniel Rasmus on Sat, 03/01/2014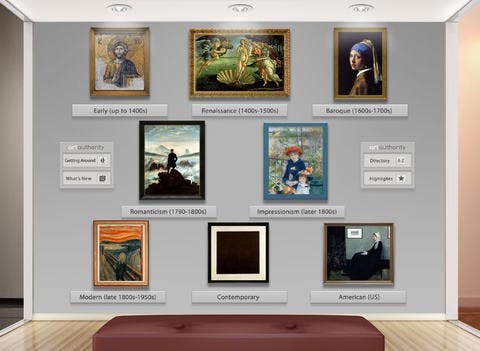 I've sold most of my art books. I don't know if this was the intent of Open Door's Alan Oppenheimer or not, but it was the result of him providing me with Art Authority ($9.99). My iPad is no coffee table book, but that's a good thing. As Apple touts the pencil thinness of the iPad Air, coffee table books start to look more and more arcane. What coffee table books have over the iPad is the size of their canvas. But when one actually visit museums, art books seem a bit of a travesty of pure form. Books not only fail to represent scale well, they don't reproduce paintings or drawings with anything like fidelity to the originals; and they offer no way to experience media or paint thickness or pen impression. And when it comes to sculpture they are, of course, overwhelmingly flat (not to dismiss pop-up books).
Art Authority has steadily made art books seem even more obsolete as it has evolved. First, many images now come in retina display resolution. That means being able to zoom in significantly on detail that might not even be visible in a paper book with a magnifying glass. You don't get the 3D of seeing shadows cast by a stroke of paint left in the wake of Monet's palette knife, but again, viewing an image in the app is as good an experience as a book, and usually better.
Master your iPhone in one minute a day:
Sign up to iPhone Life's Tip of the Day Newsletter and we'll send you a tip each day to save time and get the most out of your iPhone or iPad.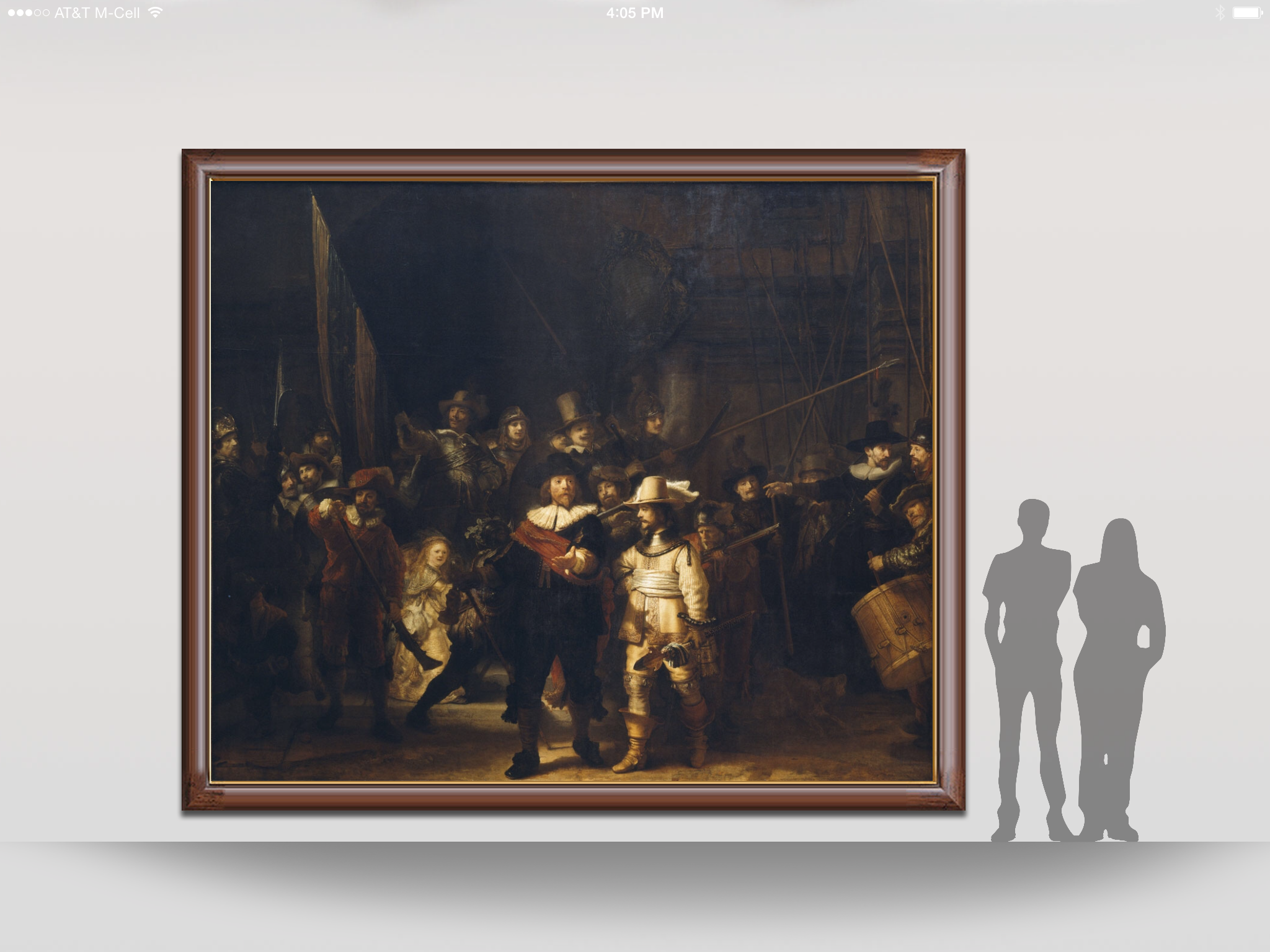 And then you have the issue of size, not of the book, but of the image. Books provide their readers with several bits of metadata about artwork, one of those bits being the size of the piece of art. But unless you take out a tape measure and mark off an area on a wall, you really can't conceive of what you would look like standing next to something like The Company of captain Frans Banning Cocq and lieutenant Willem van Ruytenburch preparing to march out, the 18th-century Rembrandt van Rijn, better known as Night Watch. I have had the pleasure of standing alongside, and being challenged by, the painting at the Rijksmuseum in Amsterdam. With Art Authority, an "Art Real Size" button appears next to many works (mostly larger ones,) that displays a shadow of a typical man and woman standing next to the current work being viewed. That certainly helps visualize how to visualize the painting.
"Night Watch" also offers another new feature for Art Authority, videos about the painting. When the metadata about a painting is displayed, a video button may appear at the bottom of the page. The videos aren't developed for Art Authority, and therefore vary in quality. They usually discuss and visually convey aspects of the work itself, its surroundings, related works, historical context, and other important facts.
As with previous versions of Art Authority, owners will have access (when Wi-Fi is available) to 70,000 high-resolution images of paintings and sculptures from over 1,000 major artists and many unknowns; as the app also covers ancient art, but with much less fortitude than it does art from the Renaissance on.
Art Authority offers many advantages over art books. It is portable. It is comprehensive, though not exhaustive or exhausting. It can be updated with new finds, new artists, and newly licensed art. It can be complemented with video and audio. And it can also run on a Mac if you want a big screen experience, or sent via AirPlay to an Apple TV. Unlike a book, it can be searched; it can be sliced and diced by metadata (time period, major works, works with video, etc.) The app also links to background information, via Wikipedia, and if you really like a work, many include an "order" button, taking the viewer directly to a place where the image can be purchased.
What would I like to see next in Art Authority? 3D sculptures that allow viewers to, at minimum, experience walking around a sculpture in high-resolution. I can even imagine a future version that includes 3D printing for creating a small version of a sculpture or providing a sense of texture for a painting. The app could also use more consistent videos. The videos come from many sources, some sound like college students reading from a brochure, others like essays being read while a static image displays. The Night Watch video, for instance, would be better as an audio voiceover that left the high-resolution image visible, rather than a voice talking over a low-resolution version on the video. I would also like to see some options, like selecting favorites, available from the main view of a work, rather than from its full-screen "show" view. And although there is an emphasis on "shows," slide shows that stream by various collection, I prefer to browse, either seeking something new, or re-experiencing something beloved and familiar.
Do I endorse and recommend Art Authority? I sold most of my art books. I think that says it all.
For more information, visit artauthority.net.
This article is written about iPad version. iPhone and Mac versions are also available.