By Daniel Rasmus on Thu, 06/12/2014

Charming. Eclectic. Fanciful. And oh yes, very technology-enabled. Such is Hyatt's Andaz boutique hotel in Amsterdam. As visitors enter the hotel they are met by giant bells sporting ornate chandeliers cascading from the bell's great white lips like crystal clappers. Proceed further and see a simple desk with a laptop, but the laptop remains fixed. Rather than standing in a queue at a desk, a greeter meets you at the door with an iPad, already querying you about your stay and readying your keys, which eventually accept their RFID programming from a nondescript circle in the middle of the round table that sits precisely centered beneath the cavernous bells.
Master your iPhone in one minute a day:
Sign up to iPhone Life's Tip of the Day Newsletter and we'll send you a tip each day to save time and get the most out of your iPhone or iPad.
Look up and a fanciful swirl of lights, sweeping strings and rails, glowing globes and individuals bulbs, all extending from the top of the bells to the inner roof of the hotel.
To the right of the reception kiosks sit a row of odd red high-backed chairs that embrace their occupants like velvet tubes. And between these crimson seats a large television display projects a haunting Venus on the half shell, seemingly an image within an image, a ghost of some symbiotic body enjoining. To your back, an excentric bar beckons.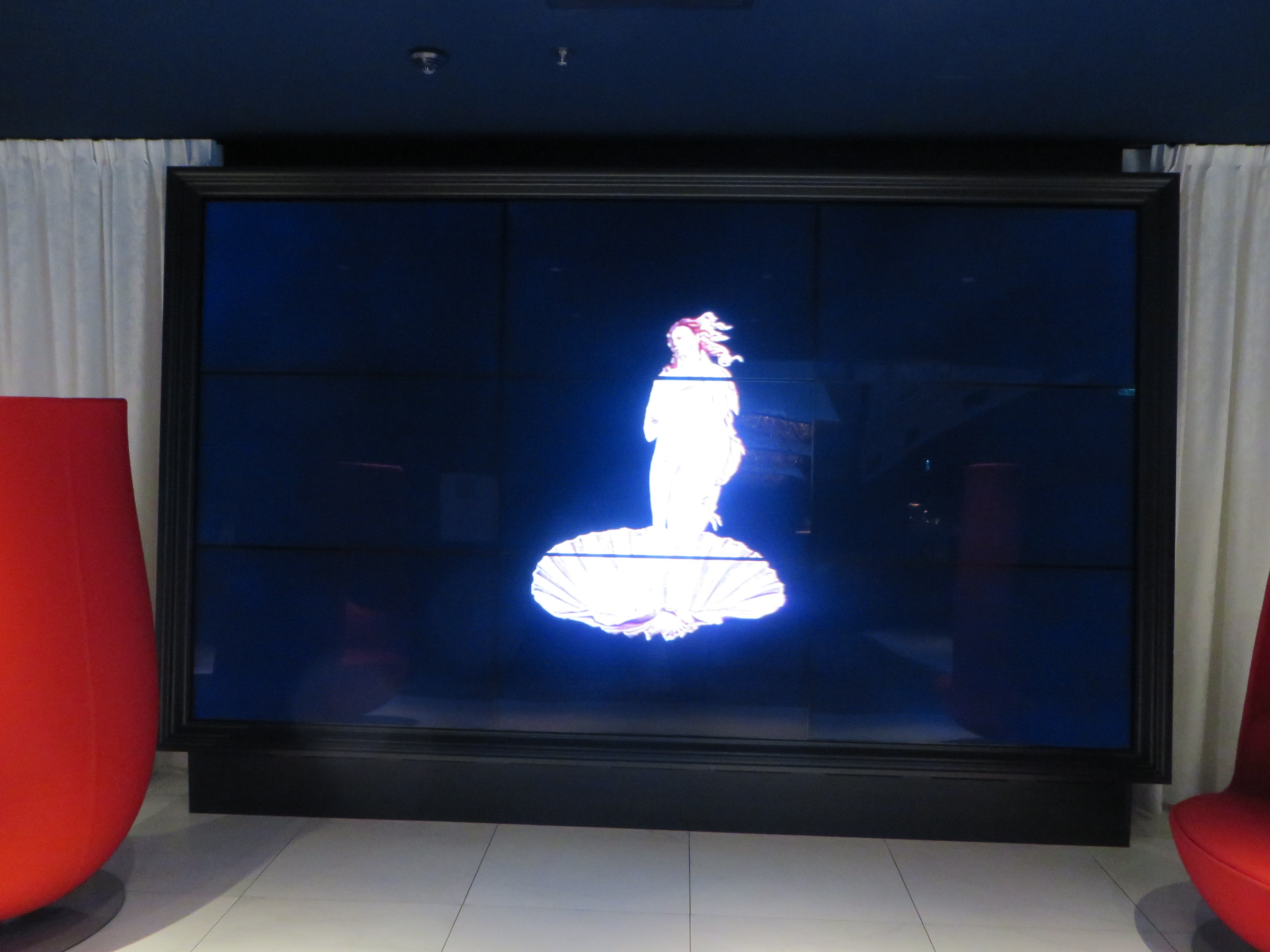 This projected image is but one of many spread throughout the hotel, including many in hallways, playing tantalizing, disturbing, evocative art. These displays of modern art, borrowed and installed by the Stedelijk Museum, are served from a central server room via an in-house video streaming and distribution center, a facility uncommon to most hotels.
These art installations are the most overtly technological innovations at the Andaz, but they are only the most visible. Rooms and elevators require an RFID card for operation and access. The iPad that greets visitors can manage the entirety of the check-in process. And unlike many high-end hotels that charge for Wi-Fi, the Andaz experience includes not only free Wi-Fi, but very fast, unrestricted Wi-Fi. Wi-Fi is accessed via a last name and room number for up to five devices. Staff informed me that they have very good Internet access at the hotel so they see no reason to constrain the bandwidth. Video streaming, Skype video calls, and web browsing were all excellent.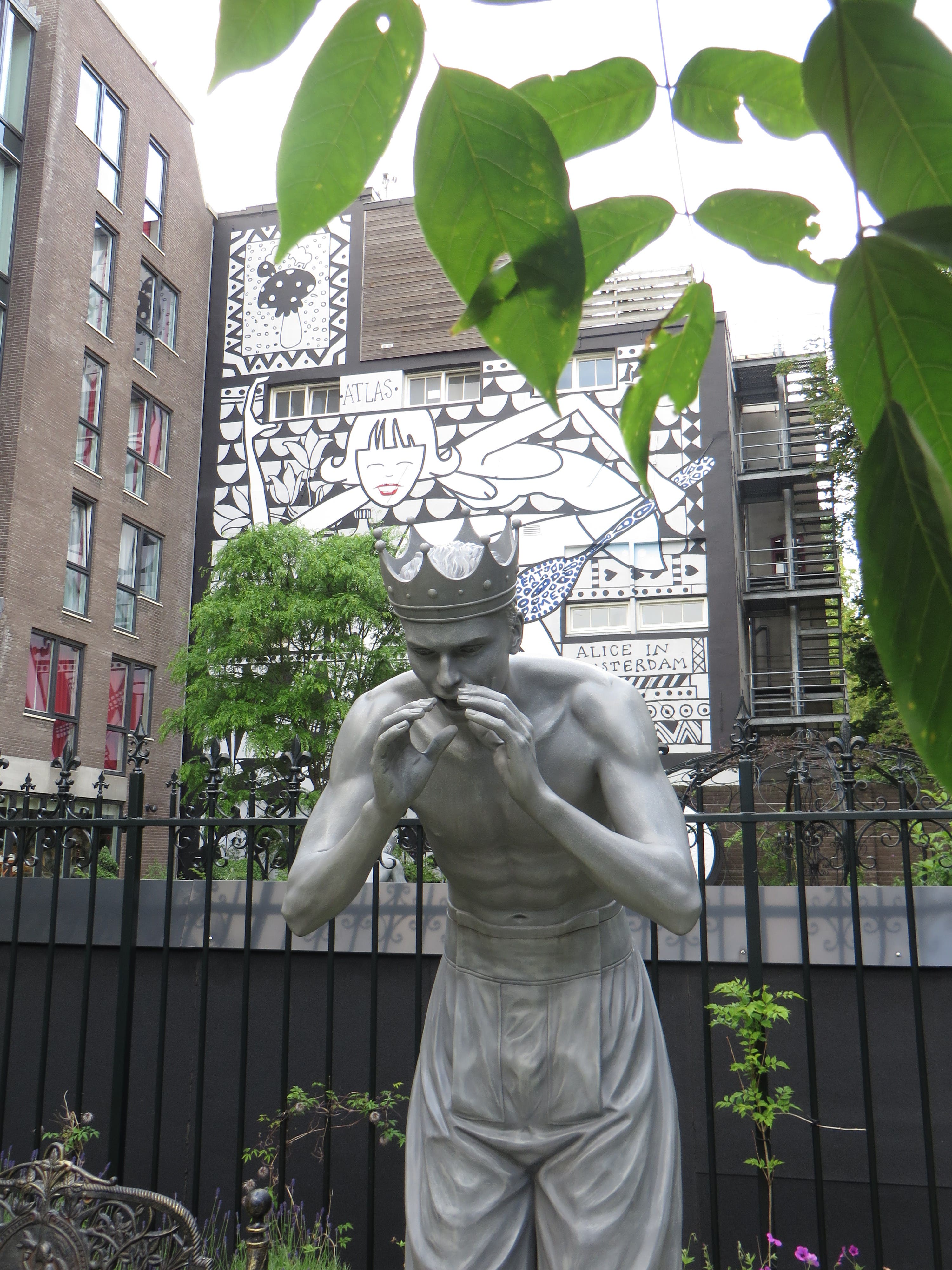 If Wi-Fi isn't enough, the hotel is littered with statues of pantaloon-sporting crowned men with hands formed around their face as though screaming. They stand on platforms, their feet firm planted in finely sculpted representations of Dutch wooden shoes. These are the Kings of Dreams, and their hands are formed to cradle the forlorn heads of travels so that king can whisper forgotten dreams into their heads. An ancient form of wireless communications. I did not find this somewhat spooky (there was a statue right outside of the elevator on my floor) approach to wireless as useful as the Wi-Fi. I kept thinking of Doctor Who's weeping angels. Keep calm and don't blink.
In the room the desk includes a couple of recessed power receptacles. These recessed European power receptacles can be an issue if you purchased a "universal" plug converter that doesn't come with individual pieces that can reach the contacts. Luckily I brought individual Europe adapters to which I plugged in my power strip. The power strip accommodated other power supplies and adapters.
On the lower shelf sat a cube that played music and connected to iOS devices via the old 30-pin connector. Just above it was television stuck to the wall with only millimeters to of space behind it. No HDMI connections to this TV. Both of these in-room devices presented an interesting topic with Andaz staff. With rapid changes in technology, hotels are at a disadvantage. They can't keep up. When Apple changes a connector, everything with the old connector becomes obsolete. Sure, people can bring adapters as I did, but for instance, the hotel's music cube is automated, and folds down its connector. Turn it off with the adaptor in place and you end up with either an impaired music player or a damaged connector. The television is a bigger issue. People who fiddle with contacts can create serious issues with expensive flat screen TVs. The hotel, however is in a research phase that may lead to a more universal solution: wireless. The Andaz chain is working with partners to explore how to stream content to devices via protocols like AirPlay. Should they achieve this it would be great for Apple owners, but it doesn't do much for Android users. What's needed is a universal streaming technology as well as universal connectors. Europe is already pushing micro-USB as a standard, but of course, that won't work in the Apple ecosystem. Until this is all sorted, connecting devices in a hotel room will remain a hit or miss proposition.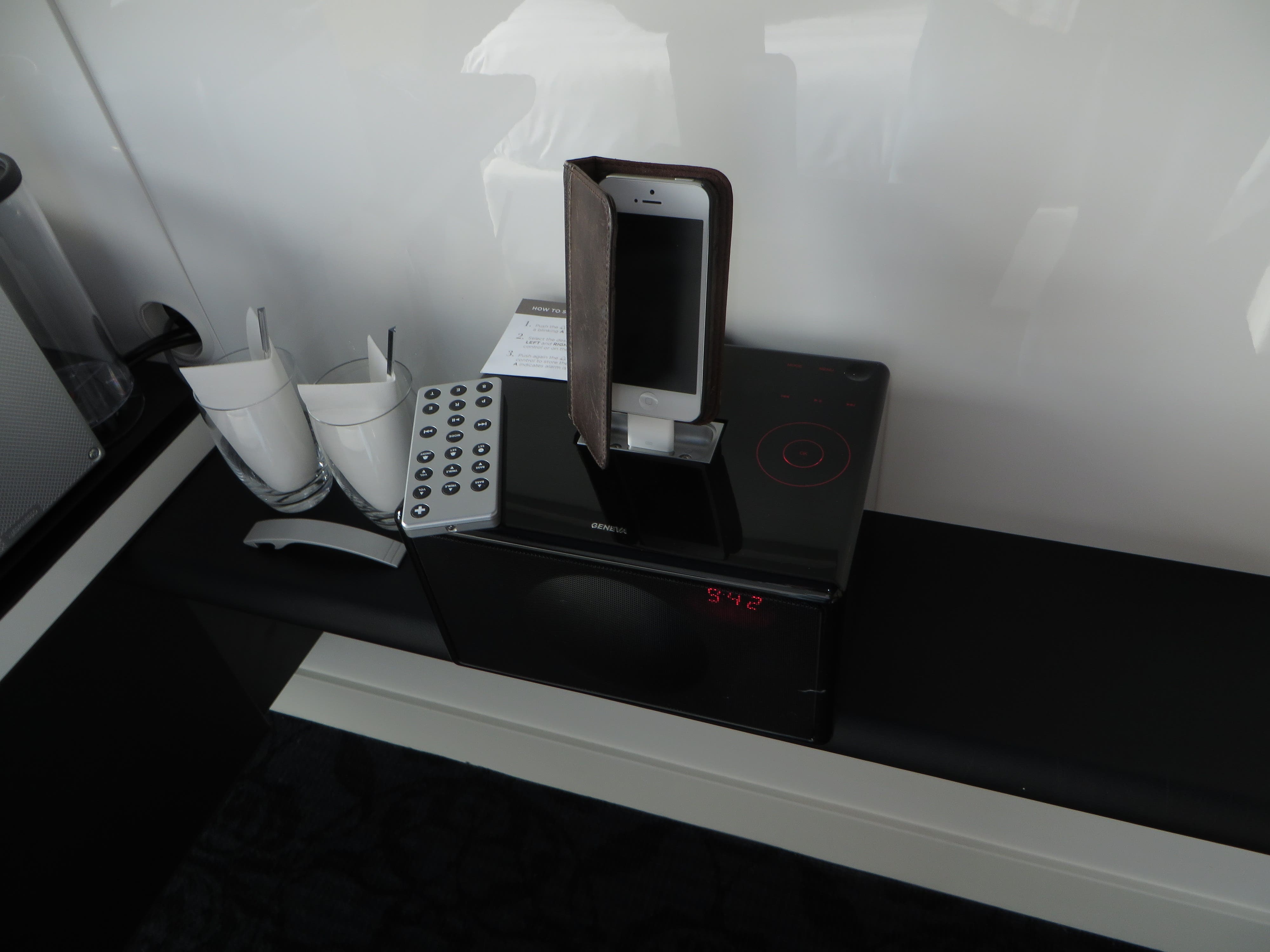 It will be interesting to see how hotels eventually work with all the various technology interests, from consumers to tech giants to government legislatures, to find a way to make integrating with a travel lodging as easy as a home entertainment center, regardless of the tech in play.
The Andaz is a very unusual hotel. The chain was designed that way. Not every hotel offers the cool, edgy vibe of the Andaz properties, but they can aspire to the thoughtful application of technology, a reasonable pricing structure for Wi-Fi (free), and an inviting presence regardless of tier or number of stars.